/ Level Up your Analytics Strategy with Augmented BI
Webinar
Level Up your Analytics Strategy with Augmented BI
Augmented BI platforms go beyond reporting, querying, data visualizations, and basic descriptive and diagnostic analytics to deliver actionable insights to business professionals and support the analysts who do the work. Are you curious how augmented BI will drive the next era of insights-driven business?
Guest speaker Boris Evelson, Vice President, Principal Analyst at Forrester Research, and author of "The Forrester Wave™: Augmented BI Platforms Q3 2021", discusses the state of the Augmented BI Market in this on-demand webinar.
Don't miss this chance to inform your modern BI strategy with new research that covers the emerging capabilities of augmented BI and details the features that define this rapidly evolving category.
You'll learn:
The latest trends, showing how Augmented BI is empowering business and analyst communities become more agile, adaptive, and resilient
Key findings from "The Forrester Wave™: Augmented BI Platforms Q3 2021"
Why the future of Augmented BI is being driven by powerful no-code/low code analytical app development
Domo will discuss how organizations can successfully deploy Domo's modern BI platform, with full-stack BI, translytical no-code applications, to realize the benefits of Augmented BI
FEATURED SPEAKERS
Boris Evelson
Vice President and Principal Analyst
Forrester Research
Boris serves application development and delivery professionals. He is a leading expert in insights-driven business (IDB) capabilities. Boris delivers strategic guidance, helping enterprises define IDB strategies, governance, and architectures and identify vendors and technologies that help them put information to use in business processes and end user experiences.
Boris' current research focuses on the practical and actionable best practices for building IDB strategies and roadmaps, including a holistic look at people, process, data, and technology components. Boris also continues to explore emerging trends such as infusion of AI capabilities into IDB technologies and how advanced IDB capabilities are a key part of modern adaptive enterprises.
Catherine Wong
Chief Product Officer
Domo
Catherine Wong is Domo's Chief Product Officer and EVP of Engineering, where she leads the company's global engineering, product and design teams responsible for Domo's award-winning modern BI platform. With extensive technology and engineering management experience, Catherine has led the development of the Domo platform from the ground up. Her customer-centric approach has ensured Domo's ability to grow at the speed and scale needed by its customers. Prior to Domo, Catherine held a number of key global leadership roles at Adobe and Omniture across product, M&A and engineering.
Over the course of her career, Catherine has been awarded patents in data segmentation, data visualization, and SaaS data collection. She currently serves on the Board of Directors for Amplitude and the Women Tech Council. She has previously served on the advisory board for the College of Engineering at the University of Utah and the College of Engineering at Utah State University. In 2018, Catherine was recognized as the Women in Tech Champion from Utah Tech Council. She was also awarded Woman of the Year (2018) and CXO of the Year (2019) by Utah Business Magazine. In 2020, she was named a 50 Most Powerful Women in Technology.
Julie Kehoe
Chief Communications Officer
Domo
Julie is a member of Domo's management team and the company's communications function. Her group is responsible for corporate reputation management and helping build awareness and a market understanding of how Domo is transforming the way business is managed with data.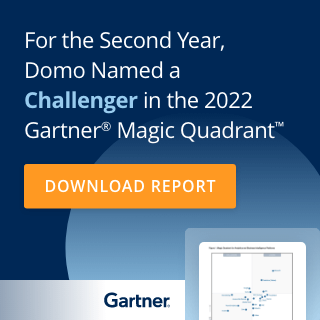 Check out some related resources:
Domo Tops Dresner's List of Cloud BI Vendors in 2022
Embracing the future of data with augmented BI
Domo for Financial Services Playbook
Try Domo for yourself. Completely free.
Domo transforms the way these companies manage business.