/ Scaling Your Business Operations with Data: A Sneak Peek into One of Last Year's Domopalooza Sessions
Webinar
Scaling Your Business Operations with Data: A Sneak Peek into One of Last Year's Domopalooza Sessions
Do you want to gain more value from your data or know the secrets to overcoming challenges with scaling globally? To get a taste of what this year's event will have to offer, check out last year's recorded session—Daniel Espinosa, Head of IT / Technology at Unilever, and Grace Brockwell, Business Intelligence Strategist at MERGE, talk about how Blueair, a Unilever company, used Domo to start their data journey.
With the help of Domo, they were able to better understand their sales performance, track trends, optimize inventory and demand, and improve customer lifetime value. Their modern data platform allowed Unilever to scale its operations, cut out manual reporting, and use data to inform pricing, promotions, advertising, and subscription models.
Don't miss this opportunity to learn from Unilever and their success. You'll learn:
Why Unilever chose Domo to help them start their data journey
How they used granular data to rapidly expand and build on their data points
What data they use to react to their growth and the changing dynamics of their market
FEATURED SPEAKERS
Daniel Espinosa
Global Head of IT / Technology
Unilever Water and Air Wellness
Daniel Espinosa is the Global Head of IT / Technology for Unilever Water and Air Wellness North America and has been with Unilever for 8 years. In his current role, he is responsible for building and executing the IT and Data Roadmap for two emerging brands within Unilever, Blueair and Pureit, operating outside of the larger Unilever entity.
Grace Brockwell
Sr BI Strategist
MERGE
Grace Brockwell is a Sr. Business Intelligence Strategist who works with clients in all industries on turning their disparate data into actionable insights. She enjoys helping clients find value in their data and making their day to day lives easier. She has been with MERGE for four and a half years and has enjoyed the opportunity to work with clients in a wide variety of industries. Grace holds a BSBA in Marketing & Business Information and Analytics from the University of Denver as well as Domo Business and Technical Certifications. When she is not working, she enjoys spending time with her dog Moxie, hiking in the Colorado mountains, reading, and cooking.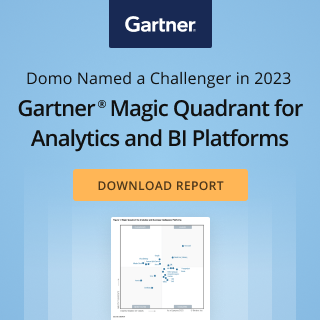 Check out some related resources:
Domo Ranked #1 Vendor in Dresner Advisory Services' 2023 Self-Service Business Intelligence Market Study
AI-Powered Data Experiences: Product Keynote
From Insight to Action: Empowering End Users with Self-Service BI
Try Domo for yourself. Completely free.
Domo transforms the way these companies manage business.