/ Why is no one visiting my lakehouse? Unlock the power of your lakehouse for low-code and no-code users
Webinar
Why is no one visiting my lakehouse? Unlock the power of your lakehouse for low-code and no-code users
The modern data stack has evolved in recent years, allowing for broader access than ever before for people who have the skillset to leverage your lakehouse. However, that remains a small portion of your overall team. If you want to get the full value out of your data investments, you need to unlock the front door of your lakehouse for low-code and no-code users. Come learn best practices for enabling new users to access your lakehouse without unnecessary duplication of data.
FEATURED SPEAKERS
Mohammed Aser
Chief Data Officer
Domo
Mohammed Aaser is Domo's Chief Data Officer (CDO), where he helps customers create innovative data apps and modern data experiences that accelerate key business processes and optimize strategic outcomes. He also works closely with company's data and technology partners to extend the power of Domo's robust ecosystem of integrations.
Prior to Domo, Mohammed was CDO at McKinsey and Company, where he championed the strategic use of data across thousands of client initiatives in all industries. He led the firm's data innovation capabilities, accelerating development of data apps by combining deep industry knowledge with cutting-edge data sets, data management technology and data engineering. He also helped launch and build McKinsey's analytics practice – focused on helping companies scale their data and AI initiatives – and served as the practice's head of operations and strategy. Prior to McKinsey, Mohammed held leadership roles at Ameriprise Financial, where he led the organization's marketing strategy and analytics transformation. Mohammed received his bachelor's degree from the University of Minnesota and an MBA from Harvard University.
Ron Karas
Senior Solutions Consultant
Domo
Ron has spent the last 6 years of his professional career in information technology with Domo.
With over 30 years of IT experience as a data integration, analytics and reporting specialist, project manager and consultant, Ron has developed a pragmatic approach to delivering solutions that yield immediate and lasting value. He's worked with a diverse mix of markets, companies, and organizations to implement analytical systems that provide mission-critical information.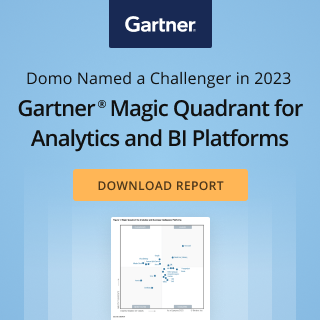 Check out some related resources:
Creating apps with no coding in 5 simple steps
Start With Data Governance for Better BI
Product Overview: Domo Integration Cloud
Try Domo for yourself. Completely free.
Domo transforms the way these companies manage business.