Alerts
Stay in the know on your key metrics.
With Domo's Alerts, you can track changes to your KPIs in real time, from any device.
Manage by exception.
Define your own criteria to be notified how and when you want, instead of constantly monitoring all your data.
Find new insights.
Discover what content and conversations are trending in your organization so you can keep your finger on the pulse.
Take action.
React quickly to any changes in your data and make faster business decisions.
Create custom alerts.
Set up alerts so you and your team can be notified when goals are reached or new issues need to be addressed. You can define thresholds and receive alerts when data deviates from your expectations. Customize Domo Alert rules to determine:
What exact changes in Domo Cards or DataSets trigger an alert
How often you are notified
What the alert message says
Who receives the alert
What automatic actions to take when the alert is triggered
"You need some level of automation that tells you when you've hit a guardrail. We set alerts across many different data points in the business. If we operate outside of a gross margin, a guardrail that we've set up, we get an alert immediately. "
Jeremy Andrus | CEO
Receive alerts on any device.
You can choose whether you are notified by email, text, or Domo's mobile app when your alerts are triggered. You can even choose to receive alerts via phone call. No matter where you are, you'll always have the latest information to help you run your business.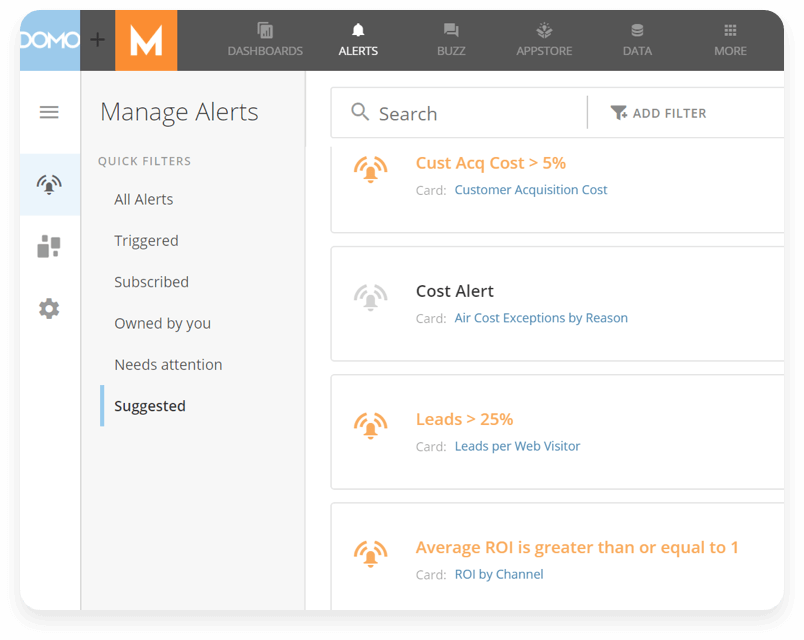 Manage all of your alerts.
Domo's Alert Center lets you search and manage all the alerts you have created, plus find suggested alerts based on data you view in Domo. You can also see alerts that have been triggered or need your attention, and see what alerts other people are subscribed to. And you can manage notifications per alert, so the most critical alerts get your attention.
"Once, one of our data providers had an outage, and we actually found the outage before they were even aware of it — we were monitoring it in more real-time than they were! I can't count on one hand the number of times Domo has saved us thousands if not tens of thousands of dollars by alerting us to issues like this in a quicker period of time."
Director, Risk Management
See what's trending.
See what's happening in your organization, minute by minute. With trending topics, you can get insights to what metrics are top of mind for your team, including:
Alerts that are triggered
New cards that are created within your company
Recently discussed cards and pages
Popular cards
Active Buzz conversations
"Domo allows me, as a CEO, to focus on the things that matter and ignore all the things that are happening just like they are supposed to. It's incredibly fast and easy and it allows me to focus on the things that matter now. Domo gives me answers before I even ask the questions."
Chief Executive Officer, Jeff Kearl
Explore Domo's BI & Analytics features.
BI & ANALYTICS FEATURES
Collaborate on insights ›
The Domo Business Cloud is where work gets done faster and smarter.
Domo can help you harness the power of your data with apps to drive business action.
Reporting & Dashboards
Create interactive, custom dashboards with ease.
Self-service Analytics
Make data accessible to all and free up analysts' time.
Data Sharing & Embedded Analytics
Share analytics securely with customers and partners.
Data Apps
Provide teams with data apps to solve business problems.
Ready to get started?
Try Domo now or watch a demo.