/ Lessons from CrowdStrike's Self-Service BI Transformation
Webinar
Lessons from CrowdStrike's Self-Service BI Transformation
What does it take for a company to foster a sense of community around data in today's complex and fast-moving business environment? What are the most common blockers? And what do organizations need to anticipate in order to reap the rewards of modern, self-service BI?
Hear from Chris Lewis, CrowdStrike's senior manager of applications, and Suyesh Karki, Domo's chief information security officer, as they discuss answers to those questions, and shine a light on what a modern, self-service BI transformation truly looks like.
Tune in as the two IT specialists delve into CrowdStrike's remarkable revamp by exploring how the cybersecurity juggernaut:
Improved access to data from top to bottom—on an astronomical scale, in a matter of weeks—to meet its need for business speed
Masterfully supported its hybrid workforce and accommodated different levels of data maturity
Operationalized Domo, which in turn has created a culture of collaboration and data curiosity that is uncovering new business opportunities
FEATURED SPEAKERS
Chris Lewis
Senior Manager of Applications
CrowdStrike
Chris Lewis is an IT Professional with more than 20 years' experience in designing, implementing and supporting enterprise solutions across a multitude of industries. His customer service mindset and logical approach to handling challenges has allowed him to deliver meaningful solutions to user communities large and small. Always focused on delivering value to the business, Chris is a solution provider who truly enjoys the wonderful world of IT.
Suyesh Karki
Chief Information Security Officer
Domo
Suyesh Karki is Domo's CISO and VP of IT,  and leads the company's worldwide security team and corporate IT operations. He is in charge of customer trust, cybersecurity risk management, compliance, cloud security engineering, Security Operations Center (SOC) and Corporate IT functions. In addition to having built a data classification model for Domo and deploying a GRC solution, Suyesh also led the program to get Domo certified against the leading security standards such as  ISO 27001, ISO27018 and SOC2 plus HITRUST. He regularly works with customers to tailor security models that ensure that the security, compliance, privacy and governance requirements of all organizations, including those in highly regulated industries, are fully met. Prior to Domo, Suyesh led the Ernst & Young LLP IT Advisory practice for the Utah region and managed security consulting engagements in Silicon Valley, CA.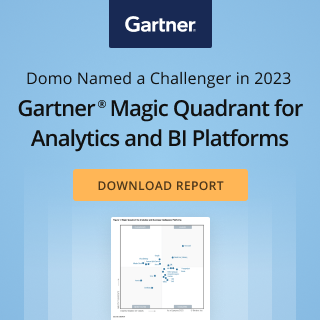 Check out some related resources:
Domo Recognized as an Overall Leader in the 2023 Dresner Wisdom of Crowds® Business Intelligence Market Study
POV: Next-Generation Banking
Domo Ranked #1 Vendor in Dresner Advisory Services' 2023 Cloud Computing and Business Intelligence Market Study
Try Domo for yourself. Completely free.
Domo transforms the way these companies manage business.