/ Why BI Programs Fail to Scale: The Data Decision Gap
Webinar
Why BI Programs Fail to Scale: The Data Decision Gap
The global investment in digital transformation estimated to exceed $10 trillion over the next five years. Despite the tremendous resources going towards this cause, studies show that up to 70% of these initiatives will not achieve their stated goal. What does it take to win?
Tune in as Mohammed Aaser, Chief Data Officer at Domo is joined by guest speaker Ken Rufo, Principal at Manchester Street and Nikos Acuña, Senior Director, Product Marketing at Domo, to unpack the findings of new research that identifies a growing gap between data and the crucial decisions made throughout most organizations.
Don't miss this chance to inform your data strategies and maximize your digital investments, as we break down what it takes to become a truly data-driven organization, according to the research.
You'll learn:
Ways to navigate the digitization of your business and the explosion of data that comes with it
How to develop a culture of accountability surrounding data to maximize returns from your digital investments
Strategies for improving BI adoption and strengthen your organization's ability to use data effectively
How the right data apps can empower people at every level, across your entire organization
FEATURED SPEAKERS
Mohammed Aaser
Chief Data Officer
Domo

Ken Rufo
Principal
Manchester Street
Nikos Acuña
Senior Director, Product Marketing
Domo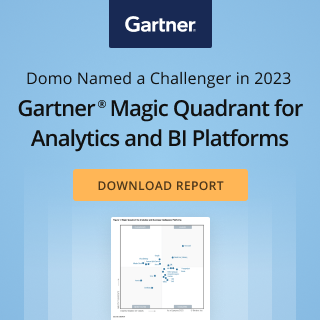 Check out some related resources:
There's an App for that—Tips for Crafting Apps, Dashboards, and other Engaging Data Experiences
Domo Named a Leader in Nucleus Research's 2023 Analytics Technology Value Matrix
Domo for Marketers: Tips and tools to seamlessly manage marketing data
Try Domo for yourself. Completely free.
Domo transforms the way these companies manage business.