/ How Domo's sales team uses Domo to supercharge operations and run its high-growth business
Webinar
How Domo's sales team uses Domo to supercharge operations and run its high-growth business
Ever wonder how Domo, a fast-growing, enterprise software company, leverages its own product across its entire sales organization to drive revenue growth, improve sales performance, and enhance collaboration?
Hear from Domo's Chief Revenue Officer, Ian Tickle, and Director of practice leads, Collin Mechler, as they share how real-time data and actionable insights are woven into the sales team's business.
Whether the project is preparing QBRs, delivering sales forecasts, or managing customer relationships, data is used to make decisions more quickly and set priorities to deliver the highest impact.
Discover how it's done while gaining insight into how the Domo sales team's own journey with data has evolved.
You'll also learn how the Domo sales team:
Creates a comprehensive view of sales pipeline to enable more accurate, data-driven forecasting
Uses advanced, modern BI capabilities such as AI/ML to identify what opportunities leadership should focus on
Leverages a real-time, customer-360 app to ensure customer needs are being met throughout their journeys
Applies AI/ML, alerts, prescriptive action, and apps to unlock new value from data—at speed—and grow Domo's market share in a highly competitive landscape
FEATURED SPEAKERS
Ian Tickle
Chief Revenue Officer
Domo
Ian Tickle is an experienced sales and organizational leader, driving rigor and predictability across global revenue organizations. Most recently as CRO for Domo, he leads the companies growth strategy across all revenue streams, from net new customer acquisition to ensuring on going repeat engagements.  Prior Domo, he led Oracle's SaaS growth in EMEA and was also responsible for Omniture's success in that region through the cloud company's 2009 acquisition by Adobe.
Collin Mechler
Director of Practice Leads
Domo
A specialist in large-scale digital transformations, Collin runs Domo's Practice Areas, a groupof deep industry and technology experts charged with the goal of providing stronger impact and value to Domo's clientele. Collin is himself an expert in supply chain,retailand manufacturing, specializing in theproductionizationof advanced tech (AI/ML,loT, and data science).
Prior to working for Domo, Collin ran one of two major business units at Element AI (now the AI division of ServiceNow), an AI enterprise tech think tank specializing in novel applications of deep learning and machine learning. Collin's background also includes extended stints at Blue Yonder (nee JDA) and Accenture.
Collin has degrees in engineering, with a Masters in Materials Engineering from MIT.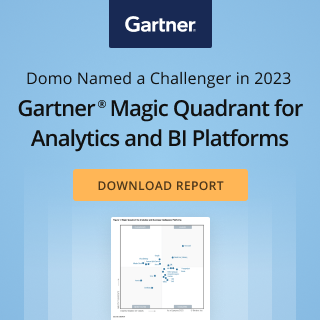 Check out some related resources:
Domo Ranked #1 Vendor in Dresner Advisory Services' 2023 Cloud Computing and Business Intelligence Market Study
Creating modern data experiences that help your customers succeed
POV: Next-Generation Banking
Try Domo for yourself. Completely free.
Domo transforms the way these companies manage business.