/ AI-Powered Data Experiences: Product Keynote
Video
AI-Powered Data Experiences: Product Keynote
Domo's Chief Technology Officer, Daren Thayne, and Ben Schein, Senior Vice President of Product, walk you through Domo.AI, what makes it distinctive, and the exponential value it's unlocking.
Delve into our cutting-edge data science and machine learning solutions, discover the latest features of our AI Service Layer harnessing the power of ChatGPT and other large-language models, and explore the magic Domo's creating as we open the door to AI-assisted data experiences and making them accessible to everyone.
In this product-focused keynote, you'll learn:
How Domo brings an AI-infused future closer to your fingertips
Domo's foundation in AI, data science, and machine learning, and how we're making our innovations accessible today
How our AI Service Layer is unlocking the power of generative AI
How you can easily manage, deploy, and optimize AI and ML models in Domo
FEATURED SPEAKERS
Daren Thayne
Chief Technology Officer, EVP of Product
Domo
Daren draws from more than two decades of product and technology leadership as Chief Technology Officer and EVP of Product. In addition, he leads Domo Labs, the company's innovation hub focused on building breakthrough solutions, in collaboration with some of Domo's largest customers, which are then integrated into the larger Domo ecosystem. Prior to Domo, Daren was CTO and SVP at Ancestry.com, where he built the site's SaaS platform from the ground up. He has also held senior engineering leadership roles at Interbank FX, WordPerfect, Open Market, Corel and Novell.
Daren holds a B.S. in Engineering and an MBA from Brigham Young University. He also holds the title of Domo's chief apologist for the New York Yankees. When not visiting a ballpark, Daren and his family love escaping to the Utah mountains.
Ben Schein
SVP of Product
Domo
Ben Schein has over two decades of experience leading user adoption and implementing large-scale BI and analytics initiatives that deliver quantifiable business value. As an eight-year Domo user and content creator, Ben brings empathy, intellectual humility, and transparency to his role as SVP of Product, in which he oversees Domo's Product Management and UX teams, as well as guides overall product roadmap for Domo. Ben also leads Domo's Strategic Architecture Group (SAG), which advises on architectural patterns for complex implementations. He is a passionate advocate of sparking the fire of data curiosity and innovation for Domo customers across the globe.
Prior to Domo, Ben worked at Target Corporation where he led merchandising analytics and enterprise BI capabilities within the Enterprise Data Analytics and BI (EDABI) Center of Excellence.
Try Domo for yourself. Completely free.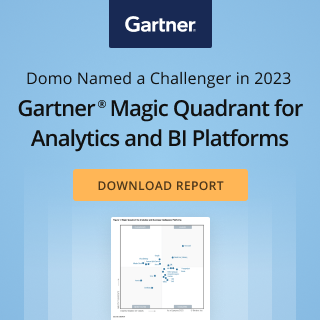 Domo transforms the way these companies manage business.