/ There's an App for that—Tips for Crafting Apps, Dashboards, and other Engaging Data Experiences
Webinar
There's an App for that—Tips for Crafting Apps, Dashboards, and other Engaging Data Experiences
Domo's 2023 research on sleepworking—which is when employees can't achieve their full potential due to a lack of data and the right tools to access it—revealed that workers crave more access to data. And 4 in 5 workers say the software apps at their company are useful and effective in helping them do their job.
We know effective, engaging apps lead to better decisions and outcomes—but how? What are the secret ingredients of the most effective data experiences—from business apps to interactive dashboards to self-serve reporting to visuals that really pop?
In this webinar, you'll hear from three app creation experts: Domo's SVP of Product, Ben Schein, Director of Engineering, John Morgan, and Matt Mecham, General Manager of Goals. They'll share tips, strategies, and best practices—using examples from Domo customers—for creating data experiences that not only boost business impact, but also get people excited about data.
FEATURED SPEAKERS
Ben Schein
SVP of Product
Domo
Ben Schein has over two decades of experience leading user adoption and implementing large-scale BI and analytics initiatives that deliver quantifiable business value. As an eight-year Domo user and content creator, Ben brings empathy, intellectual humility, and transparency to his role as SVP of Product, in which he oversees Domo's Product Management and UX teams, as well as guides overall product roadmap for Domo. Ben also leads Domo's Strategic Architecture Group (SAG), which advises on architectural patterns for complex implementations. He is a passionate advocate of sparking the fire of data curiosity and innovation for Domo customers across the globe.
Prior to Domo, Ben worked at Target Corporation where he led merchandising analytics and enterprise BI capabilities within the Enterprise Data Analytics and BI (EDABI) Center of Excellence.
Ben holds a bachelor's degree in Philosophy, Politics and Economics from the University of Pennsylvania and an MBA in Strategy and Finance from the Carlson School of Management at the University of Minnesota.

Matt Mecham
General Manager, Domo Apps
Domo
Matt is a data and analytics leader focused on helping teams and organizations create and adopt a data-driven culture. Currently, Matt leads Domo's app strategy efforts and is focused on enabling everyone to build highly curated data experiences that automate business process and drive informed action. Prior to Domo, Matt worked as a hedge fund analyst within the Investment Management Division at Goldman Sachs. Matt graduated with a BS in Finance from the Marriott School of Management at BYU.
John Morgan
Director of Engineering
Domo
John Morgan is a highly accomplished Engineering Director at Domo, Inc. With over 9 years of experience in leadership roles, he has consistently delivered exceptional results in the field of enterprise applications and business platforms. Known for his expertise in JavaScript, TypeScript, Angular, React, and iOS development, John has led the design, development, and strategy of complex projects, enabling enterprise and corporate customer success. His strong track record includes successful implementations at renowned companies such as NBC Universal, GE Healthcare, P&G and many more. With a passion for data visualization and UI, John is a true innovator, delivering clean and insightful end-user experiences to empower businesses.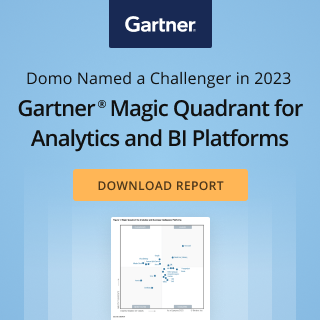 Check out some related resources:
Domo for Marketers: Tips and tools to seamlessly manage marketing data
Domo Named a Leader in Nucleus Research's 2023 Analytics Technology Value Matrix
Data Never Sleeps 10.0
Try Domo for yourself. Completely free.
Domo transforms the way these companies manage business.