/ How a UnitedHealth Group technology unit built better customer experiences
Webinar
How a UnitedHealth Group technology unit built better customer experiences
How has one of the nation's largest health insurers and healthcare delivery systems knocked down data silos to empower data-driven action for its people and patients?
Hear from Iris R. Johnson, Customer Success Manager at Optum Care, a subsidiary of UnitedHealth Group (UHG), as she shares how her team has moved beyond dashboards and BI and built more effective, modern data experiences for the people they serve.
Tune in to learn how UHG's technology operations group has become an even greater organizational asset through its ability to:
Leverage data apps to serve more of the business and enhance the quality of care UHG can deliver
Provide a deeper well of growth opportunities to individuals on its team
Support a variety of business use cases and help key stakeholders achieve their goals more efficiently
FEATURED SPEAKERS
Iris R. Johnson
Customer Success Manager
Optum Care
Iris Johnson is the Customer Success Manager and Major for one of the UHG Domo instances.
She is experienced working in Quality Assurance, which involved establishing program processes, training on those processes, process improvement and auditing against processes. Currently, she is implementing governance in the Optum Care Domo instance which includes user licensing, group management, audits, etc.
She is a graduate of three universities, receiving her final degree from the University of Michigan, in Organizational Development. Her passions at work include team development, communication / customer success, training, assessment, planning, and continuous process improvement. Her motto when working with individuals, "is that the past was practice". We can all learn from it and our mistakes to make tomorrow better.
Beyond the workday, Iris enjoys photography, sewing, and quilting. Her ongoing volunteer projects involve serving at the local hospice and participation in the Social Justice Sewing Project; both helping people work through the pain of losing someone they love.
Her hope for the future of Domo at UHG/Optum Care, is to have the instances work more closely together and have the best practices be repeatable for all users. This can best be accomplished with communication, the implementation of governance, and automation of some processes.

Jacob Peterson
Customer Success Manager
Domo
Jacob Peterson has spent his entire career in business intelligence (BI) and analytics. He has a passion for solving unique business problems in a way that provides value and makes data work for his customers. Jacob has been a Customer Success Manager at Domo for the last three years working with Strategic, Enterprise customers across the globe. Prior to coming to Domo, Jacob spent four years at UnitedHealth Group (UHG) in Optum, UHG's Healthcare Services branch of the enterprise. During his time at Optum, he wore several hats ranging from Finance and Workforce Planning to Portfolio Management but the throughline was data analytics. Jacob holds a Bachelor's Degree in Economics and Hispanic Studies from Saint John's University and currently resides in Minneapolis, MN.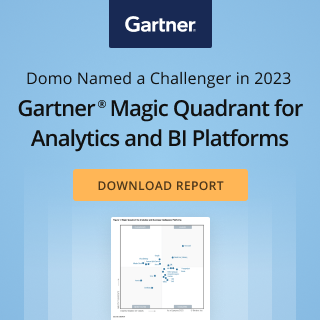 Check out some related resources:
Climate Impact Analysis for Flood Mitigation Planning & Action
How to ignite insight-driven decision-making across your business
Intro to Domo Workflows: Intelligently Automate Business Processes 
Try Domo for yourself. Completely free.
Domo transforms the way these companies manage business.