/ Panel Discussion: The Total Economic Impact of Domo for Small to Mid-Sized Businesses
Webinar
Panel Discussion: The Total Economic Impact of Domo for Small to Mid-Sized Businesses
Companies, no matter what size, investing in modern BI are seeing significant business improvements, including increased revenue opportunities and reduced operating costs.
Hear how customers can realize a 345% ROI using Domo. In this webinar, guest speaker Dean Davison, Principal Consultant at Forrester Consulting, will share the Total Economic Impact research methodology, key findings from research with Domo's small and midsized customers, and how Domo helps teams use data to run their business.
You'll also hear from Britta Chatterjee, Co-Founder of Odele Beauty, an innovative new beauty brand, as she shares how Odele is using data to run their rapidly growing business and gain control of their precious time.
Tune in to learn how customers, like Odele:
Unlock the value of data and take advantage of new data-driven opportunities waiting for your business
Extract more value from data, integrating data from multiple sources in near-real-time
Simplify complex analyses and reduce labor hours through automated reporting and self-service analytics
Empower internal and external business users to perform their own analyses with centralized reports and dashboards, with enterprise-level security and governance
FEATURED SPEAKERS
Ben Schein
Vice President Data Curiosity
Domo
Ben Schein has 20 years of experience leading business intelligence (BI), analytics and finance teams. He is an expert in user adoption and implementing large-scale BI and analytics initiatives that deliver quantifiable business value. As Vice President of Data Curiosity, he works to spark the fire of data curiosity in enterprises large and small across the world. His regular focus includes exploring data curiosity and innovation with Domo's 1,500+ customers and bringing the insights back to Domo's product development teams. Ben also leads Domo's Strategic Architecture Group which looks at how to create data pipelines which are both resilient and efficient. Prior to Domo, Ben worked at Target Corporation where he led merchandising analytics and enterprise BI capabilities within the Enterprise Data Analytics and BI (EDABI) Center of Excellence. Ben also led a similar insights team supporting Target's digital business areas including site merchandising, guest fulfillment, digital merchandising, gift registry, subscriptions, item setup and digital media. Ben holds a bachelor's degree in Philosophy, Politics and Economics from the University of Pennsylvania and an MBA in Strategy and Finance from the Carlson School of Management at the University of Minnesota.
Dean Davison
Manager, Principal Consultant
Forrester
Dean serves B2B Marketing Professionals. He has extensive experience in the buy side of technology, advising customers in purchasing and implementing solutions, including interacting with CIOs on six continents. His experience also includes sell-side work in sales-focused marketing functions such as pricing strategy, competitive intelligence, product marketing, customer insights, and market analysis. Dean is a thought leader in sales enablement, helping technology vendors adapt their marketing programs to focus on a customer's business outcomes rather than product features or functions.
Britta Chatterjee
Co-Founder & General Manager
Odele
Co-founder and General Manager of Odele, Britta's career has spanned across B2B and B2C marketing, manufacturing, and retail with both Fortune 500 companies and entrepreneurs alike. A self-proclaimed nerd, her specialty is using data to inform sustainable business strategies through the lens of the consumer. She strives to apply the best of big company practices to the demands and realities of entrepreneurial life, which includes managing a 3 and 6-year-old with her husband in Minneapolis.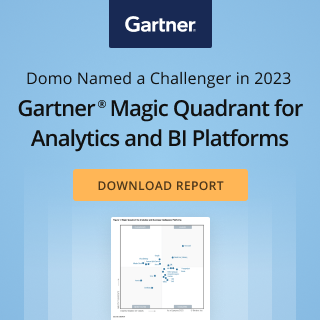 Check out some related resources:
Domo for Marketers: Tips and tools to seamlessly manage marketing data
Domo Showcases ESG Solution for Gartner BI Analytics Showdown
Domo Recognized as an Overall Leader in the 2023 Dresner Wisdom of Crowds® Business Intelligence Market Study
Try Domo for yourself. Completely free.
Domo transforms the way these companies manage business.