/ How Wood Partners Uses Domo to Increase Revenue Across Its Entire Portfolio
Webinar
How Wood Partners Uses Domo to Increase Revenue Across Its Entire Portfolio
When Wood Partners, a leading, Atlanta-based property management company, moved from traditional out-of-the-box data and analytics tools to a modern BI platform, they gained more than just better reports and dashboards. They gained a new competitive advantage.
Hear how Ritwik Bhatia, Business Intelligence Manager at Wood Partners, and his team turned reporting—a common issue in their industry—into an opportunity.
Don't miss this chance to learn how Wood Partners rapidly integrated data from their property management system and other data sources to extract more value from their data. Ritwik will also share winning strategies and tactics that have improved Wood Partners' ability to react to changing market conditions.
You'll hear ways to:
Anticipate and leverage shifts in your business by identifying and prioritizing where to focus attention based on predictive and prescriptive analytics
Boost cross-functional collaboration by providing data-driven insights where the work is done
Use modern embedded analytics to rapidly deliver data experiences outside of your organization and win over investors and partners
FEATURED SPEAKERS
Ritwik Bhatia
Business Intelligence Manager
Wood Partners
Ritwik Bhatia is the Business Intelligence (BI) Manager for Wood Partners. Ritwik and his team oversee the development and use of Wood Intelligence, a platform built using the Domo Business Cloud. The platform provides leading analytics and reporting services to the leadership, clients, and partners of both Wood Partners and Wood Residential, as well as to property management teams.
Ritwik earned a Bachelor of Arts degree from The University of Pennsylvania and a Master of Science degree from The Georgia Institute of Technology. He remains involved with both schools, including serving as an Instructional Associate in statistics at Georgia Tech. Ritwik is also an active member of Urban Land Institute's (ULI) Atlanta Youth Leaders Group.
Bryan Favero
Regional Vice President, Sales
Domo
Bryan Favero is the Regional Vice President of Sales, at Domo, Inc. With over 20 years of sales experience, Bryan is a huge believer in the power of data to provide powerful solutions that will transform and provide unique solutions for any line of business. Bryan has been with Domo for over 7 years, helping it grow from early start up to a publicly traded company with thousands of happy customers.
Outside of life at Domo, Bryan has a passion for education and spent years building a charter school in Northern California which now serves over 4,000 students. He holds an undergraduate degree from Brigham Young University and and MBA from the University of California, Davis.
In addition to work, Bryan's greatest joy is spending time with his wife and 8 children.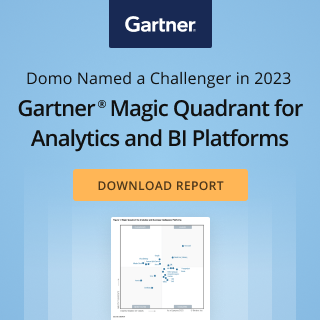 Check out some related resources:
Creating modern data experiences that help your customers succeed
There's an App for that—Tips for Crafting Apps, Dashboards, and other Engaging Data Experiences
Domo for Marketers: Tips and tools to seamlessly manage marketing data
Try Domo for yourself. Completely free.
Domo transforms the way these companies manage business.