/ Achieving Actionable Intelligence: The Next Frontier in BI?
Webinar
Achieving Actionable Intelligence: The Next Frontier in BI?
Supporting profitable business actions using data is the end-goal for analytics and business intelligence. However, market data shows that achieving this is easier said than done. What does it take to turn data and insights into constructive actions that drive real business value?
Join guest speaker Wayne Eckerson, Founder & Principal Consultant at Eckerson Group, discusses the state of the BI market, reveals key findings from the firm's latest vendor ranking research, and predicts what's next.
Don't miss this chance to inform your business and IT strategies with new research that covers the emerging capabilities of modern BI and details the features that define this rapidly evolving category.
You'll learn:
How modern BI is enabling actionable intelligence
Why the future of modern BI is being driven by the ability to accelerate access to data, automate insights, and trigger actions
How organizations are achieving actionable intelligence through Domo's modern BI platform
FEATURED SPEAKERS
Wayne Eckerson
Founder & Principal Consultant
Eckerson Group
Wayne Eckerson is an international thought leader in data and analytics who thinks critically, writes clearly, and presents persuasively about complex topics. He is a best-selling author, sought-after consultant, and noted speaker. Eckerson has advised a range of companies about how to implement data and analytics programs, architectures, and infrastructure, including Walmart, New Balance, and Children's Hospital of Philadelphia. Eckerson is President of Eckerson Group, a consulting and research firm that helps organizations get more value from their data. He has degrees from Williams College and Wesleyan University.
Julie Kehoe
Chief Communications Officer
Domo
Julie is a member of Domo's management team and the company's communications function. Her group is responsible for corporate reputation management and helping build awareness and a market understanding of how Domo is transforming the way business is managed with data.
Nikos Acuna
Sr. Director of Product Marketing
Domo
A pioneer of advanced machine learning products who also possesses significant operations management experience, Nikos holds a skillset that is second to none. While he leads product marketing at Domo, he is also partner at a tech advisory firm, co-founder of a semantic engine creator, and author of several books.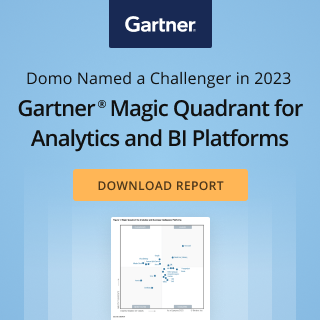 Check out some related resources:
Variables use case and feature walkthrough
Intro to Domo Workflows: Intelligently Automate Business Processes 
Elevate Your Organization's Data-Driven Culture with Strong Governance Practices
Try Domo for yourself. Completely free.
Domo transforms the way these companies manage business.