/ Domo for Business, in Action
Video
Domo for Business, in Action
See how Domo helps IT leaders integrate data and put it in the hands of business users.
More than ever, data is critical to keep the business informed. That's why analytics and reporting requests are through the roof, and BI and IT teams are feeling the pressure to keep pace and deliver value to the business.
The Domo Business Cloud helps you adapt to the increasing demands of modern business and unlock the power of your data to enable better control, higher volume, and faster turnaround. Domo's data integration illuminates dark data and provides tools for connecting and transforming data from on-premises and proprietary systems, while Domo-hosted portals and embedded analytics let you share data outside of your company and empower your business to put the right data in the right hands. See why real business runs on data, and data runs on Domo.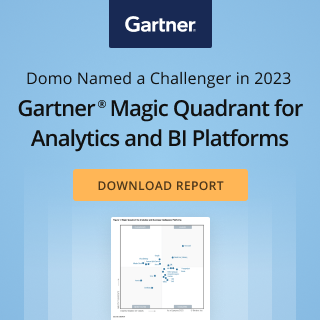 Check out some related resources:
Cloud Data Integration for Analytics
The role leaders can play in building a data-driven culture
Forrester Research Case Study: The Total Economic Impact of Domo
Try Domo for yourself. Completely free.
Domo transforms the way these companies manage business.