/ The Future of AI-Powered Data Experiences
Video
The Future of AI-Powered Data Experiences
Chris Willis, Domo's Chief Design Officer, walks you through visionary use cases around chat-enabled insights, unstructured data transformation, and AI-assisted workflows.
Every organization is focused on what the future of AI means for them. At Domo, we envision a world where data and artificial intelligence are not just accessible, but actionable. This new age of AI is evolving rapidly. But we're doing what Domo does best—taking a thoughtful and human-centered approach to our innovations. We are excited to offer you the tools to create new, AI-powered data experiences—designed to work effortlessly for everyone in your organization while enhancing creativity and productivity.
In this visionary keynote, you'll learn about the power of Domo.AI through:
A summary of our approach and vision for the future
A walkthrough of uses cases that bring the vision to life
An understanding how to drive impactful AI-assisted and guided data experiences
FEATURED SPEAKERS
Chris Willis
Chief Design Officer
Domo
As Domo's chief design officer and futurist, Chris' hyper focus on combining data, technology and emerging trends in innovative ways helps to make Domo an indispensable platform for its customers. He has nearly three decades of design leadership experience in web, mobile and data visualization. And as one of Domo's earliest employees, he's involved in every aspect – from initial design, strategy and execution – of building and developing solutions that solve even the most complex problems faced by customers.
Prior to Domo, Chris co-founded HOUR Detroit magazine and Footnote.com (now Fold3.com), which was acquired by Ancestry.com for $27 million. Before moving into technology, he was an award-winning illustrator, journalist and author with multiple published works to his name.
Try Domo for yourself. Completely free.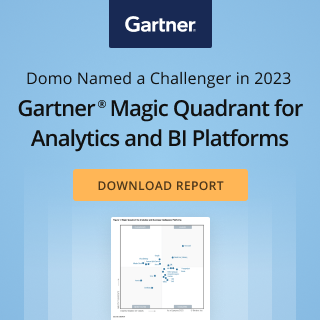 Domo transforms the way these companies manage business.