/ Data Therapy Podcast Series Episode 4: Happiness as a metric
Webinar
Data Therapy Podcast Series Episode 4: Happiness as a metric
With Lee James, Strategic Accounts Leader - Solution Architecture, Partners and Customer Solutions Management, AWS
A good therapist knows that breakthroughs don't happen in isolation, it takes thorough exploration of a wide range of factors to successfully identify and work through problems.
And neither does Domo Data Therapy restrict itself to just… data. It looks at the personalities of its guests, their day-to-day lives, their journey so far and their aspirations for the future. By letting these stories intertwine with a guest's tales of overcoming data pain, listeners can better relate, learn, and take sparks of inspiration into their own work.
In this podcast series your host, David Johnson will take you on a journey to understand more about the people behind the data.
In episode four, David speaks to Lee James, an experienced technology leader and strategist who is currently working at AWS.
Lee has been fascinated by how data feeds human interactions since spending his youth on his parents' market stall. It was there that he learnt how finding and using the right information fast could influence a customer's behaviour and purchase decisions.
He carried this passion for exploring patterns of customer behaviour into his career in data and technology. Before joining AWS, Lee was CTO at RackSpace where he helped lead the company's transformation into public cloud, application, and machine learning and AI services. He was also the voice of RackSpace, responsible for analyst relations and the executive sponsor across many of their strategic accounts.
He has also held senior strategy positions at Betfair, where he built the first ever iOS application, and BP, where he rolled out the first global VMware farm.
Lee's breadth of experience provides the basis of a fascinating session on David's Domo Data Therapy couch. Together, they discuss the mentors who have shaped Lee's thinking, explore why technical ability must be linked with human psychology to make lasting change, and reveal that happiness is the crucial metric that more businesses should consider.
Listen now to find out Lee's thoughts on the biggest topics in data.
To never miss an episode of Domo Data Therapy, find us on your podcast platform of choice and hit the subscribe button.
FEATURED SPEAKERS
David Johnson
Director Strategic Architecture EMEA
Domo
David Johnson has twelve years of experience delivering and consulting on business intelligence analysis around the world. As Director of Solutions Consulting for Europe, Middle East and Africa, he oversees proof-of-concept and proof-of-value efforts to help customers realise value and derive insights from real-time data.
Prior to relocating to London this past year, David has been based in New York City, Tokyo, and Salt Lake City where his work has spanned corporate and enterprise sales engineering, post-sale technical consulting and implementation, business and marketing analytics, and content development. From breaking ground on the world's largest (at the time) KPI library to deploying Domo's product offering to 50,000 people at a multinational conglomerate, David enjoys understanding how companies operate and how he can help them resolve complex issues. This work ethic is also visible in the results he achieves, from helping to double Japan's share of revenue in six months to landing the first Domo customers and partnerships in Singapore.
Prior to Domo, David planned and delivered field marketing initiatives at Apple. He holds a bachelor's degree in Economics with a minor in Business Strategy from Brigham Young University.
Lee James
Strategic Accounts Leader - Solution Architecture, Partners and Customer Solutions Management
Amazon Web Services
Lee is based in Hertfordshire and runs Solutions Architecture for our Strategic Accounts across EMEA.
Prior to joining AWS, Lee was CTO at Rackspace and helped lead the company's transformation into public cloud, application and AI/ML services. Lee was also the voice of Rackspace and responsible for Analyst Relations and the executive sponsor for many of their strategic accounts across EMEA. Prior to Rackspace Lee spent three years at Computacenter leading their Cloud and Analytics Services. He has also held senior strategy positions at Betfair and BP, leading BP's first transformation to the cloud and helped Betfair build the platform that delivered more transactions per day than all the European stock markets put together.
Lee has a strong passion for understanding customer behaviour patterns and have produced and presented on this subject a number of times including how the game Fortnite is shaping team structures of the future.
These articles, video, blogs can be found on Lee's LinkedIn page.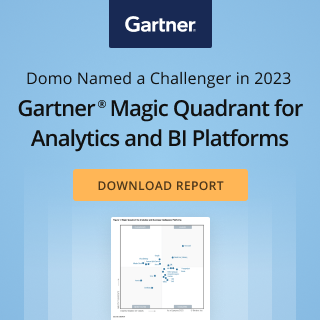 Check out some related resources:
Data Never Sleeps 10.0
Domo for Marketers: Tips and tools to seamlessly manage marketing data
Harnessing the Power of Data to become a better Credit Union
Try Domo for yourself. Completely free.
Domo transforms the way these companies manage business.