/ Data Therapy Podcast Series Episode 5: Hide the data, show the insight
Webinar
Data Therapy Podcast Series Episode 5: Hide the data, show the insight
With Zaf Kassam, Head of Data Analytics, Informa
A good therapist knows that breakthroughs don't happen in isolation, it takes thorough exploration of a wide range of factors to successfully identify and work through problems.
And neither does Domo Data Therapy restrict itself to just… data. It looks at the personalities of its guests, their day-to-day lives, their journey so far and their aspirations for the future. By letting these stories intertwine with a guest's tales of overcoming data pain, listeners can better relate, learn, and take sparks of inspiration into their own work.
In this podcast series your host, David Johnson will take you on a journey to understand more about the people behind the data.
In episode five, David is joined by Zaf Kassam, Head of Data Analytics at British B2B publishing company, Informa.
Zaf explains how his early career saw him undertaking humanitarian development work in Afghanistan, where he discovered first-hand how data and analytics can shed light on problems that had previously been hard to quantify.
After a stint working at Google, Zaf built MeasureGrow — a marketing dashboard that helped companies improve their lead generation by unlocking unusual data sources. Here, he discovered that best way to present data to customers is similar to a successful sales pitch: lead with the conclusions and let the customer ideate on top of your base.
Find out how Zaf thinks data and development has become more democratic. Are data analysts becoming a thing of the past? How should businesses structure their teams to spread their tools to non-data professionals? And who is the person who's had the biggest impact on his own career?
Listen now to find out Zaf's answers to these questions and more.
To never miss an episode of Domo Data Therapy, find us on your podcast platform of choice and hit the subscribe button.
FEATURED SPEAKERS
David Johnson
Director Strategic Architecture EMEA
Domo
David Johnson has twelve years of experience delivering and consulting on business intelligence analysis around the world. As Director of Solutions Consulting for Europe, Middle East and Africa, he oversees proof-of-concept and proof-of-value efforts to help customers realise value and derive insights from real-time data.
Prior to relocating to London this past year, David has been based in New York City, Tokyo, and Salt Lake City where his work has spanned corporate and enterprise sales engineering, post-sale technical consulting and implementation, business and marketing analytics, and content development. From breaking ground on the world's largest (at the time) KPI library to deploying Domo's product offering to 50,000 people at a multinational conglomerate, David enjoys understanding how companies operate and how he can help them resolve complex issues. This work ethic is also visible in the results he achieves, from helping to double Japan's share of revenue in six months to landing the first Domo customers and partnerships in Singapore.
Prior to Domo, David planned and delivered field marketing initiatives at Apple. He holds a bachelor's degree in Economics with a minor in Business Strategy from Brigham Young University.
Zaf Kassam
Head of Data Analytics
Informa
I'm Zaf, Head of Analytics at Informa but job titles are arbitrary and I'm more accurately titled as Head of Things I Reckon I can Vaguely Improve. My background is all over the place, having worked previously in Kabul, Croydon and at Google, with the one constant throughout being trying to problem-solve at scale using data.
Informa is the FTSE 100 company nobody has heard of unless you're an employee or you're an investor, but it's designed that way as it's a collection of hundreds of different events and media brands with the objective to improve their own name rather than the groups. What that means from my position is there are hundreds of different data stacks and thousands of potential stakeholders so trying to tie those elements together operating across the whole business brings some really unique challenges.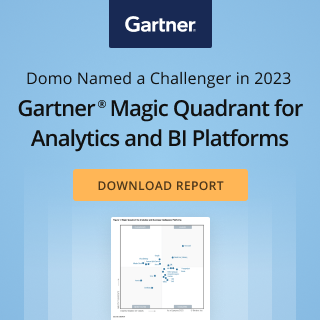 Check out some related resources:
Data Never Sleeps 10.0
POV: Next-Generation Banking
Domo for Marketers: Tips and tools to seamlessly manage marketing data
Try Domo for yourself. Completely free.
Domo transforms the way these companies manage business.