/ Data is Our Marketing Superpower—Lessons from HungerRush
Webinar
Data is Our Marketing Superpower—Lessons from HungerRush
Global marketing teams are under pressure to do more with less while boosting performance and adding value to the business. For the HungerRush marketing team, having a platform that puts data to work for everyone across marketing turned out to be their superpower—and led to a data-driven culture where everyone is making a business impact.
Join us for an insightful conversation between Domo CMO Wendy Steinle and HungerRush marketing leaders Kacee Court, Head of Marketing Operations, and Shannon Chirone, Marketing SVP. Whether you're a marketing leader charged with proving marketing's contributions to company success or an analyst on the hook for making sense of disconnected data across too many tools to give leaders insights they can trust and act on, you'll come away knowing what takes to answer three critical questions every marketing leader wishes they could answer:
How is marketing performing overall—across all channels?
What specific marketing tactics are working, which ones aren't—and why?
Is marketing making a meaningful, measurable impact on the business?
FEATURED SPEAKERS
Kacee Court
Head of Marketing Operations
HungerRush
Kacee Court is a highly accomplished professional with a wealth of experience in marketing operations and demand generation across various industries. Over the last 12 years she has worked in oil and gas, real estate, and B2B SaaS. Kacee serves as the Head of Marketing Operations at HungerRush. She received a B.A. in Business Management from the University of Houston and resides in Houston.
Shannon Chirone
SVP of Marketing
HungerRush
Shannon Chirone is the Senior Vice President of Marketing for HungerRush. She has 20 years of experience in marketing, product, operations and business development across multiple verticals including entertainment, finance, and technology. Shannon formerly held leadership roles at Slice, Capital One, Crowd Centric and Two Tomatoes Records. She received her B.A. from UCLA and lives in New York City with her husband and two sons.
Wendy Steinle
Chief Marketing Officer
Domo
Wendy Steinle joined Domo as Chief Marketing Officer in September 2022 to lead the company's global marketing efforts and help customers of all sizes drive exponential impact by realizing the full value that data and Domo can deliver to their business.
Wendy joined Domo from Degreed, where she served as CMO and focused on delivering deep value through customer-focused strategies and cross-functional alignment across the entire marketing-to-sales-to-satisfied-customer journey. Wendy has held executive leadership roles at Adobe, helping double the Digital Experience business unit's revenue in just three years. In addition, she led joint marketing efforts in the Adobe and Microsoft partnership and set the vision and aligned execution for Experience League, the company's customer success engagement platform.
Prior to Adobe, Wendy was vice president and group strategy director at MRM, serving the marketing agency's largest client, Verizon. A distinguished executive and marketer, Wendy has received the Leadership Excellence Award from Women Tech Council, an ACE Award from the Business Marketing Association, and a Gold Award from Information Technology Services Marketing Association. Wendy holds a BA in Communication from the University of California, San Diego, and an MBA from the University of Utah David Eccles School of Business.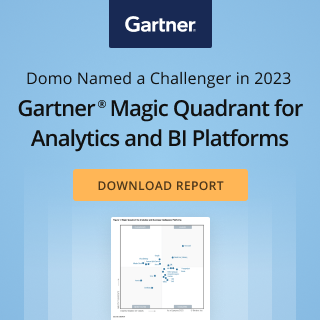 Check out some related resources:
Foundations in Applied AI
Domo Ranked as an Overall Experience Leader in Dresner 2023 Small and Midsize Enterprise BI Market Study
Domo Named a Leader in Nucleus Research's 2023 Embedded Analytics Technology Value Matrix
Try Domo for yourself. Completely free.
Domo transforms the way these companies manage business.