/ Full Event: Revolutionizing Modern BI for Enterprise Scale
Video
Full Event: Revolutionizing Modern BI for Enterprise Scale
Managing analytics across your business can be daunting—especially with increasing complexities of scale like connecting and transforming massive datasets, overseeing large production environments, and managing governance for growing groups of stakeholders.
In this one-hour virtual event, you'll learn about the power of Domo through:
A presentation from Domo experts addressing the new challenges of modern business, and exploring innovative ways to scale BI efforts across your organization.
A customer story highlighting how Sweetwater Sound, America's largest online music equipment retailer, runs its business with data
A demo showing how Domo's latest product advancements help you solve your biggest data problems and operate at enterprise scale
FEATURED SPEAKERS
Grant Smith
Senior Data Analyst
Sweetwater Sound
Grant Smith is a Senior Data Analyst and Major Domo at Sweetwater Sound, the #1 online retailer of pro audio and music instruments in the United States. As a thought leader and early beta participant, Grant has been active in utilizing Magic ETL 2.0 dataflows to help streamline data processing and improve BI at scale. He is also an active member of the Domo Dojo community.
Jay Heglar
Chief Business Officer
Domo
Jay has 20 years of experience growing enterprise software businesses at scale, including Domo, Amazon Web Services, and Microsoft, giving him a firm grasp on the data challenges and needs of modern business. He will share expertise around several product advancements designed to help any organization better manage enterprise scale to make data a more valuable asset.
Andrea Henderson
Data Pipeline Architecture Expert
Domo
Andrea has over a decade of data analysis and engineering experience built on a passion for unlocking the value of data. She will draw on that passion, along with extensive experience working with a wide array of Domo customers, to explore several common examples and outline the technical details to help you achieve enterprise scale.
Dan Gouveia
Principal Solution Consultant
Domo
Dan has 20 years of experience translating business needs and requirements to help Domo customers solve the complex software, data, and analytics problems that come with enterprise scale. He will bring his passion for problem solving to demonstrate how you could benefit from several new Domo products.
Try Domo for yourself. Completely free.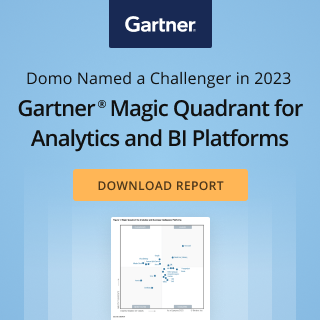 Domo transforms the way these companies manage business.