/ Keeping a Pulse on Performance: Using Domo to Monitor the Business of Healthcare and Improve Patient Outcomes
Webinar
Keeping a Pulse on Performance: Using Domo to Monitor the Business of Healthcare and Improve Patient Outcomes
Regional One Health, a level-1 trauma center in Memphis, Tennessee, aimed to enhance patient care and services through improved utilization of their data. However, in their fast-paced environment, they faced the challenge of quickly consolidating data to make a direct impact on patient outcomes.
With Domo, Regional One Health was able to transform into a data-driven organization, empowering other healthcare providers to utilize and improve patient care. Join us on April 11 to discover how they used Domo to:
Provide valuable insights about outcomes linked to various interventions, procedures, and technologies, enabling evidence-based decisions that lead to the best possible patient outcomes.
Collect data points from various systems and departments throughout their organization to create a holistic view of their operations, using data to solve problems, explore new ideas, make better decisions, and identify what works best for staff, patients, and families.
Create a quick starter app to help other leaders in executive, administrative, clinical, and organizational roles connect clinical and nonclinical data to stay on top of their organization's daily pulse.
Don't miss this opportunity to learn how Regional One Health became a data-driven organization, improving their patient care, services, and operations through the power of data.
FEATURED SPEAKERS
Reginal Coopwood M.D.
President and CEO
Regional One Health
Reginald W. Coopwood, MD earned his medical degree from Meharry Medical College followed by completion of residency in General Surgery. Dr. Coopwood was named Chief Medical Officer at Nashville General Hospital in 2000 and was named CEO of Metropolitan Nashville Hospital Authority in 2005, a position he held until joining Regional One Health as President and CEO in March 2010. Dr. Coopwood's work at Regional One Health is complemented by his commitment to the health and well-being of the individuals in our community. He possesses unique expertise in progressive healthcare management including extensive experience working with government stakeholders and health industry leaders.

Allison Vance
Chief of Staff
Regional One Health
As Chief of Staff Allison Vance is responsible for executive office operations to ensure organization-wide strategic initiatives are being achieved. Leading the Center for Information & Analytics, enterprise project management office, and Center for Innovation, Allison works to deploy resources that improve processes and patient outcomes. Allison heads the strategic planning activities for Regional One Health and works to design processes that keep data at the center of decision-making for the organization's leaders.
Alejandra (Allie) Alvarez
Director for Innovation
Regional One Health's Center
Alejandra Alvarez is director of Regional One Health's Center for Innovation, a launch pad for health care innovation. Her background spans clinical and non-clinical environments within startup and scale-up companies, and leadership roles in strategic planning, business development, international marketing and more. She is a certified Project Manager and Patient Experience Professional and is fluent in Spanish.
Niranjani Radhakrishnan
Director of the Center for Information and Analytics
Regional One Health
Niranjani Radhakrishnan (or "Jani Rad") is a Director of the Center for Information and Analytics at Regional One Health in Memphis, TN. She has a Master's in Public Health (MPH) and a Master's in City and Regional Planning (MCRP) from the University of North Carolina at Chapel Hill.
Cory Sylvester
Sr. Healthcare Executive/MBA/ACHE
Domo
Cory is a Sr. Healthcare Enterprise Executive with Domo for the last 3 years. Been in Healthcare for 30+ years and work with healthcare teams to transform their businesses by taking action with data to improve their most critical outcomes. MBA/ACHE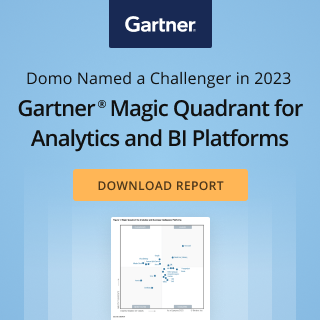 Check out some related resources:
Variables use case and feature walkthrough
Climate Impact Analysis for Flood Mitigation Planning & Action
Domo and Walker Edison Named 2022 Nucleus ROI Winners
Try Domo for yourself. Completely free.
Domo transforms the way these companies manage business.