/ Inside La-Z-Boy's Winning Data-Driven Strategy for Sales Growth
Webinar
Inside La-Z-Boy's Winning Data-Driven Strategy for Sales Growth
How did a multi-billion-dollar furniture company unlock the power of modern BI to drive sales growth, improve team performance, increase consumer reach, and more?
Hear how TJ Linz, President Retail Division, at La-Z-Boy Inc., led the multi-year journey to create a culture that utilizes and champions data at every level and opportunity.
Don't miss this chance to learn how La-Z-Boy set its strategic focus, defined the metrics for success, and then cultivated a data-first culture across the organization to empower store managers, market leaders, and cross-functional non-store team members with modern BI at their fingertips.
In this webinar, you'll hear ways to:
Start a data driven culture transformation journey based on team empowerment, not control
Improve how day-to-day operations are run, bringing data closer to where the work gets done and streamlining business processes.
Build trust and improve collaboration, getting everyone working off the same data with a shared visibility into what is happening.
Strengthen partnerships across functions, improving the ability to identify challenges and prioritize which ones to focus on now.
FEATURED SPEAKERS
TJ Linz
President Retail Division, Retail Operations
La-Z-Boy
Tj Linz serves as President of the Retail Division for La-Z-Boy Incorporated. In this role, he is responsible for driving the strategy, growth and profitability for the retail segment, which includes approximately 160 La-Z- Boy Furniture Galleries® stores and approximately 1,400 employees. Prior to his current role, he spent two years as Director of Retail Operations & Strategy where he led significant changes in store compensation and selling culture, retail pricing and operational processes, all contributing to a record year for the division.
Linz began his La-Z-Boy career in 2015 as Director of Strategy & Analytics, partnering with the Vice President of Strategy & Analytics to introduce that function at the company. In that role, he launched an enterprise test- and-learn capability to measure business impact of new ideas in a scientifically controlled process. That initiative resulted in the identification of over $5 million in potential opportunities during that time.
Prior to La-Z-Boy, Linz worked with Deloitte Consulting as a senior manager in the Deloitte Digital practice. There, he specialized in consumer sales strategies and technologies for financial services organizations. His contributions were recognized with the Deloitte Digital Exceptional Contribution Award, the Outstanding Performance Award and the Global Technology Knowledge Leadership Award, and by his appointment to the Leadership Advisory Council. During his nine years at Deloitte he led and supported numerous consulting engagements.
Linz earned his MBA from the Kellogg School of Management at Northwestern University, where he was awarded the prestigious Austin Scholarship. Also at Northwestern, he completed a Bachelor of Science degree in Computer Engineering, graduating cum laude.
His volunteer involvements have included Ladder Up, where he helped low-income families complete their tax returns, and coaching youth soccer and flag football teams. He enjoys CrossFit, running, soccer, basketball, cooking, traveling and reading.
Collin Mechler
Director, Practice Leads
Domo
A specialist in large-scale digital transformations, Collin runs Domo's Practice Areas, a group of deep industry and technology experts charged with the goal of providing stronger impact and value to Domo's clientele. Collin is himself an expert in supply chain, retail and manufacturing, specializing in the productionization of advanced tech (AI/ML, loT, and data science).
Prior to working for Domo, Collin ran one of two major business units at Element AI (now the AI division of ServiceNow), an AI enterprise tech think tank specializing in novel applications of deep learning and machine learning. Collin's background also includes extended stints at Blue Yonder (nee JDA) and Accenture.
Collin has degrees in engineering, with a Masters in Materials Engineering from MIT.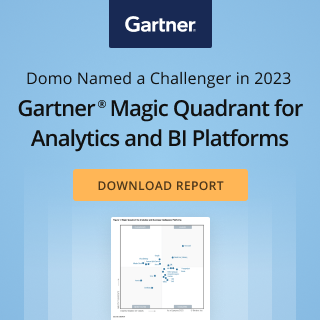 Check out some related resources:
Domo Recognized as an Overall Leader in the 2023 Dresner Wisdom of Crowds® Business Intelligence Market Study
Domo Ranked #1 Vendor in Dresner Advisory Services' 2023 Cloud Computing and Business Intelligence Market Study
Creating modern data experiences that help your customers succeed
Try Domo for yourself. Completely free.
Domo transforms the way these companies manage business.