/ Data Therapy Podcast Series Episode 6: From almanacs to instant answers
Webinar
Data Therapy Podcast Series Episode 6: From almanacs to instant answers
With Corey Patton, co-founder and CEO, Pramana
A good therapist knows that breakthroughs don't happen in isolation, it takes thorough exploration of a wide range of factors to successfully identify and work through problems.
And neither does Domo Data Therapy restrict itself to just… data. It looks at the personalities of its guests, their day-to-day lives, their journey so far and their aspirations for the future. By letting these stories intertwine with a guest's tales of overcoming data pain, listeners can better relate, learn, and take sparks of inspiration into their own work.
In this podcast series your host, David Johnson will take you on a journey to understand more about the people behind the data.
In episode six, David speaks to Corey Patton, co-founder and CEO of Pramana — a platform that's reshaping self-service BI by allowing users to search databases using natural and conversational language.
Corey caught the data bug through his love of sports — because there's nothing a sports nut loves more that stats. His obsession with sports facts led to his first job as an editor and broadcaster for CNN/Sports Illustrated. But when he found out that the data being broadcast was found by "a guy in the corner reading through an almanac," he knew that there had to be a better way.
After stints as a private chef and the owner of a racehorse stable, Corey returned to the world of sports data and ultimately became Director of Sports Development at Intel, where he took the company's Saffron AI technology to professional sports leagues, teams, and athletes.
Founding Pramana in 2018, Corey is helping data become a two-way conversation through natural language processing — with sports teams, financial institutions, and pharma companies all able to ask simple questions to get instant answers from their data.
David was keen to get Corey on the data therapy couch to learn from his wealth of experience helping businesses to work more intuitively with their data. Is conversational questioning the future of data collection? How can businesses empower their people with more data curiosity? What has most surprised him from developing a new data tool?
Listen now to hear Corey's story so far, and his thoughts on how everyone will be working with data in the future.
To never miss an episode of Domo Data Therapy, find us on your podcast platform of choice and hit the subscribe button.
FEATURED SPEAKERS
David Johnson
Director Strategic Architecture EMEA
Domo
David Johnson has twelve years of experience delivering and consulting on business intelligence analysis around the world. As Director of Solutions Consulting for Europe, Middle East and Africa, he oversees proof-of-concept and proof-of-value efforts to help customers realise value and derive insights from real-time data.
Prior to relocating to London this past year, David has been based in New York City, Tokyo, and Salt Lake City where his work has spanned corporate and enterprise sales engineering, post-sale technical consulting and implementation, business and marketing analytics, and content development. From breaking ground on the world's largest (at the time) KPI library to deploying Domo's product offering to 50,000 people at a multinational conglomerate, David enjoys understanding how companies operate and how he can help them resolve complex issues. This work ethic is also visible in the results he achieves, from helping to double Japan's share of revenue in six months to landing the first Domo customers and partnerships in Singapore.
Prior to Domo, David planned and delivered field marketing initiatives at Apple. He holds a bachelor's degree in Economics with a minor in Business Strategy from Brigham Young University.
Corey Patton
Co-founder and CEO
Pramana
Corey Patton is the CEO and cofounder of Pramana Labs, Inc., a natural language technology providing AI capabilities to global enterprises in a wide array of verticals, including sports, financial services, retail and more. For the past decade, his mission has been to drive advancements in natural language processing (NLP) to help organizations solve their toughest business challenges.
Prior to founding Pramana Labs, Inc. in 2018, Corey was the Director of Marketing for Saffron Technology – a pioneer in the NLP space. While at Saffron, Corey created the brand positioning and assisted with business development, which led to the company being acquired by Intel in 2015. At Intel, Corey took on the role of Director of Sports Development and was responsible for bringing NLP AI to sports teams and leagues. From evangelizing and implementing an associative memories approach in MLB drafting to ingraining the virtues of Intel Edge Computing inside the connected stadium; Corey has had his finger on the pulse of a holistic sports technology viewpoint for years.
Before pivoting to tech, Corey enjoyed a successful career as a national sportswriter, sports anchor, and owner and operator of a thoroughbred racing syndicate.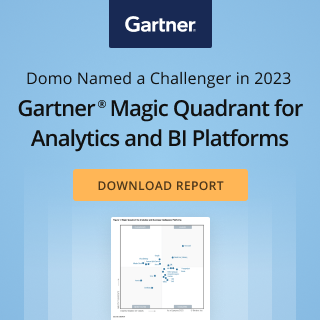 Check out some related resources:
Domo Ranked #1 Vendor in Dresner Advisory Services' 2023 Cloud Computing and Business Intelligence Market Study
Domo Named a Leader in Nucleus Research's 2023 Analytics Technology Value Matrix
Data Never Sleeps 10.0
Try Domo for yourself. Completely free.
Domo transforms the way these companies manage business.