/ Extending analytics beyond the organization to achieve 472% ROI
Report
Extending analytics beyond the organization to achieve 472% ROI
Nucleus Research ROI Report: Konica Minolta and Domo
Making data usable doesn't just apply to your business. Modern business intelligence also lets you extend your business data outside of your organization to build better partnerships with vendors and customers.
Learn how Konica powered its cloud-based customer reporting system, AeroRemote Insights, with Domo Everywhere and drove a 10% increase in units under service contract, generating significant new profits and a 472% ROI on investment. With Domo Everywhere, Konica was able to distribute interactive reports to customers that provided information on asset use and performance, technician productivity, and urgent situations that require immediate manager attention. Domo Everywhere integrated with Konica's IT ecosystem without extensive technical configuration in an entirely cloud-based BI solution.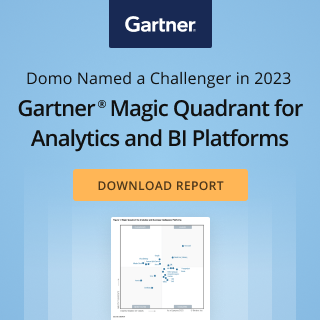 Check out some related resources:
Constellation Research Whitepaper: Next-Generation Embedded Analytics Spark Digital Transformation
Whitepaper: Embedded BI Importance Reflects Information Democracy Trend
Forrester Research Report: Data Commercialization—A CIO's Guide to Taking Data to Market
Try Domo for yourself. Completely free.
Domo transforms the way these companies manage business.