Learn how Domo can help financial services companies discover insights to enrich the customer experience and grow portfolios.
DOMO FOR FINANCIAL SERVICES
Enable a truly connected financial services firm.
Empower your company with data to acquire, new customers, help grow portfolios, and provide world-class customer service.
Solve business challenges across the Financial Services value chain.
Customer Profitability
Customer Profitability
Predict customer profitability and propensity.
Track and analyze customer activities to identify profitability and potential up-sell/cross-sell.
Analyze customer interactions across product offering.
Measure propensity to identify target customers and products.
Predict and project customer profitability across purchases.
Collate and review results to build customer promotions.
Loan Management
Loan Management
Provide streamlined loan operations.
Track and manage your loan pipeline to improve production and operations.
Predict and measure funding needs in your loan pipeline.
Measure productivity to quickly respond to bottlenecks.
Assess distribution of loan portfolios to evaluate risk and quality.
Lead Attribution
Lead Attribution
Optimize market lead attribution.
Track and monitor which marketing activities should be credited for bringing in a potential customer.
Identify and review all the marketing activities.
Track and analyze channels being utilized for lead generation.
Assess and attribute the lead stage and conversion rate to the respective marketing activity.
Sales Optimization
Sales Optimization
Optimize your sales process.
Generate conversions and create customer interactions with real-time access to your sales funnel.
Visualize pipelines to see performance drivers and bottlenecks.
Maximize lead quality by measuring client historical performance.
Identify top sales talent to employ best practices to equip teams with the skills they need.
Digital Experience
Digital Experience
Stand out with an enhanced digital experience.
Enhance the customer experience by unlocking data to understand how to best serve their needs.
Deliver an enhanced customer experience with digital options that address customer needs.
Increase agility and respond quickly to market shifts.
Utilize real-time data to support digital product implementations or identify new growth areas.
Customer Spending
Support healthy customer spending.
Unlock the value of data at speed and scale to deliver ease of use and credit card personalization to customers.
Understand customer trends and behaviors to educate clients on credit card spending.
Accurately forecast customer spending to manage liquidity.
Identify strong customer characteristics to manage risk in a credit card portfolio and target reliable customers.
Learn how Domo helps financial services teams:
Maximize profitability with enriched customer insights.
Evaluate the interactions and experiences of your customers to improve retention.
Assess fraud risk.
Measure and address the multi-billion problem of fraud risk through proactive monitoring and analysis.
Analyze default risk for credit portfolios.
Leverage customer credit profiling to analyze customer holding and behaviors for risk and exposure.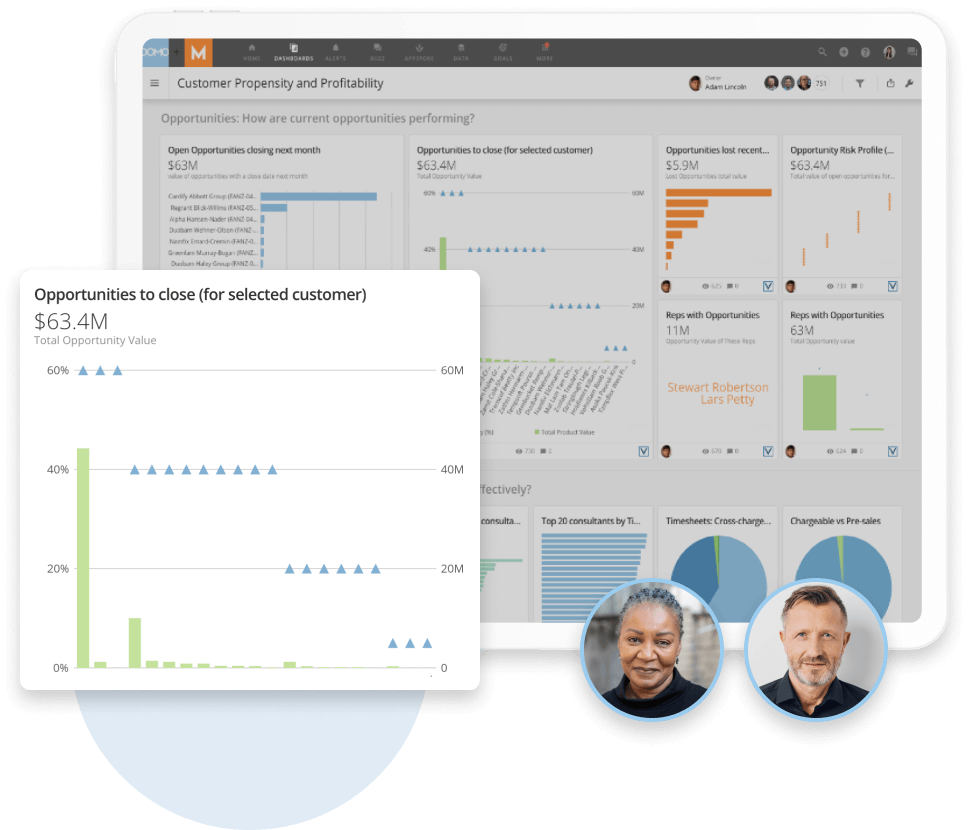 Maximize profitability with enriched customer insights.
Find customer insights to increase loyalty and retention.
Provide a consistent customer experience. Collate and evaluate data needs to provide a personalized experience.
Empower data-driven decisions. Break down data silos, democratize data, and easily and securely share insights within your organization.
Create efficiencies and eliminate cross-departmental silos. Integrate fragmented data related to customers, from both internal and external sources.
Grow responsibly. Better monitor and assess growth opportunities and risk exposure for your customers.
Assess fraud risk.
Measure and mitigate fraud risk to reduce the cost of fraud prevention.
Better monitor fraud risk. Perform analysis across all channels to address the volume and complexity of threats.
Minimize fraud related costs. Use fraud assessment techniques to reduce the monetary impact of fraud-related costs.
Proactively monitor and manage risk. Gain predictive insights with automated alerts supported by data science and advanced machine learning.
Analyze default risk for credit portfolios.
Analyze loan default and its risk to prepare the organization to address the exposure of default.
Ensure consistent results. Leverage an enterprise-wide, standardized loan default risk modeling framework, based on integrated data as your single source of truth.
Drive consistent data management. Evaluate and collate customer data from a single source of truth to assess risk and exposure efficiently.
Provide relevant data at every stage of the process. Assess risk most accurately with comprehensive data visualizations.