/ Navigating AI Challenges and Opportunities: Thought Leader Roundtable
Video
Navigating AI Challenges and Opportunities: Thought Leader Roundtable
Domo's VP of Engineering Operations, Beth Saenz, moderates a compelling panel discussion with AI CEOs, practitioners, and Domo customers to help you navigate the road to generative AI efficacy and scalability.
At Domo, we're focused on building a vision for responsible AI—and our Domo Innovation Summit 2023 explored key themes centered on what is to come. To gain even more perspective around what's happening across today's AI landscape, we pulled together visionary innovators and leaders in this space to discuss the exciting future ahead.
During this AI-focused roundtable we'll explore:
The ways everyone in your organization can engage with generative AI without code or technical language
How to responsibly embed AI into the fabric of your business, proactively meeting needs while ensuring security
What you need to make AI accessible to all and boost creativity, collaboration, and productivity
FEATURED SPEAKERS
Beth Saenz
VP, Engineering Operations
Domo
Beth Saenz is a strategic engineering leader with decades of experience innovating technology, products and processes that have led to long-term transformation and notable growth for both mid-size and Fortune 20 businesses. Among her strengths is an exceptional ability to translate business needs into processes and software, leading to outcomes like added revenue streams, increased sales capacity, customer retention and profitability. Beth attributes her success curating high-impact teams to her prioritization of diversity and emphasis on designing work paths suited for each individual. As VP of Engineering Operations at Domo, Beth leads the Engineering PMO and Professional Development Services teams in addition to shared operational functions such as engineering betas, localization, and release management.
Cory Linton
CEO and Founder
Edify.ai
Edify.ai, a trailblazing platform in workforce safety, utilizes Domo to create life-saving solutions for construction, energy, mining, warehousing, and other high-risk industries. Edify allows safety professionals to log potential risks and actual injuries, and then Edify processes the data through Domo ETL and generates company-specific dashboards. These analytics provide clients with valuable insights and leading indicators of injury risks and occurrences, enabling them to minimize costs and save lives. Used in many of the largest construction programs globally, Edify helps companies from 100 to over 30,000 workers and has helped these organizations save thousands of dollars per year, per worker. Edify's unique application of Domo extends beyond boosting profits, as they actively work to protect workers in high-risk environments.
Mark Cecchini
Associate Dean of Executive Education
University of South Carolina
Mark Cecchini is Associate Dean of Executive Education, and School of Accounting professor and department chair at the Darla Moore School of Business. Mark holds a B.S. in finance and accounting from Florida State University, an MBA from Rollins College and a Ph.D. in Decision and Information Sciences from the University of Florida. Mark's teaching and research interests include financial and managerial accounting, information systems, business analytics, control systems, and the application of machine learning to business problems.
Mark teaches courses in business analytics, machine learning/AI, financial accounting, management control systems, and information systems strategy at the DMSB and in Executive Education. Mark's research has been published internationally in Management Science, the Journal of Accounting and Economics, Accounting, Organizations and Society, Review of Accounting Studies, the Journal of Accounting Literature, and the European Journal of Operational Research.
Ramasubbu Venkatesh
CEO and Co-Founder
Anvai AI
Ramasubbu "Venky" Venkatesh is the cofounder and CEO of Anvai AI, a semantic knowledge discovery platform that helps enterprises gain business intelligence from unstructured data available publicly and within the enterprise. In a career spanning more than two decades , he has been lucky to have a ringside view of emergence of AI from a research topic to a key driver of the global economy. Over the years, he has led AI innovations in multiple domains and built high performance teams that delivered @scale AI solutions in Fortune 50 and top internet companies.
Try Domo for yourself. Completely free.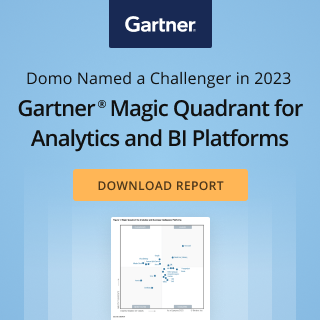 Domo transforms the way these companies manage business.