/ Domo Knows Retail
Video
Domo Knows Retail
Turn shoppers into buyers.
There's a revolution in retail. Embracing data analytics and mobile technology is no longer a want—it's a must. Increasingly, you need a business management platform that understands a complicated retail sales model. From campaign profitability to CSAT and retention scores, you need to know what's happening, right as it's happening. Domo connects to all your data for proactive insights and smarter decisions.
Transcription:
Hi, gang. Chris Wintermeyer, Chief Advocate with Domo. If you're part of a retail organization, you know that there is information coming from all parts of the organization that you need to be able to run the business effectively. At Domo, we're going to get you access to that and allow you to very quickly see everything that you need to run your corner of the store. Let me show you what I'm talking about.
So here we're looking at a retail page inside of Domo. Now, I've set up this page with information coming from different sources, and I've got different subject areas. There's things around gross margins. There's stuff about employees by department. I'm looking at sales by state and so on.
I was able to pull this information in to Domo by leveraging the hundreds of pre-built connectors that we have available. This allows me now, whether I'm talking about on-premise data, data in the cloud, or combining that data together to be able to very quickly get access to that information, pull it into Domo, and create reports and views that make sense to me.
So here I'm looking at information around products as it relates to sales: sales by aisle, sales by store, sales by quantity, sales by state. It's giving me a nice, top-level view about what's going on, but I might want to be able to focus or break out this information by region, or by brand, or in this case, by individual product. So by simply typing in what it is that I want to see, Domo updates my view across these reports simultaneously; and as an example here, I can see that sales of this product have spiked in a particular store. Now, in addition to being able to explore the data as we're doing here, a big part of what Domo offers is that human insight, that qualitative information that's just as important as the quantitative data that I'm looking at.
I can see here, a conversation going on between Charlie and Carol and Betty about why this particular product is preforming so well. That's the beauty of Domo Talk. If it's a good thing, how do I replicate it? If it's a bad thing, how do I keep it from happening again? With Domo, combining that data with that human insight allows me to solve those kind of problems and go on about running the business most effectively.
Now, everything that we've looked at up until now have been reports that are specifically built and shared with me, which is great! I want to be able to log in, get this information, and go on about my day, but occasionally, there's going to be a certain slice of data that I want to see that nobody's built a report for, and that's the beauty of Domo. I can come in and build a view of anything that I have access to.
So in this case, maybe I want to come in and take a look at some merchandise information. I simply select that information and tell Domo I want to build a view of this. So now, Domo allows me to select just the things that I want to see. So maybe I want to take a look at sales, and I want to break that out by, I don't know, let's say product line and, "Domo, instead of looking at that by day, I'd like to see that broken out by month." With a few clicks, Domo gives me access to just the information that I want in just the way that I want to see it. I didn't have to ask anybody. I didn't have to wait in line, and right away, back on my same screen, there's the information that I just created ready for me now to consume and collaborate around as I see fit.
So here I'm looking at that report that I just built on my overview page along with others that are available, but this still requires me to log in to understand what's going on in the business. Wouldn't it be nice if Domo could just tell me when things that I care about happen? When what matters to me is taking place, so that I can take the appropriate action? That's the beauty of Domo alerts. Because the information in Domo is being refreshed on a regular basis so that all of the data from all of my systems is coming in as it's being updated, now if a particular thing happens, like up sales by product goes over 110,000, Domo is going to send me an email, send me a text message, let me know that thing is happening so that I can take appropriate action. With Domo, I can manage the business by exception.
Now, in addition to being able to look at the information coming from inside my organization, we're doing some pretty exciting stuff at Domo where we're taking that and tying it together with publicly available information. Let me show you an example of what I'm talking about. Right here is a weather app. I'm looking at historical sales information, and now I'm tying that together both with historical weather information that's publicly available, as well as the forecast for the next seven days.
So not only do I get some top-level summary about how the weather's going to impact my organization, but I can now, on a store-by-store basis, start to understand specifically, what's that forecast going to be, and how does that impact my sales, what is the impact specifically on a day-by-day basis and then compare that historically from what was actually happening to what we were predicting.
I also get the top three weather effects. So I can see it based on a change in dew point, for a degree above the monthly average, or even a change in wind speed. How is that going to impact sales? I, as a retailer, can now make decisions on: Do I need to change staffing? Do I need to change promotions? Do we need to adjust product mix to be able to accommodate what's happening here? This is really exciting, and this is just one example of how Domo is transforming the way retailers run their business.
By the way, everything we just looked at is also available on my phone and on my tablet. With Domo mobile, I can see the same information – both the charts as well as the data behind them – and I have access to the communication and the collaboration that's taking place on any of these reports. With Domo, I can see my entire business right at my fingertips.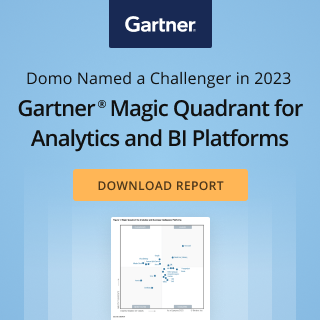 Check out some related resources:
Domo Ranked #1 Vendor in Dresner Advisory Services' 2023 Cloud Computing and Business Intelligence Market Study
Domo Named a Leader in Nucleus Research's 2023 Analytics Technology Value Matrix
Domo Recognized as an Overall Leader in the 2023 Dresner Wisdom of Crowds® Business Intelligence Market Study
Try Domo for yourself. Completely free.
Domo transforms the way these companies manage business.