/ Why white label business intelligence is essential for your business's branding
Article
Why white label business intelligence is essential for your business's branding
Business intelligence (BI) tools have changed the game for businesses, eliminating guesswork from the decisions most vital to their success.
By collecting and analyzing data from a variety of sources, including big data, BI tools are able to achieve a comprehensive overview of business performance, from operations to sales and marketing.
Additionally, after analyzing the data and deriving insights, business intelligence tools present the findings in easy-to-digest data visualizations. This enables data insights to be interpreted instantly, showing the trends and patterns that matter most to businesses, enabling the best-informed data-driven decisions to be made to improve performance.
However, a common gripe with traditional business intelligence tools is that they can't be customized with a business' own branding, making third-party involvement obvious, which was a significant hindrance for SaaS companies.
This is because, when offering their core product to customers, many SaaS businesses include business intelligence capabilities as part of their offering.
However, with traditional business intelligence tools, customers would have to navigate away from their workflow and enter an unfamiliar interface that wasn't cohesive with the look or feel of the rest of the product, having been implemented by a third-party provider.
A solution to this handicap was developed in the form of white-label business intelligence tools.
What is white-label business intelligence?
White-label business intelligence combines the data analysis and visualization capabilities of business intelligence tools with embedded analytics, as the tool can be seamlessly embedded into a product or within the pre-existing systems of a business.
Even more importantly than the seamless user experience this facilitates, white-label business intelligence can be permeated with a business's branding, including their colors, visual brand elements such as logos, their company name, and much more.
The best white-label business intelligence tools even allow the interface to be customized to match the feel and function of a core product to align with a business's branding, even allowing a company to use their CSS stylesheets—or create custom themes on the tool itself—to guide the appearance and experience of the white-label business intelligence tool.
Why is branding so important for businesses?
Branding is the accumulation of everything from the visual aspects of your business—such as your company colors and logos—to the brand personality and identity you generate through your product and marketing efforts, helping your customers get a feel for who your brand is and what it does.
There are several reasons why this is important and, when done well, how it can be incredibly profitable for your business.
1. Improves brand recognition.
A strong brand is memorable, making it easier for customers and potential leads to recall both the name of your business and all the connotations associated with it, including its identity and products. This makes it more likely for them to return to your brand to make a purchase.
This also makes it more likely that they'll spread the word about your brand to others through word-of-mouth marketing. In some cases, even when a customer has a positive experience with your brand and its products, if you don't have strong, cohesive branding, it can make it difficult for your customers to recall your brand as the months and years go by.
2. It cultivates trust.
Another result of successful branding—and of developing a brand that customers easily recognize—is that your business appears more trustworthy than a brand a customer has never heard of before.
In essence, familiarity with and recognition of your brand equals trust.
3. It generates brand loyalty.
By successfully building your brand identity, your business will have a personality that will become known to your customers.
In other words, your business will feel more personal and human, sparking positive associations in the minds of your customers and generating brand loyalty in the same way that we become loyal to people we get to know well in life.
For this reason, if you brand successfully, you're much more likely to earn repeat customers—who, research shows, spend more with businesses than new customers and are less expensive to obtain, making them more profitable—as a result of the loyalty they feel towards your brand.
Similarly, this loyalty generated by successful branding, combined with the stellar customer experience and products a brand provides, is more likely to encourage your customers to tell other potential new customers about your business and products.
How can white-label business intelligence enhance branding?
1. It can be customized to include your branding.
The most obvious difference between traditional business intelligence tools and white-label business intelligence is that the latter can be customized with your branding, so that if you offer business intelligence as part of your product, it looks and feels like the rest of your product.
This is in contrast to ordinary business intelligence tools, which can detract from the sense of brand identity created by your business.
Not only does this help to emphasize brand personality and improve brand recognition, but it makes using the product more seamless, as customers don't have to navigate away from their workflow, facilitating a more cohesive brand experience overall.
2. Improves trust in your business's capabilities.
By offering your customers what looks and feels like a business intelligence tool built by your company, you're going to impress them with your tech capabilities and increase their faith in your business's competency.
On the other hand, adding a traditional business intelligence tool to your product that has obviously been created by an external company can give the impression that you didn't have the ability in-house to develop the tool.
3. You can improve your product.
Part of good branding is ensuring that your customers are given the best possible product and experience; in other words, providing a product that does everything they could ask for, as seamlessly as possible, while continuing to provide a great experience even after they've made a purchase.
White label business intelligence facilitates this in a couple of ways.
For a start, many companies consider building a business intelligence tool in-house, which would give them the same branding benefits that white-label business intelligence tools also offer.
However, by employing white label business intelligence, you can spend more of your time and resources developing and maintaining your core product, ultimately creating a product of greater quality overall.
Moreover, if something goes wrong with the business intelligence feature of your product, when you use white-label business intelligence, the problem will usually be fixed more quickly than it would be in-house since the business intelligence provider is focused solely on keeping the BI tool working.
What's more, this also means you'll be better equipped to provide a reliable customer experience, as you won't have delays and postponements caused by needing to prioritize fixing a BI tool you built in-house.
4. You can tailor the customer experience.
In addition to being able to infuse a white-label business intelligence solution with your branding, the best white-label business intelligence tools offer 'sub-branding' to allow businesses to customize dashboard and reporting features even further to suit specific end-users.
Depending on the end-user, businesses can customize the branding and function to suit the needs of that user, providing a customized experience that makes customers feel valued and makes your brand come across as one who makes that a priority.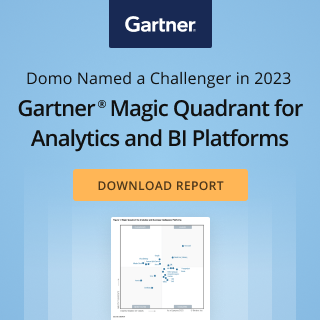 Check out some related resources:
Creating modern data experiences that help your customers succeed
Harnessing the Power of Data to become a better Credit Union
There's an App for that—Tips for Crafting Apps, Dashboards, and other Engaging Data Experiences
Try Domo for yourself. Completely free.
Domo transforms the way these companies manage business.