/ Upgrade your reporting dashboards through business intelligence tools
Article
Upgrade your reporting dashboards through business intelligence tools
Companies need to make sure they are keeping up with the marketplace by changing from older modeling and data tools into the new era of BI dashboards. This allows for more flexible decision-making based on real-time data instead of relying on older data reports that only capture a moment in time.
The more we embrace digital transformation, the better we can improve operational efficiency and meet changing customer expectations. By integrating modern tools for managing, collecting, and reporting large amounts of data, we elevate our business into the upper echelon of competition and ensure a more robust company future.
What is business intelligence?
Business intelligence (BI) is the practice of collecting, cleaning, transforming, and modeling data to give your business a competitive advantage. In simple terms:
BI provides an overall view of an organization's data assets with a focus on information that drives better decision-making throughout the enterprise.
It uses technological tools and techniques to access historical data from multiple sources. This can be formulated, analyzed, integrated, presented, and captured for operational benefits and enhanced customer experiences. That enables business users to explore their options and capture those results for further analysis later on. This is all within an application suite designed specifically for this purpose, known as a BI dashboard.
BI helps eliminate some of the most common challenges associated with managing complex organizations' ever-growing volumes of structured and unstructured data by providing users with faster access to more relevant information than ever before.
BI dashboards are a vital part of the BI process. They are visual representations of data that can help you make better decisions and track KPIs (key performance indicators).
Building data-driven BI dashboards
You're probably familiar with the term "dashboard." You see it all over the place. You might even have a dashboard on your phone that shows you how many steps you took today and how much money you spent at Starbucks. But what is a data-driven dashboard?
A data-driven dashboard is a visual representation of key metrics used to monitor performance, measure progress toward goals, and aid in business decisions. If you are looking for ways to improve your marketing or sales efforts, the first step is collecting data on relevant metrics like leads generated, revenue generated, and marketing costs incurred.
Once this information has been collected in one place, such as an online or cloud-based business intelligence tool, you can build dashboards that allow users within your organization access to real-time reports on various aspects of your business operations so they can make informed decisions about their workflows every day.
Getting away from static BI tools like Excel
You might be thinking, "I'm a business analyst, so why would I need a dashboard tool? Excel does everything I need it to do." You're partially right. Microsoft Excel has provided a reasonably adequate resource for businesses to consider data associations and create reports. The problem is that the tool is static only.
For most small data entry operations, Excel is a satisfactory tool. But if your goal is to create reports that will help your company make better decisions, then you need to move beyond the limitations of Excel and into the world of business intelligence tools. You need a tool that is more dynamic and responsive to the current trends of the marketplace.
Excel isn't designed for BI or data visualization:
It's not intended for interactivity
It's not scalable
It doesn't have sufficient features
What to look for in a quality BI tool
Modern BI dashboard tools allow you far more capabilities than older resources of the past. They integrate with other technologies and present all of your data in one single location for quick review so you can make more informed decisions. When you start considering whether you will integrate a BI tool into your organization, you may want to think about the following:
Identify reporting needs
The first step in creating a dashboard is to identify the key reporting needs of your organization. In order to do this, you'll need to ask a few key questions:
What data sources are available?
How much quality data can be extracted from these sources?
How many people will have access to that data?
What security measures do you need in place for each type of user access (for example, read-only versus edit rights)?
Discard clutter from data sources
Every source of data needs to be reliable and its data transformed so as to be easily displayed. That does not mean it has to be included on the actual dashboard. You want a visual representation of your KPIs that can present a quick glance at the company's health as a whole, not something that is so complex that you would need a degree just to grasp its meaning.
Present clear information
The visual order of your dashboard should be clear and consistent. You don't want to confuse the viewer with a disorganized visualization.
The visual order also helps tell the story behind your data. For instance, if there is no correlation between two sets of numbers in your report, it might be helpful for readers to see both groups side by side so they can compare them visually (instead of having to read through all the data). But if there is a correlation between these two sets, then it would make sense to have them together as part of one section that gives context about why this happened and how it affects other aspects of your business.
Don't forget the filters
Interactive filters are an excellent way to give users the ability to filter the data on a dashboard. These filters can be used to filter by metric, time period, location, and many other factors. Some BI dashboards allow different users to set various parameters based on their permissions or the scope of the job role.
When setting up an interactive filter, it is important that you build it in a way that is relevant to the user's needs and what they want to see. For example, if a user is looking at sales figures for their company, they may want to filter by month, year, or quarter to focus on one specific time period.
Create a story through context
Data context is the story behind the data. In other words, it's the information that explains and helps you understand what your data means. This can be done by providing a narrative or including visuals along with your reports.
A good example would be an online retailer who wants to know how many customers are returning items within 30 days of purchase. The data may show that 20% of customers return their purchases within this time period. This could be due to several factors, but the point is that having access to only raw numbers without any context isn't enough. You need more than just those figures if you want to make sense of them.
Moving past Excel into the future of BI
A dashboard is a tool designed to be visually appealing and easy to understand so that it can be used as a constant reference point for monitoring your key metrics and KPIs. Dashboards also provide an at-a-glance view of important information about your business or organization, including:
The overall health of the company
Historical comparisons with previous periods or years
Trends in revenue by department
This cannot be achieved with older tools that do not have the communication, interactivity, dynamic value, or modern integrations needed for most businesses in the world. You need a reporting system based on real-time data and not just old, static comparisons. That requires a bespoke BI dashboard designed and implemented particularly for your business.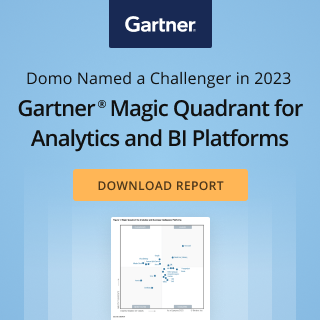 Check out some related resources:
Domo Ranked #1 Vendor in Dresner Advisory Services' 2022 Analytical Platforms Market Study
Intro to Domo Workflows: Intelligently Automate Business Processes 
Developing a Data Governance Model that Meets Your Modern Business Needs
Try Domo for yourself. Completely free.
Domo transforms the way these companies manage business.