/ BI Business Apps: The benefits you can't ignore
Article
BI Business Apps: The benefits you can't ignore
Business intelligence (BI) platforms can provide a variety of app-building capabilities that companies can use to increase productivity and keep up with the latest technology.
For businesses looking to compete, it's essential to ensure that you are taking full advantage of your data with a modern BI platform. Platforms that enable the creation of business apps give your company a competitive edge.
In this article, we will look at the benefits of BI business apps and how you can make sure your company is getting the most out of its investment. We will answer some top questions, such as:
What are BI business apps?
How can they help my company?
What are the advantages of using BI business apps?
How do I get started with business apps?
Read on to learn more about the benefits of BI business apps and how to get started.


What are BI business apps?
BI business apps can be powered by BI platforms, which are software applications that provide a variety of features and tools to help businesses make better decisions. Some BI platforms allow you to use your data to create custom apps that meet your company's specific needs.
Business apps can be built using other tools or custom development, but business apps are a natural extension of BI platforms because the infrastructure, data, user permissions, and data storage needed to build apps are already present.
As data-driven applications become more popular, it's essential for businesses to have a BI platform to stay competitive.
How can data-driven BI apps help my company?
By building apps using a BI platform, you can improve business performance in several ways.
Customized business applications
The most notable advantage of building apps with a BI platform is that you can customize them to meet your unique needs.
A BI platform that enables the development of custom applications allows you to take advantage of the tools and features you need with a look and feel that is completely unique to your company and business processes. A variety of features means that businesses don't have to develop separate software for each part of the solution.
Increased and enhanced data analysis
BI platforms also provide powerful data analysis tools that can help you better understand your data, and you can put insights right into the hands of people who need it, improving workflows and supporting decision-making.
This information can help your entire team make better decisions about how to run your business.
Faster results via real-time updates
BI platforms that provide data in real time ensure that any apps you build are surfacing real-time insights to your users, resulting in faster decision-making and action.
Increased organizational productivity
When apps are built on your BI platform, it ensures that everyone has access to one source of truth of data. This means greater efficiency, less duplication of effort, and increased productivity by your employees.
Cloud integration and connector capabilities
Many BI platforms offer cloud integration via connectors, which allows you to bring a wide variety of data into your business apps.
What are the advantages of data-driven apps?
There are several advantages to building your application on a modern BI platform.
Advantage #1: Reduced time to market
By building an app on top of your BI platform, you can greatly reduce its time to launch and help teams get value from their data more easily. With BI-enabled apps, you can take advantage of certain elements, such as connectors and visualization templates, across your apps. This allows you to focus your time and energy on developing the unique features that are a perfect fit for your people and processes.
Advantage #2: Enhanced security and data governance
Using a BI platform as the foundation of your app ensures that the data is secure and protected.
As all of your apps are backed by one central platform, your company is less vulnerable to cyber attacks. This is because no single point of failure exists, and everything runs on one centralized, secure cloud infrastructure.
Your company will also benefit from increased governance. This is because all data will be stored in one place and can be easily accessed and tracked. This makes it easier to comply with regulations and standards.
Advantage #3: Reduced operational costs
Using a BI platform for your app can also reduce costs. This is because you aren't rebuilding every component in your application. You're taking advantage of key BI features that allow you to do more with your development budget.
Advantage #4: Better data management
A BI business app built on a BI platform also offers improved data management.
As your data is already centralized and managed by a platform, it's easier to store your data and prevent the loss of information. This means that you can rest assured knowing that no information will be lost if a system crashes or an employee leaves the company.
How do I get started with BI business apps?
There are several BI vendors on the market today, and each one offers its own unique features and benefits. Domo is a modern BI technology that was built with speed and scale in mind. Domo's custom application capabilities are unparalleled in the BI software industry. Schedule a demo with a Domo representative today.
As you begin to design your application, you will most likely have several questions. Domo has a team of professional services consultants to help you through the scope and planning phases of your project. They can guide you as you create a project roadmap that ensures your desired outcomes are met.
Enhance your business with data-driven BI apps today
The benefits of using a BI platform for your business app are clear. By developing your app with a BI platform, you can take advantage of powerful data analysis tools, enhanced security and governance, and reduced time to market. In addition, you can rest assured knowing that your data is centralized and managed by a platform. Learn more about Domo's custom application capabilities and build the perfect app for your business.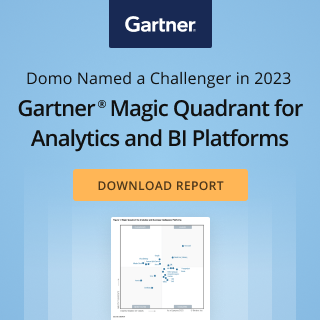 Check out some related resources:
Full Event: Domo AI Innovation Summit 2023
Domo and Regional One Health Named 2023 Nucleus ROI Award Winners
Foundations in Applied AI
Try Domo for yourself. Completely free.
Domo transforms the way these companies manage business.