/ Becoming a data-driven organization
Article
Becoming a data-driven organization
Data continues to be one of the most valuable assets in the modern economy. Data skills are becoming increasingly important in job opportunities as well because companies now expect their employees to be competent in dealing with and analyzing data.
As the creation and consumption of data continue to accelerate, we will see organizations that make good use of their data pull away from their competitors who are stuck using traditional approaches. Data is the key to success, but it cannot be used effectively unless it is widely available and accessible to all employees.
Who needs data in my organization?
Everyone. It's as simple as that. Simply everyone should have access to the data they need to be efficient. No matter the job role, data-centric employees continue to outperform their counterparts, especially when they are curious about the data and strive to use it to promote efficiencies.
While every employee needs access to data, this does not mean that every employee should access ALL the data of an organization. Data governance should be applied to limit data access to include only the reports and datasets that a user needs.
How do I enable my employees to use data?
After establishing data governance best practices and distributing data to employees, organizations can use a business intelligence (BI) tool to enable them to further explore the data. BI tools are a great way to promote a data-driven organization, as they allow users to easily access the data, transform it into valuable insights, and publish it to other users through visualizations or dashboards.
When employees use a BI tool to generate their own insights, they will become that much more excited to explore the data. Business intelligence should be for every employee in every department, not siloed away in IT or upper management. Enabling employees through training and development programs can also help in adoption.
What are best practices for creating a data-driven organization?
Fostering a culture that promotes data can be quite a challenge. Many organizations have tried and failed to become data-driven for many reasons. In order to avoid these pitfalls, here are some best practices for how you can help your company become more data-driven.
Invest in data resources and technologies
Data can be very daunting for end-users who don't have experience working with it. An easy way to overcome this is to invest in new technologies such as modern BI tools that help promote the use of data across your teams. Investing in a relationship with a BI vendor is an excellent way to increase adoption of the tool—especially when you initially start using it and your users have questions.
Lead through example
Management must be involved for an organization to successfully become data-driven. Too often, data initiatives are not fully adopted because individual employees do not see a need to change, especially if their managers or VPs continue to follow traditional practices.
Executives within your organization need to lead the charge when it comes to adopting a data-driven culture. A top-down approach such as this is the best way to ensure a permanent cultural change within the organization.
Build a culture of analytics
When it comes to company culture, it is extremely important to be intentional. Adopting an analytical mindset can include doing things such as displaying metrics or KPIs during a meeting, questioning business outcomes when data is not present, and proposing new ideas and solutions through data analysis.
Benefits of being data-driven
Adopting a data-driven approach to business can create a myriad of benefits for your business. Data-driven organizations continually beat their competitors, as they are able to outperform them in the marketplace. Here are a few benefits you can immediately reap as you foster a data-driven organization:
Better serve your customers
By harnessing the data you already have about your customers, you can uncover ways to better serve them. Happy customers tend to stay much longer than neglected ones. A great example of this is a call center using data to track the average call volume when it comes to employee scheduling. By understanding the current wait times, the business can plan accordingly when it comes to staffing, training, and operating procedures.
Improved operational efficiency
Data-driven organizations continue to strive for operational excellence in all they do. By analyzing the data around their standard operating procedures, business leaders can determine which processes lead to inefficiencies and wasted time.
Operations impact all departments and all employees. Data can help employees become more efficient in their daily efforts. As they are provided with more information, they will be more readily able to act on behalf of your organization.
Improved decision-making
It's amazing how many useful insights can be gleaned from business data. Data insights improve business decision-making because they more accurately paint a picture of the problem at hand.
Data-driven organizations are less likely to hesitate and more prepared to respond to the unique challenges in today's marketplace.
Greater employee engagement
Data-driven organizations also better understand their employees and how they can best serve them. Employees are the lifeblood of the organization, and ensuring their happiness leads to greater productivity and business outcomes. Data can be taken from HR systems, annual reviews, and other sources to paint a picture of each employee.
Data-driven employees are also happier employees. By enabling employees through training and new technologies, they will be more eager to come to work and execute their best on behalf of the organization.
Are you really a data-driven organization?
As previously mentioned, many organizations have tried and failed to become data-driven. Cultural transformation is an incredibly huge and complex process that cannot be accomplished overnight. As you strive to implement the necessary changes in your organization, always ask yourself: is this helping us become a data-driven organization?
Perfection is the enemy of progress. Becoming a data-driven organization is often a slow process, but this shouldn't discourage you. Small improvements day after day can lead to an entirely new way of thinking when it comes to data.
Conclusion
Data continues to be a defining factor for continued business success. Organizations of all kinds are turning to their data for answers. By fostering a data-driven culture within your organization, you can ensure your business is equipped with all the right tools—allowing you to remain competitive and be successful.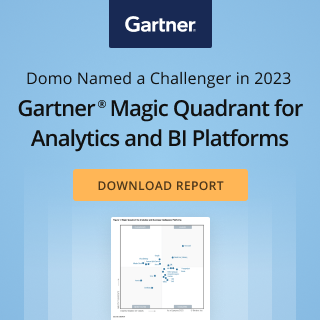 Check out some related resources:
Elevate Your Organization's Data-Driven Culture with Strong Governance Practices
Domo Ranked #1 Vendor in Dresner Advisory Services' 2022 Analytical Platforms Market Study
Climate Impact Analysis for Flood Mitigation Planning & Action
Try Domo for yourself. Completely free.
Domo transforms the way these companies manage business.