/ All you need to know about data analytics applications
Article
All you need to know about data analytics applications
Everything nowadays is based on data. Data can be anything from customer engagement on social media to financial reports of major corporations. Every company collects all these different types of data and more. This data is stored and can be examined through the use of an analytical application in order to help executives with critical decisions that can impact future success.
What does an analytical application entail?
An analytical application, often known as an analytics app, is a collection of business intelligence (BI) features such as self-service dashboards, reporting, and data collaboration capabilities that give end-users real-time insights into the data. This enables firms to immediately respond to performance inquiries and enhance workflows in order to make appropriate changes for increased efficiency.
Analytical applications are not confined to a single industry or sector; in fact, they may be designed and integrated into a wide range of business applications, including finance, marketing, sales, and more.
The functionality of analytical applications
Analytical apps, whether standalone or embedded, are designed to make data easier to access and understand for all users, notwithstanding their level of experience. They are BI solutions that are ready to use and that give company employees a logical and contextual picture of the data they work with. They make it simple for users to access data in order to find answers to their business problems.
When embedded, data analytics solutions provide developers with powerful connectors for easier integration with their company's conventional business applications. Some analytical applications include predefined data models as well as no-code or even low-code app development environments, depending on the solution, to make the entire BI experience as seamless as possible.
Advantages of using analytics applications
The following are some of the most valuable advantages of analytical applications:
Contextualized analytics
Data on its own cannot convey its entire value. People can't easily analyze and understand the story behind the data if they're staring at rows of raw numbers. So, they can't use it strategically to improve their business processes. Analytical apps, on the other hand, provide reporting and data visualization tools that make it easy for users to interpret the information they have in the context of the issue. Users may make informed business decisions based on real-time contextual insights.
Improved customer and user experience
One of the key advantages of embedded analytics is how it integrates data analytics tools and methodologies into the application that the users are already using. Users may spend time understanding what the data is showing and acting on it rather than jumping between several apps to find the information they need.
A strong embedded analytics vendor will also provide white-label capabilities. White labeling enables you to personalize every aspect of the analytics system to match your company's brand. Users won't be distracted by a slight difference in the look and feel of the embedded analytics app.
Increased competitiveness
Using analytics apps to strengthen your business intelligence efforts can give your organization a leg up on the competition. For both end-users and business owners, data analytics solutions give a competitive advantage. Among the advantages are
Quick and easy data access and dashboard development
A better grasp of the market you're after
Identifying potential improvement areas
Lowering costs and increasing earning
Increase in revenue
Customer satisfaction, application utilization, and ultimately income streams will all improve as a result of promoting data-driven decision-making.
You want the world to know when your consumers are pleased. And there's no easier way to grow your customer base than to have your customers promote you. You can also take advantage of the potential to sell your existing clients additional functionalities.
Analytics platform challenges
Configuration
Analytics systems may have a complicated setup process that necessitates IT or development skills. Users that try to adopt one of these tools without the help of an in-house IT professional or data scientist may have difficulty getting the technology up and running, integrating it with the right solutions, and generating queries. This could result in a huge loss of resources as well as the inability to utilize the tool properly. Users can seek help from BI consulting firms to set up the software or, in some situations, to handle all aspects of BI reporting.
Integrations
It's difficult to acquire a clear picture of a company's operational performance if the analytics tool doesn't properly interface with existing technologies. Similarly, if a communication mistake or other problem occurs during the execution of a data query, the result is an erroneous or partial readout. Users should keep an eye on these connections and any possible performance issues across their whole software stack to guarantee that accurate, complete, and up-to-date data is correctly processed and presented.
Data security
Businesses must examine security configurations to ensure that the authorized users see the right data and that the data is securely maintained. Effective analytics systems should have security features that allow administrators to grant varying levels of access to individuals depending on their seniority or role in the organization.
Excessive reliance on analytics and data can also be detrimental
Data-driven decisions are critical to a company's performance, yet data-only judgments neglect the opinions of numerous stakeholders both inside and outside the company. Successful firms blend rigorous analytics alongside anecdotal storytelling and meaningful discussions that address business problems in a holistic way.
How to select the right analytics application?
Choosing the best data analytics application for a company might be difficult because rarely does one solution meet all of the requirements. Fortunately, with a little support and guidance, selecting the ideal solution for your specific business use case may be a lot easier. To assist you on your way, we've compiled a list of questions to ask before making an investment in a vendor:
Who will use the analytical tool?
Will it be used by expert data scientists and data analysts, non-technical users in need of an intuitive interface, or both? Will you use the analytical application internally or make it available to your customers?
Was the solution designed specifically for embedded use?
Most embedded BI and analytics companies began by developing a desktop or web-based dashboard application. Many of these suppliers eventually chose to develop an embedded option, allowing customers to use the app experience in their apps. The issue is that producing a fantastic, ingrained experience is difficult. It's critical that the experience be consistent across all devices, from desktop to web to embedded apps.
Is the solution capable of connecting to all of your data?
Before you go any further, ensure that the solution can connect to all of your company's data, regardless of where it is stored. A competent embedded analytics vendor will support a variety of data sources that users may combine into a single view or position for a more thorough study.
Is it possible to personalize the data analytics tool?
Check to see if the technology may be tailored to your specific requirements. Customer loyalty depends on your ability to personalize every step of the client's journey, including the appearance and feel of the product. Invest in a platform that lets you adjust aesthetic components like fonts and colors to match those of your company's brand.
What is the price?
Although some data analytics apps are free, the majority are not. The most costly tools are not always the most feature-rich, so choose wisely. In addition, several suppliers employ pricing strategies that charge clients afterward for hidden fees, consumption, and user tiers. Experts encourage working with a provider who offers pricing that is clear, transparent, and publicly available.
Conclusion
Analytics is making great strides on virtually every route in the world. If we can gather information and analyze it, we will be able to increase our overall job productivity by a significant amount. Improving efficiency boosts the company's total profitability while also lowering the number of mistakes and uncertainty. When used properly, data analytics applications can have a positive impact on all who take the time to use them.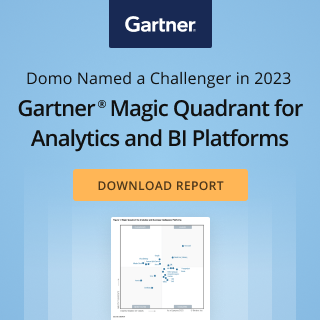 Check out some related resources:
Harnessing the Power of Data to become a better Credit Union
Domo Showcases ESG Solution for Gartner BI Analytics Showdown
Domo Named a Leader in Nucleus Research's 2023 Analytics Technology Value Matrix
Try Domo for yourself. Completely free.
Domo transforms the way these companies manage business.