/ What are embedded analytics—and why do they matter?
Article
What are embedded analytics—and why do they matter?
Embedded analytics is the new frontier in business intelligence. Traditional BI systems rely on data stored in an internal database, but embedded analytics takes your company's insights and puts them right where they matter: inside your applications.
With embedded analytics, you can tap into all the power of traditional BI–along with live data from sources like social media feeds or monitoring tools–without having to move that data outside of your system for analysis.
Sounds great, right? Here's why it matters to you.
Embedded analytics defined
Embedded analytics is the integration of BI tools and functionality into business applications. This can be done in many ways, but the goal is always the same: to give users access to data and insights directly within the applications they use every day.
As an example, embedded analytics can be used to give customer support reps real-time access to information about incoming cases. This way, they know the right questions to ask and can make faster decisions, improving customer satisfaction and decreasing call time.
Why embedded analytics matters for your business
Embed analytics takes data from your business intelligence system and seamlessly integrates it into your company's existing site or apps. This way, your data is always accessible and can be acted on immediately.
To better understand how embedded analytics works, let's look at a few examples of use cases for embedded analytics in business environments.
Embedded analytics for customer service reps
Customer service representatives (CSRs) typically need access to customer information at all times, and this becomes even more important during a phone call. Embedded analytics can help CSRs by providing them with real-time access to information about incoming cases, and is especially beneficial for high-volume call centers:
Reps know the right questions to ask: They don't have to waste time looking up customer data or remembering product specs.
Faster decisions: Time is of the essence when talking to a customer on the phone. The faster CSRs can find and act on the information they need, the better service they can provide.
Increased customer satisfaction: By getting answers to questions quickly, CSRs are able to resolve issues and improve customer satisfaction (CSAT).
Decreased call time: The more reps can do without leaving the app, the less time customers need to spend on hold—and that means spending more time talking to your sales team.
Embedded analytics for sales reps
Sales reps typically want live access to information such as customer case histories, product and pricing data, and order histories. This information is essential for reps during calls or conversations with prospects and existing customers. With embedded analytics, they can have all this information at their fingertips. This is beneficial for several reasons, including:
Improved customer interactions: By having access to all the relevant customer information, reps can provide better service and close more sales.
Increased efficiency: Reps don't have to spend time looking up information or wasting time with trial and error to work more efficiently.
Instant access to real-time data: Quickly analyzing data helps reps develop better strategies, which boosts their overall productivity and the company's bottom line.
Embedded analytics for customer relationship management (CRM)
Embedded analytics within commercial applications such as customer relationship management (CRM) is becoming common. With embedded analytics, sales reps can quickly and easily access the information they need right from any screen, helping them work faster and smarter:
Efficiently handle more cases: Reps can prioritize, collaborate and take action on cases without leaving the app.
Access real-time customer data: Embedded analytics allows access to information like case history reports without switching to another system.
Get new insights into your case data: View new metrics like CSAT or ROI to gain insights into your business.
Analyze data in real-time: Have access to information that's relevant now, so you're able to act on it immediately to maximize impact.
Embedded analytics for financial services
Financial institutions are increasingly turning to embedded analytics to build customer loyalty and grow their bottom line. The benefits of embedded analytics for the financial services industry are clear:
Improved customer experience: Financial institutions can provide their customers with a personalized experience by giving them access to their account information, credit score, and more.
Increased efficiency: By embedding analytics into their existing systems, financial institutions can speed up data analysis and make better decisions.
Improve customer satisfaction: Embedded analytics can provide better service by delivering the information customers need at specific times during their customer journey.
Embedded analytics and business intelligence
Embedded analytics can help organizations of all sizes improve key business functions such as sales, customer service, and financial services. But what about larger organizations with more complex needs? Can embedded analytics still meet their needs?
The answer is yes. In fact, many businesses use a combination of embedded analytics and business intelligence (BI) systems to get the most out of their data. Embedded analytics provide quick and easy access to data. One common misunderstanding is that people look at embedded analytics as something that replaces business intelligence, which isn't the case at all. Combining, transforming, and visualizing your data takes place in your BI solution. Modern BI tools like Domo allow you to quickly and easily embed single visualizations or entire dashboards on any site or application.
When organizations use embedded analytics and BI together effectively, they can:
Get a complete view of their business: By integrating embedded analytics with BI, organizations can see all their data in one place. This helps them make better decisions and improve performance.
Quickly find the information they need: With embedded analytics, users can find the information they need without having to search through different systems. This saves time and makes it easier to get insights into their business.
Access advanced reporting and analysis: Directly Within your BI system, you'll be able to connect to new data sources, perform ETL, and create new visualizations that you can share via embedded functionality.
Integrate within their own software: By leveraging an embedded analytics solution, IT departments can incorporate analytics within an existing software product without investing time and resources to build a solution themselves.
Harness the power of embedded analytics today
Embedded analytics is quickly becoming an essential part of business operations. By providing users with instant access to data, embedded analytics help organizations work more efficiently and make better decisions.
Embedded analytics can be integrated with business intelligence systems for businesses that need more sophisticated reporting and analysis. This allows organizations to get a complete view of their business and make the most of their data.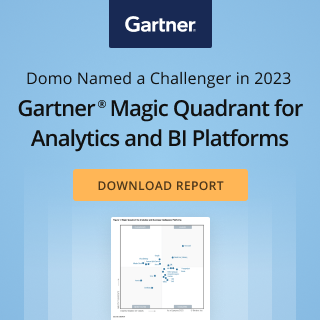 Check out some related resources:
Variables use case and feature walkthrough
Domo Named a Leader in Nucleus Research's 2023 Analytics Technology Value Matrix
Elevate Your Organization's Data-Driven Culture with Strong Governance Practices
Try Domo for yourself. Completely free.
Domo transforms the way these companies manage business.