Embedded Analytics
Try Domo for yourself.
Completely free.
Embedded Analytics
What is embedded analytics?
Embedded analytics integrates analytical capabilities and data visualizations into another software application. It allows organizations to easily and securely distribute data and insights inside and outside an organization.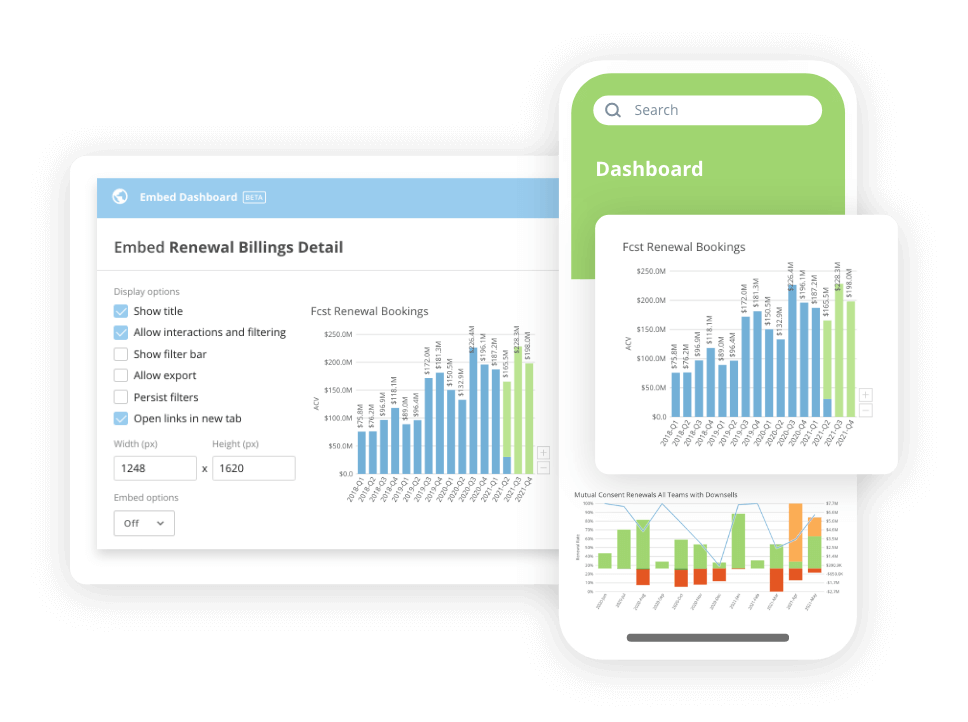 By embedding a self-service dashboard or chart into an app, portal, or website, you can strengthen relationships with customers and partners as they engage with interactive data experiences. You can also create new revenue streams by turning your data into value-added products and services. Embedded analytics deliver relevant insights to users so they can work more efficiently in the applications they use every day.
What makes embedded analytics unique?
Embedded analytics takes data visualizations and interactive dashboards and embeds them directly into interfaces so they can enhance workflows and experiences. But, more than just data visualization, embedded analytics can also allow organizations to easily and securely distribute data and insights externally to customers and partners. And, with an extended analytics tool, partners can upload their own dataset and merge them with published data for more in-depth insights.
Why is embedded analytics important?
Embedded analytics make it easier for everyone in an organization — and selected individuals outside of it — to access relevant data and insights. When data sharing is simple, business intelligence increases. Everyone can follow the same processes and make smarter, more informed decisions.
Benefits of embedded analytics.
Access data directly within common interfaces.
With embedded analytics, users can find the data they need within the common interfaces they use on a regular basis like apps, websites, and user portals.
Make data simple to understand and share. 
Tools like Domo make it simple to create dashboards with responsive design and custom interactions. You don't even need to know how to code.
Share data with outside partners. 
Embedded analytics allows you to maintain data management, security, and governance throughout data exchange.
Control data access down to the row. 
Embedded analytics tools like Domo give administrators the ability to govern privately shared data with row-level security based on users' permissions.
Allow partners to contribute data. 
With more advanced embedded analytics, subscribers can upload their own datasets and merge them with published data for more in-depth insights between partner organizations.
Create new revenue streams.
With an embedded analytics tool, you can commercialize your data, turning it into a value-added product or service for customers and partners. 
Get to market faster. 
With the ability to build and embed dashboards quickly and simply, organizations can focus on getting products to market instead of spending time and resources troubleshooting analytics capabilities.
Strengthen engagement with partners and customers.
With the right embedded analytics tool, you can create interactive data experiences to strengthen partnerships and retain customers by increasing engagement. Tools like Domo even allow customers to set alerts that help them monitor important metrics and KPIs.
White label your analytics platform. 
When you embed your analytics platform into a software application, you can white label it to match the brand, look, and feel of the rest of the application. This makes the embedded analytics unrecognizable as a separate software system to the end user.
How does embedded analytics work?
An embedded analytics tool follows an important but straightforward process:
Data gathering. Available data is gathered from all relevant data sources like data warehouses, databases, and platforms. 
Data querying. The data is queried to create a report or dashboard.
Data embed. The data is embedded into a website, software, portal, or application. 
Data refresh. The data is periodically refreshed so that the dashboard or report is always up to date with the latest information.
Embedded analytics is more than data visualization. The dashboards and reports shed light on new insights and inform business decisions. Common capabilities of embedded analytics instances include:
Dashboards and data visualizations. Eye-catching charts and graphs display data and performance metrics in easy-to-understand ways. 
Benchmarking. Comparing current performance metrics against past metrics or target performance from external data sources. 
Predictive analytics. Machine learning and AI tools let users predict likely outcomes based on current data and see what needs to change to create a different outcome.
Static and interactive reports. Interpret data in a tabular view with specific parameters.
Self-service analytics and ad hoc querying. Users can ask their own questions and explore datasets. 
What should I look for in an embedded analytics tool?
As you look for an embedded analytics solution, keep the following areas in mind: 
Resources and manpower. Determine how much time it will take your team to get the embedded analytics tool up and running. The faster and simpler it is to deploy, the better because it will conserve teams' resources for critical tasks.
Security and data governance. Your embedded analytics tool should make it easy to share data and also make it easy to keep that data secure. Decision makers should be able to govern who has access to data and what they can do with that data down to the most granular level. 
Interactivity. Embedded analytics is most effective when users can interact with and contribute data all while following strict data governance protocols. 
Load and refresh times. The faster your tool's load times, the better. The best tool will make data available without any refresh delays or loading limitations. 
Personalization. Some tools allow you to white label charts, reports, and dashboards. Others do not. The ability to personalize and customize the look and feel of embedded analytics can improve the user experience. 
How do different types of users take advantage of embedded analytics?
Embedded analytics can be used by organizations across industries and across departments within organizations. Everyone benefits from understanding data and making more informed business decisions, but different types of users can take advantage of embedded analytics in different ways. 
Customers and clients. Organizations can use embedded analytics in their products to give customers and clients an idea of how they are interacting with an application or service. For example, a project management solution could show users how long it takes them to complete their tasks and help them identify bottlenecks in workflows and processes.
Product teams. Product teams can customize and white label the look and feel of in-app or in-website analytics so that customers don't realize the data is coming from another source. Instead, it feels like it is coming from the brand and builds value and trust.
Enterprises. Embedded analytics allows enterprises to democratize data while still governing data sharing. They can create a single source of truth by providing dashboards and reports to employees of all departments so everyone in the organization is on the same page. They also make it simple to visually compile and share up-to-date reports for better decision making. 
Builders and developers. Data experts can use embedded analytics tools to more easily pull in-depth information and insights from the huge datasets available to them. When fewer data-savvy users in the organization can get the answers they need from an embedded   analytics tool, the data pros have more time to dedicate to projects that require their unique expertise.
How will embedded analytics evolve in the future?
As more organizations embrace embedded analytics, they will also see the value in expanding to an extended analytics solution. It will become more common for organizations to allow partners to upload and share their own relevant data instead of providing them with a read-only version of reports and dashboards. 
Machine learning and artificial intelligence tools with augmented analytics to eliminate manual labor. This will also allow embedded analytics tools to deliver insights to users faster than before.
RELATED RESOURCES
Video
Full Event: Revolutionizing Embedded Analytics
Report
Whitepaper: Embedded BI Importance Reflects Information Democracy Trend
Video
A Quick Introduction to Modern BI for All
Ready to get started?
Try Domo now or watch a demo.