/ Why your organization needs white label analytics
Article
Why your organization needs white label analytics
Reports and dashboards can be integrated into your application using white label analytics, commonly called embedded analytics. With this, it is simple to visualize and customize your interface's look and feel to ensure that it matches the rest of your brand.
To make your software distinctive and user-friendly, you should customize your application's user interface (UI). With the help of embedded analytics, you can customize outside services and incorporate them into your brand.
Purpose of white label analytics
This type of analytics platform aims to include external analytical software into an already-existing application. By doing this, the application's appearance maintains a uniform look, in line with the brand's other interfaces.
Embedded analytics could be considered more effective and valuable than contemporary enterprise analytics in a stand-alone application. Dashboards, reports, and data visualizations are all components of an effective analytics solution that aids in managing and monitoring data for more insightful analysis. This process of embedding these solutions into an organization's existing systems simplifies the work for the organization, enabling it to gauge progress, act swiftly to fix errors, and identify its weak points.
Essential characteristics of embedded analytics
A corporation can utilize white embedded analytics platforms to solve various analytical issues thanks to its many benefits. Some of them are:
Ability to integrate with onsite infrastructure
Scalability
API integration capabilities
Simple dissemination of data
Security
Making a case for white label analytics
White label analytics act as a type of self-service business intelligence tool for small and large businesses.
Executives can use white label analytics when presenting company performance to relevant stakeholders. A company's credibility and image are enhanced in front of board members and investors when they present analytical solutions that are branded as their own.
White label analytics can be incorporated into existing applications of companies in a variety of industries. Banks, substantial pharmaceutical corporations, ecommerce businesses, and many more use personalized analytics solutions that are customized to their industry.
Why is white label analytics essential for software providers?
For B2B software companies, embedded analytics is crucial since it offers the extra capabilities and benefits of a third-party program without having to invest in the cost of establishing a whole BI suite. The platform integration process and the time it takes to market analytical capabilities are both sped up.
These white label analytics technologies are easy to install, have sophisticated API connecting capabilities, and have a high degree of UI/UX system compatibility to deal with many different use cases. Now that clients don't have to spend time, money, or operating hours on analytical platforms, they can concentrate on their core competencies.
Advantages of white label analytics
As we've already highlighted, white label analytics helps firms and gives them a solid analytics foundation. Let's now talk about the substantial advantages it offers a business.
1. Keeps attention on principal undertaking
The corporation may concentrate on its main business functions with the help of practical analytics support rather than devoting essential resources to data analysis. It significantly reduces the workload on the company by handing off the overall project to a third-party technology provider.
It is unlikely that a small or startup business would want to take on the challenge of developing a BI platform when such solutions are already available.
2. Affordable and secure
Most white label analytics software is not free. Even though this type of solution would cost your organization, it is relatively inexpensive if you compare this option to building the platform internally. You can also be sure that your data is secure because there are built-in security measures and support available.
3. Cross-platform consistency
These UI layouts provide a consistent experience on all devices, including mobile and desktop. Regardless of the device you're signing in from, white-label analytics platforms contribute to making the brand's visual identity recognizable.
4. Convenient setup and use
Most white-label analytics tools are set up in a few simple steps. In a short period of time, you can have your analytics solutions created and embedded within your existing website, application, or customer portal.
Data management features are entirely under your control, allowing you to give your consumers a seamless experience. You'll also receive recurring updates to the software as the vendor updates it.
5. Allows for interactive reporting
Reporting on data involves much more than just tables and graphics. You may produce and browse through rich data with ease using cutting-edge technology.
This is possible with interactive dashboards and reports that enable stakeholders to carry out tasks like commenting, filtering, drilling down, searching, and annotating, as necessary, to develop significant business insights.
Many white-label analytics tools offer this type of functionality.
How can this kind of analytics improve client relations?
Each business has various methods of employing analytics to serve clients. It's critical to decide how you will use embedded analytics before looking for a software solution to deliver it.
White label analytics can be used with your customers in various ways. For instance, if you run an ecommerce website, you may send customers emails based on purchasing patterns that are customized with their specific data.
Companies should employ white label analytics to ensure their customers have the best possible experience as they interact with embedded analytics on a website or within an app.
Using white label analytics, you can increase profitability while maintaining client satisfaction.
Conclusion
White labeling is a benefit for companies that lack a thorough understanding of how to build a robust analytics tool. They can partner with white-label tool vendors that serve these needs rather than hire personnel to construct an analytics platform themselves.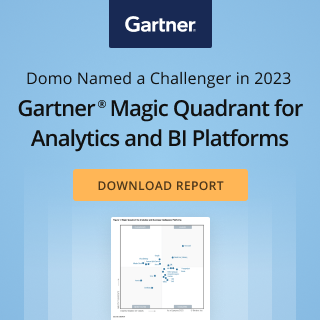 Check out some related resources:
There's an App for that—Tips for Crafting Apps, Dashboards, and other Engaging Data Experiences
Data Never Sleeps 10.0
Creating modern data experiences that help your customers succeed
Try Domo for yourself. Completely free.
Domo transforms the way these companies manage business.