A solution for every need.
At Domo, we recognize that a Business Management Platform needs to be as flexible as its customers are unique. And that's a challenge we readily embrace. So whether you're a marketer trying to understand channel ROI, or a manufacturer looking to optimize production capacity, Domo has the expertise to get you on your way.
Solutions by role.
From marketing mavens to IT pros, making an informed decision takes the right information. Instead of wasting your time pushing and pulling reports, Domo delivers everything you need, neatly in the cloud—ready when you are.
Solutions by industry.
Whether you're a manufacturer or a media agency, you have one thing in common: too much information and too few actionable insights. Domo's industry solutions help you overcome challenges specific to your organization—whether that's peaking COGS, plummeting CTRs or anything else in between.
Solutions by data source.
You shouldn't have to hack Excel to access the insights your company craves. Domo connects natively to hundreds of data sources, so your organization can pull together all the data it needs to make informed decisions.
Domo Apps
Domo apps tell stories with data, answer critical business questions, and arm you with confidence to make the right decisions at the right time. And as if all that wasn't enough, they're also hella sexy.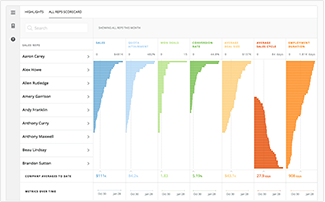 Sales: All Reps Scorecard App
Like pro athletes, all sales reps have key strengths and weaknesses. But do you know immediately how all your reps stack up? Now you can. And with that knowledge you can lead the entire team to greatness.

View how your sales reps stack up against each other
Know rep performance across six critical benchmarks
See how employment duration correlates to performance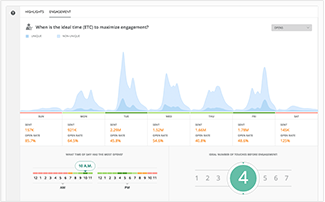 Marketing: Lead Engagement
Crafting an effective email marketing campaign is an art. Gauging the success of that art, however, comes down to science and numbers. And nobody has email marketing down to a science like Domo.
Identify which days and times have the highest open and click rate
Compare key metrics across campaigns
Identify how many touches a lead needs before converting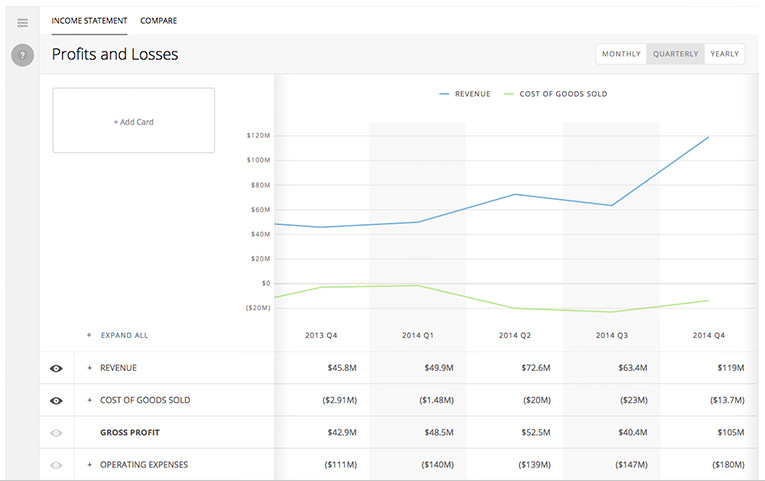 Finance: Profit & Loss
They say you aren't really making money until you're making money in your sleep. But what if you're losing money in your sleep? How do you even know? Wake up to fresh reporting and real-time forecasting.
Compare your current income statement to any previous period
Track gross profit margin and operating margin on a daily basis
Set SMS and email alerts for disproportionate spending
See what Domo can do for you.
x
Domo requests your consent to send you email communications. Please customize your Domo experience:
By selecting "YES" and clicking "Submit", you agree that Domo, Inc. and its representatives may contact you at the email address provided. You may
unsubscribe
, or view our
Privacy Policy
, at any time.