/ The advantages of using a cloud data warehouse in your business
Article
The advantages of using a cloud data warehouse in your business
Consider cloud data warehouses as just a centralized repository for cloud-based data. These data warehouses take advantage of the cloud's scalability, adaptability, and elasticity to benefit businesses.
Because of the advantages that cloud data warehouses provide, an increasing number of firms are incorporating them into their business intelligence and data analytics plans. Businesses may avoid worrying about limited storage by moving data warehouses to the cloud, which reduces overhead and maintenance costs.
For businesses that require to make timely, data-driven decisions, a cloud DWH is essential. It allows businesses to derive important insights from current, precise, and expanded data as and whenever they are needed, thanks to improved computing ability and simpler data administration. A data warehouse can be installed on-premises, on the cloud, or a hybrid of the two.
Main differences between data warehouses
The distinctions between cloud data warehouses and on-premises are summarized here.
In many commercial applications, cloud-hosted data warehouses are fast displacing on-premises ones. Here are the main advantages and disadvantages of both:
On-premises data warehouses offer the following benefits:
Total command of the technology stack
Local performance and speed
Regulatory compliance and governance
Cloud data warehouses offer the following benefits:
Scalability on demand
Cost-effectiveness
Capabilities like IAM and analytics are bundled together.
Security
System availability and uptime
On-premises: benefits
Control, governance, speed, security, and availability are all advantages of on-premises data warehouses.
Control
With an on-premises deployment, a company has complete control over what software and hardware to use, where it stands, and who has access to it. The gear could be storage devices and commodity servers that are already in use for other applications, or custom-built servers.
An IT staff has physical access to hardware and accessibility to every layer of software to simplify troubleshooting in the case of a problem. They can check for indication lights, and power cycle, and repair hardware as needed. They don't have to rely on outside help to get the system up and running again.
Speed
Even though some data sources could be off-site and only accessible via the internet, having all hardware and tools on-site alleviates worries about network latency. However, other factors may have a greater impact on performance than network delay. This is particularly true if your on-premises solution isn't suitably sized.
Governance
Using an on-premises data warehouse, regulatory compliance and data governance are frequently easier to achieve. Many businesses, for example, fail to meet the General Data Protection Regulation (GDPR) standards for data location identification. With an on-premise data warehouse, you know precisely where your data is.
On-premises: challenges
Maintenance
An on-premises data warehouse gives you complete control and accountability. On-premises systems must be designed, procured, and installed by database administrators and analysts, network engineers, systems engineers, security specialists and systems administrators. They must manage all hardware and software administration and maintenance, including moves, additions, and updates. They are solely responsible for keeping the underlying infrastructure up and running in an efficient, reliable, and secure manner.
Scalability
Furthermore, an on-premises data warehouse is unable to handle spurts of activity that necessitate additional computation or memory. Even if peak usage occurs very seldom, an organization must buy "up," scaling their data warehouse to handle it. Scaling up to suit changing needs may also necessitate the replacement of systems that are unable to satisfy new demands.
When compared to on-premise solutions, what are the advantages of cloud data warehouses?
Conventional data warehousing architecture is no longer capable of meeting enterprises' expanding analytics demands. Traditional data warehouses have failed to give enterprises the scalability, speed, and agility they want, as evidenced by the reality that the cloud data warehousing market is predicted to reach $3.5 billion by 2025.
On-premises data warehouses are more difficult to set up than cloud-based data warehouses. Cloud-based data warehouses, which are designed with changing business needs in mind, may also maintain compliance and be more secure than older data warehouses. A modern cloud data warehouse, unlike previous data warehouses, supports high data volumes and may be utilized to integrate store, and process data from a variety of sources, both on-premises and in the cloud.
Pay-as-you-go services are available with most cloud data warehousing systems, which are chosen by enterprises that are new to the field of data warehousing and are unsure of what they require. Since a modern data warehouse may evolve fast to suit these objectives, this solution is especially beneficial for firms that anticipate adding additional sources and platforms to their data architecture.
Cloud data warehousing's advantages
While having a contemporary, cloud-based DWH is critical for business intelligence, there are numerous other advantages to having a cloud-based data lake. What are the benefits of migrating to the cloud?
1. Availability
Modern businesses profess to be all about accessibility and flexibility. But how much of these claims would be true if their data storage infrastructure restricted them to a specific location?
Businesses now have offices in a variety of nations across the globe. With remote work becoming increasingly popular, businesses must implement a system that enables employees to have access to data and make key decisions regardless of their location.
Cloud data warehouses, unlike on-premise data warehouses, may be accessed from anywhere around the globe. Furthermore, modern data warehouses have access control capabilities to guarantee that only appropriate individuals have access to the data required for business intelligence. Interestingly, even when numerous employees access the data warehouse at the same time, data integrity is preserved in modern data warehouses, ensuring that enterprises never have to worry about data quality being compromised for accessibility.
2. Elasticity and scalability
Cloud data warehouses are built with the modern business in mind. These new data warehouses' cloud design allows enterprises to adjust resource allocation in response to changing demands. For example, during the high season, tourism organizations may require more computational capacity for increased analytics, but during the low season, they may only require a portion of this processing power. Companies with changing needs can pay just for the features and capabilities they require with a cloud DWH, which is unfeasible with on-premises data warehouses.
3. Increased efficiency
Multiple servers often share the load in cloud data warehouses. These servers ensure that massive amounts of data are processed quickly and efficiently.
Various departments frequently require organizational data to be handled in various ways. For example, the marketing department may want data in order to get insight into which marketing channels operate best with specific demographics and to use this information to develop future marketing plans.
The customer support team, on the other hand, may require data from several touchpoints to determine where the most grievances and feedback are received in order to give answers more quickly and efficiently.
A contemporary, cloud-based DWH enables all departments in a company to access important data and make evidence-based conclusions that can assist boost overall efficiency.
4. Additional data storage
The enhanced storage choices are one of the strongest reasons to shift the DWH to the cloud. As previously said, pay-as-you-go cloud data warehousing solution suppliers allow enterprises to grow up or down without sacrificing storage space. Other capabilities and features which allow firms to explore their data warehousing initiatives are also covered by this paradigm.
5. Better integration
Companies use data from over 400 distinct sources for analytics and business intelligence, according to a new report titled Optimizing Business Analytics by Transforming Data in the Cloud. This data is not only in a variety of forms, but it is also structured and displayed in a variety of ways, making integration problematic. This multi-touchpoint data might become caught in silos without a good integration method, rendering it worthless and hurting the quality of the analytics.
Fortunately, most current cloud data warehouses can assist you in overcoming this obstacle with relative simplicity.
Data from numerous data sources, like databases, cloud applications, and file formats, are integrated using cloud data warehouse solutions. Within this framework, even unstructured and semi-structured data can be easily recovered and consolidated. As a result, the organization's operations and the market it operates in become significantly more holistic, and these cross-enterprise inputs could be used to develop more effective information and analytics.
6. More effective disaster recovery
When it comes to legacy data warehouses, disaster recovery is frequently questioned. Companies that use legacy data warehouses must pay a lot of money to get the gear they need to make backups of their data in the event of a disaster. These businesses must also put in extra effort to secure the data in these backup sites and determine whose employees should have access.
The majority of these issues can be avoided by using a contemporary cloud DWH.
Cloud data warehouses maintain backups of data regularly to ensure that your business is not harmed in the event of a disaster. Furthermore, companies that use cloud data warehouses for analytics don't have to stress about buying equipment or finding storage space for their gear. All they have to do now is change their subscription to guarantee that the service meets their needs for business continuity and catastrophe recovery.
Is it time for your company to consider migrating to a cloud data warehouse?
Yes, absolutely – especially if your competition has already taken action.
The advantages of a cloud database should not be limited to a select few businesses. A cloud DWH could be the missing piece your company needs to minimize time-to-market and gain a competitive advantage.
One of the numerous benefits of migrating to the cloud is that you'll be able to receive a holistic perspective of everything from supply chain bottlenecks to marketing strategy efficiency, enabling you to make sound choices for the whole company. You can streamline operations with better query performance and productive data source integrations when you put a cloud DWH at the heart of your modernization strategy.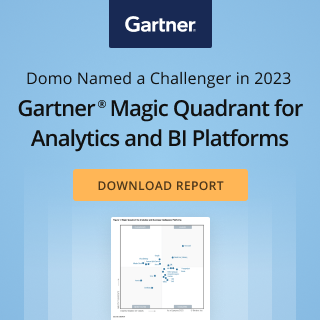 Check out some related resources:
From Data Chaos to Cohesion—Consolidate Your Tech Stack with Domo's Integration Capabilities
Why is no one visiting my lakehouse? Unlock the power of your lakehouse for low-code and no-code users
Start With Data Governance for Better BI
Try Domo for yourself. Completely free.
Domo transforms the way these companies manage business.