/ Implement cloud integration to prevent data silos
Article
Implement cloud integration to prevent data silos
In the simplest form, cloud integration means consolidating multiple cloud environments. The goal of cloud integration is to bring these multiple cloud environments to function as a single unified IT substructure for an enterprise. Many organizations today employ cloud integration to tackle the problems that occur from data silos.
What are data silos?
In short, a data silo is the collection of information that belongs to a group in an organization that is not fully accessible by other members or groups in the same organization. An organization consists of different departments, and all departments work with varying data, which they store in separate locations known as silos. With the increasing supply and diversity of data, the silos continue to grow.
Data silos lead to inconsistencies in overlapping data. Data silos make it difficult to access company data that spans departments and systems. When data is not easily accessible or understood by various groups in the organization, disconnects between departments arise.
What causes data silos?
Data silos are natural occurrences that happen over time. They reflect the organizational structures. As each department continues to collect and store data, they create their own specific silos. Some of the specific causes of data silos in many organizations include
Siloed organizational structure
Before the growth of cloud technology and big data, creating and managing data by different departments was a good idea. Every department worked according to its separate policies, goals, and processes, which resulted in data being generated within each department and staying there.
Company culture
Many companies have a culture of working as separate entities with specific challenges and processes. When this culture of separation exists, it directly affects how the company stores data. Hence, the creation of data silos.
Technology
The technology and data management tools an organization chooses to use can lead to data silos. Different departments rely on various applications to support their operations. Many of these systems manage and store data differently and do not permit information sharing, resulting in data silos.
Ways in which data silos are negatively affecting your business
All the departments within an organization are interdependent, even though they operate separately. Some of the data that one department creates and manages is relevant to other departments. Therefore, the ability to easily access data becomes essential.
A company will suffer negative effects if data silos exist. The following are ways that data silos may negatively affect your business:
1. Data silos prevent the sharing of relevant information
Silos prevent the sharing of essential information. Identifying enterprise-wide inadequacies is not possible without access to enterprise-wide information. For example, how can you identify ways to cut operational costs if there is no consolidation of operational performance and cost information?
2. Data silos pose a threat to the integrity of data
Data silos lead to the storage of the same data in different databases. The result is discrepancies in departmental data. As data gets old, it gradually loses its accuracy and worth.
3. Data silos lead to wasted resources
Storing the same information in several locations takes a toll on resources. Cloud integration addresses this system by reorganizing information into one source. The process helps free up storage space and reduces the stress of purchasing and maintaining unnecessary storage space. If several workers download a document for analysis in their system, the data becomes redundant.
4. Data silos create hindrances to collaborative work
When data becomes difficult to share, the ability to collaborate becomes problematic. Data silos can create barriers in data-driven organizations where collaborative work is a growth tool.
The role of cloud integration in addressing the problem of silos
Cloud integration helps to address the problems created by silos. Through the effective and accurate organization of data, data integration in the cloud makes it possible for companies to enjoy real-time access to data. The purpose of cloud integration goes beyond data streamlining. It also makes it easy to share information between the various departments within an organization.
Benefits of cloud integration
Some of the benefits of cloud integration include the following:
1. Cloud integration helps to expand your business' operational efficiency
Cloud integration helps to remove all the operational pitfalls of data sharing for efficient and smoother running of businesses. It also helps to enhance the general productivity of the company. When companies have accurate data, they understand how to better manage their time and resources.
2. Cloud integration helps scalability and flexibility
Cloud integration makes it easy to expand or adjust your data management system in the future to accommodate growth or project expansion.
3. Cloud integration helps to improve internal communication
Cloud integration helps to eliminate internal communication hitches. By removing the barriers data silos pose to the organization, different groups within the organization can communicate more easily and effectively.
4. Cloud integration enhances production time
Progress is always faster with cloud integration. It helps to prevent breakdowns and improves communication. Clear communication enhances production and ensures the timely delivery of goods and services.
5. Cloud integration increases your competitive advantage
Cloud integration provides you with the necessary tools to stay ahead of your competitors in the industry. Company-wide access to accurate data provides insight into the areas you need to adjust to improve your products and services.
Navigating from traditional storage to cloud storage
Traditionally, moving from traditional storage to a cloud-integrated system should be hassle-free. Nonetheless, achieving an all-in-one transition requires some preparatory steps, which may include:
Provision of internet connectivity
High-speed data access
Providing a real-time data replication approach for mirroring services during the transition
Conclusion
When it comes to cloud integration, the first thing to consider is the needs of your organization. Once you know what you need to accomplish through data integration in the cloud, you'll be able to research different business intelligence solutions and find the best one for your company. Incorporating cloud integration will create a cohesive data collaboration culture within your business.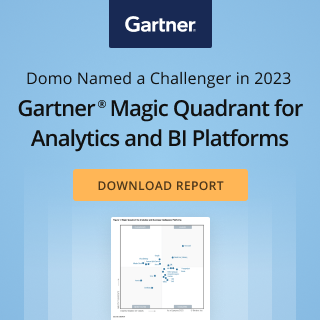 Check out some related resources:
Harnessing the Power of Data to become a better Credit Union
There's an App for that—Tips for Crafting Apps, Dashboards, and other Engaging Data Experiences
Domo Ranked #1 Vendor in Dresner Advisory Services' 2023 Cloud Computing and Business Intelligence Market Study
Try Domo for yourself. Completely free.
Domo transforms the way these companies manage business.