Integration. Speed. Transformation.
All in one platform.
Domo's Integration Cloud helps you address the challenges of integration, access, governance, and logistics.
Connect any system to Domo.
Connect all your systems with Domo, easily transform the data, and get live cache access with subsecond queries.
Monitor your data and systems in real time.
View all of the systems connected to Domo and get an instant visualization of how data is flowing through your data pipeline with Live View.
Get alerted on issues.
Know immediately when there are errors within your data integrations with built-in alerts.
Connect
Securely connect to your cloud, on-premises, or proprietary data sets and write back data to your source systems.
Over 1,000 pre-built cloud and on-prem connectors:
Quickly connect your data—whether it's in the cloud, on-premises, in a proprietary system, or a combination of all three—using our Integration Studio.
Bi-directional data exchange:
Choose from a variety of other options for data exchange, including ODBC, API, and the Domo App SDK.
Data federation:
Make the most of your existing data warehouse investments and avoid data duplication with federated queries.
"We migrated our data warehouse and rebuilt into a hybrid of using AWS and Domo's data warehousing capabilities. It now takes 15 minutes to reprocess every single record in the entire data warehouse – That is 1.4 billion rows of data."
Chief Information Officer
Store
Discover the extensibility of a live cache layer coupled with subsecond query response times, even on multiple concurrent queries.
Automatic scaling:
Scale your solution with dynamic scaling and our Massively Parallel Processing architecture.
Fast self-service:
Eliminate your need for aggregation modeling and cube design and quickly provide the data your users need.
Built-in storage:
Realize cost savings with a cache layer built on top of your data stores.
"Domo saves us from doubt. We don't have to question where the data is coming from and if it is accurate. We've taken the manual processes out of it, and now we can focus on results. That's been a tremendous cultural shift."
James Slagle, Vice President - Business Intelligence
Prepare
Cleanse, join, and transform your data with visual integration flows or advanced tools.
One complete dataset:
Quickly connect your data, whether it's in the cloud, on-premises, in a proprietary system, or a combination of all three, using our Integration Studio.
Data science:
Discover insights with data science actions and R and Python scripting integrated into Domo.
Custom logic:
Build your own business logic into custom code that is deployed once and automatically updated each time data updates.
API Manager
Build custom APIs to send data into the Integration Cloud.
"With Domo, we are able to combine data however we want to. We pull all of our data into Domo, and we can manipulate it as we need to. It's almost inconceivable how much more we can do with Domo than what we could do before."
Dina Bunn | Global Head of Central Operations & IT
Govern
Bring real-time control and transparency to your data pipeline.
Visualize your systems:
Get a visual of how your systems are connected to Domo, including system dependencies.
Monitor your data:
See how data is flowing through your pipeline at all times and take immediate action on issues.
Control data access:
Control your data with centralized and unlimited personalized data permissions, at an individual-user and row level.
"Domo brings all the data into a single repository. It eliminates stovepipe reporting that happens with Excel and Tableau, because everybody is working from the same environment, using the same data and the same tool."
Chief Information Officer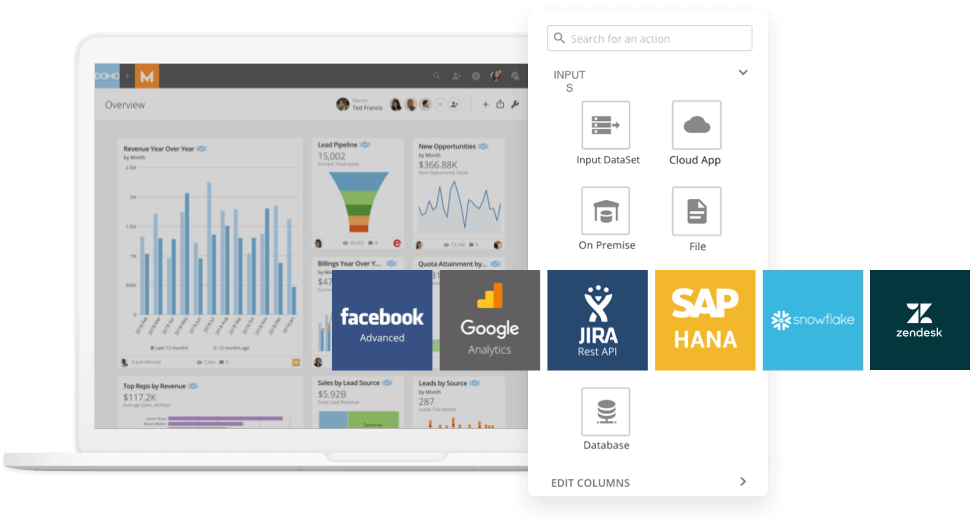 Do more.
Extend your iPaaS solution with Domo's powerful tools for visualizing, sharing, and applying machine learning to your data.
"Domo is a silver bullet in terms of creating insights out of data. It demystifies complex KPIs and enables us to unlock the power of multiple data sources to see a concise moment of truth."
Senior Vice President, Consumer Analytics & Insights
Explore Domo's data integration features.
Domo does data integration like no one else.
DATA INTEGRATION FEATURES
Combine & transform data ›
Orchestrate data pipelines ›
Powered by the Domo Business Cloud.
Domo's all-in-one data platform can help you to better integrate, interpret and use data to drive informed decision making across your business.
Data Integration
Dynamically integrate, transform, and orchestrate data from any source.
BI & Analytics
Drive action with Domo's real-time and predictive analytics.
Intelligent Apps
Create your own custom apps to automate and activate workflows.
Embedded Analytics
Share data and collaborate with customers and partners.
Start building your data-driven organization.
Do data differently.
Join us for a live product demo.
Turn data into insight and action.
Talk to sales.