/ What to look for in an effective data management solution
Article
What to look for in an effective data management solution
Big companies have a big problem: data storage and management.
As companies grow larger and expand their presence, there is a proportional growth in the amount of data they manage. An overwhelming flood of information can make it difficult for big companies to keep track of all their data and ensure it's in its proper place.
It can be challenging for large corporations or enterprises to securely maintain mountains of data, especially as it grows at an alarming rate. This can lead to lost time, miscommunication, and even potential security breaches.
Fortunately, there are solutions designed specifically to help businesses manage their data at scale. When seeking a data management solution, enterprises should look for the capabilities that will be most helpful for their specific needs.
With a powerful data management solution in place, companies can rest assured that their data is being handled properly and securely.
What is data management?
Data management is the process of organizing and maintaining data to make it easy to find and use. When a company collects and uses a lot of data, it's important to have a system to manage it effectively.
A data management solution will help you keep your data organized and accessible, which can save you time and hassle down the road. It can also help you protect your data from unauthorized access and ensure that it's stored securely.
A good data management solution will make it easier for teams to find the information they need when they need it. This can save companies a significant amount of time and money in the long run.
Why is data management important?
Data management is essential for companies of all sizes.
Whether you're a small company with just one location or a big corporation with several data centers, it's essential to have solid processes in place for managing your data. This can help ensure that your business runs smoothly and efficiently.
It's also crucial to use the right tools to manage the data you already have. This can help you reduce costs and make the most of your investments in technology.
The amount of data a company can generate is often proportionate to its success, so companies need to find effective ways to manage their information.
Let's break down some of the most critical capabilities data management at scale solutions should have:
Data warehousing
A strong solution should offer the ability to prepare, manage, distribute, and govern data sets, both big and small. This is especially true when you're faced with a large number of data-related tasks on a day-to-day basis. A modern BI platform like Domo can either act as a data management solution directly, or can be tightly integrated and used in conjunction with an existing solution.
A company can respond to an increasingly diverse range of customer requests and challenges with a full-spectrum data management solution.
Query management
Queries are the bread and butter of any data management solution. They are key to finding useful information fast, which is why a query manager needs to be easy to use for both technical and non-technical users. Magic ETL, Analyzer, and Dataflows are some of the tools offered within the Domo platform to give users of any skill level the ability to query their data.
A good query manager should provide instant access to all the relevant information you need. It should support complex queries without burdening IT resources and pull together data from multiple data sources.
Data standards
It's important for companies to use standard data formats if they want their solutions to be interoperable across the board. It should support industry standards for exchanging structured or unstructured data with partners or customers.
This keeps information secure while also ensuring that systems can transfer it seamlessly to other applications.
Metadata and tagging
A data management solution should include the capability to add metadata and tags to your data. These are essential for allowing users to create customized definitions of their data elements.
This ensures that they better understand the information they have on hand, boosting productivity across the organization.
Data analytics
Enterprise companies often need advanced analytics capabilities in order to identify new opportunities and trends within their data.
A good data analytics solution should be easy to use, with a user-friendly interface that makes it feasible for all employees to access this information from one place.
A modern BI platform like Domo can help you save time by enabling you to make better decisions at a faster rate. Plus, they can provide key insights into how your business is performing.
As a company's data management solution begins to grow, it's important for the system to have standards in place for governing how it is configured and used. A good data governance solution will help you maintain control over your data while still making it accessible to employees who need access on a daily basis.
It can also help you track how data is being used and identify any areas where it might be put at risk.
This is an essential component of any data management solution, as it ensures that the system remains organized and manageable over time.
Invest in a holistic data management solution
The best data management solutions are those that provide a full range of capabilities in one place.
This can save time and money by eliminating purchasing and implementing multiple solutions for different tasks. It also ensures that all your data management needs are met, from simple queries to complex data analytics.
A platform like Domo can provide you with all the functionality you need for effective data management and analytics.
When your data is properly managed and accessible, you'll be able to make better decisions faster and more efficiently. This will be critical to ongoing scalability in the future.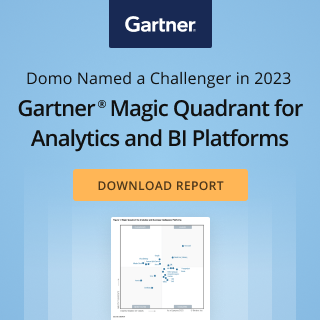 Check out some related resources:
Accelerating the Data Lifecycle with Domo Cloud Amplifier
Start With Data Governance for Better BI
Manage, Transform, and Visualize Your Data
Try Domo for yourself. Completely free.
Domo transforms the way these companies manage business.