/ How businesses can leverage public dashboards
Article
How businesses can leverage public dashboards
A public dashboard is an information management tool that visually tracks, analyzes, and presents key performance indicators, metrics, and data points in a public-facing, large-scale way, enabling you to keep tabs on the state of your company, team, or particular business processes while also communicating information to a large audience.
A public dashboard approach makes it simple to display vast amounts of data and convey quick results. Public dashboards have become essential for promptly presenting the most relevant variables to departments inside the firm and customers, as organizations employ several approaches today to track operational success.
It is much easier and more effective to have all the data needed to make important business and advertising decisions with a public dashboard. You can collect data from several sources, analyze it, and display it in an understandable and engaging way. Then, this information can be communicated to the people who can make the best use of it.
A public data dashboard makes it easier to compare different metrics and key performance indicators. Your team members or clients can easily access your data dashboards when you use a public dashboard, which also makes it simple to share your data dashboards with them.
Types of public dashboards
There are four primary types of dashboards. Choosing the appropriate type of dashboard for your business needs is crucial to a dashboard's success.
While all types of dashboard make good public dashboards, not every dashboard is a good choice for every situation. You must be aware of the issues that each one resolves to choose the one that is ideal for you.
1. Strategic dashboards
A strategic dashboard is used to track a company's long-term business plan using key performance indicators, or KPIs. A strategic dashboard displays goals, crucial metrics, projects, and action items to manage an organization effectively.
Since the information in these sorts of dashboards has an impact on a firm on a large scale, senior-level management often uses them in their day-to-day operations. They can also be useful to managers and line-level employees.
2. Analytical dashboards
Middle management teams within a business frequently employ analytical dashboards, which are created to offer a comprehensive overview of data. Analysts employ the copious amounts of data included in an analytical dashboard to support executives, creating them utilizing executive dashboard software.
In order to discover trends, evaluate them against a number of criteria, and make projections and targets, analysts must analyze historical data, which requires the use of analytical dashboards. All of these are integrated into your company's overall business intelligence strategy.
Ad hoc querying is one common advanced BI feature found in analytical dashboards. This allows dashboard viewers to build their own unique analytics and visualizations off of the data sets powering the dashboard.
This can help to discover novel relationships and new insights. This is just one of the reasons why these dashboards are particularly effective when they're public.
3. Operational dashboards
Operations with a shorter time frame and frequent changes are monitored and managed using an operational dashboard. Operational dashboards typically keep track of important metrics and factors as well as the advancement of predetermined goals.
Operational dashboards are viewed multiple times throughout the day, so the data on an operational dashboard is updated frequently. Every person involved in the operation can make good use of this kind of dashboard, using it to inform them of what they should prioritize and what needs additional care.
4. Informational dashboards
Informational dashboards are used to present data as a narrative. They are simple to understand, clear, and devoid of excessive amounts of detailed data that could confuse the team or clients.
Informational dashboards offer crucial details for a particular area of business. It is a fantastic way to inform your clients of the accomplishments made for a particular period. These dashboards are especially good for presentations or use as executive-level dashboards.
The most important performance indicators for public dashboards
Different public dashboards are used by organizations to aid in departmental and enterprise-level decision-making. Here are some popular use cases for public dashboards:
1. Operations
Managers can monitor goals and identify potential problems with the help of metrics that are displayed on an operational dashboard. These dashboards continuously monitor the state of operations, business procedures, and equipment for use in management and day-to-day monitoring.
2. Marketing
The marketing dashboard gives the marketing department information about how well it is doing in terms of marketing. Teams can quickly understand email, content marketing, and web traffic campaigns with the help of a good marketing dashboard. Data on costs, response rates, lead generation, and other marketing metrics can be found in a marketing dashboard.
3. Finances
Monitoring significant financial indicators is simple with a financial dashboard. The ability to track expenses, revenues, and profits in great detail and successfully manage cash allows executives and staff in the finance department to meet and exceed their company's financial objectives.
Along with available cash, investments, and debts, cash flow, and bottom lines, a financial dashboard also helps to analyze sales, operational expenses, and revenues.
4. Sales
A sales dashboard allows users to assess progress toward sales goals and uncover possible trouble spots by providing information on a product and the cost of sales activities. You can keep a close eye on sales and track them in one convenient location with the help of a sales dashboard. Sales teams can simultaneously obtain a thorough overview of sales performance, cycle times, and sales funnels.
5. HR
An HR dashboard can be used by HR managers and business executives to access personnel statistics. In order to improve skill management and consumer happiness. Additionally, it requires hiring staff and compiling data on things like cost, competition, and employee performance. Basic workplace information, including the number of staff, salary figures, and demographic groups, is displayed on an HR dashboard.
6. Customer support
A customer support dashboard makes it convenient for support staff to keep track of customer metrics. It enables businesses to monitor their support team's response time and handling time as well as other important metrics that are selected to be measured.
The customer dashboard enables users to access and analyze information about a company's existing customers along with its growth, attrition, and engagement rates, revenues per client, customer loyalty, and other customer metrics to plan ad campaigns and sales initiatives.
7. Executive success
With the aid of an executive dashboard, businesses can quickly analyze vast amounts of data and come to informed decisions. The executive dashboard gives you a graphical user interface that uses real-time data so you can base decisions on it in split seconds.
8. Project management
The project management dashboard keeps track of specific objectives that different teams and departments within a company have previously specified. It shows the status and development of business projects and helps project managers monitor work, spot issues, and maintain projects on schedule and within budget.
Leveraging public dashboards for success
Dashboards may be used at all levels of the organization as a tool to alter the corporate culture. Designing a useful dashboard depends on selecting the key metrics and indicators to monitor. The main goal of a dashboard is to offer precise and succinct responses to any questions your team, company, or clients may have regarding data.
Managers may assess important risk factors or critical success factors on a single screen using a public dashboard. From there, they can make choices and take action to reduce risks and boost organizational effectiveness.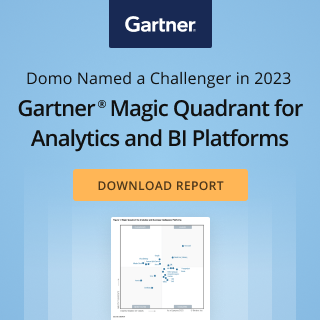 Check out some related resources:
Domo Recognized as an Overall Leader in the 2023 Dresner Wisdom of Crowds® Business Intelligence Market Study
Domo Named a Leader in Nucleus Research's 2023 Analytics Technology Value Matrix
Domo Showcases ESG Solution for Gartner BI Analytics Showdown
Try Domo for yourself. Completely free.
Domo transforms the way these companies manage business.