/ The advantages of an effective KPI dashboard
Article
The advantages of an effective KPI dashboard
One of the most important aspects of a business has always been key performance indicators. Without KPIs, a company runs the danger of losing business due to unpredictable performance or management issues.
An important factor in enabling managers and members of the team to stay on track to meet and exceed the company's goals and objectives is selecting the right KPI and linking it to others to come up with a suitable data story.
Imagine having all of your KPIs on a screen in interactive visualizations built using professional dashboard software, where one can gain insights into company performance and respond to any issue in seconds. That's where KPI dashboards come into play, and they're the most effective weapon against lower productivity and higher operational or strategic costs.


What is a KPI (Key Performance Indicator)?
This is a metric that is often used to assess how well an organization is performing in relation to its strategic goals. By condensing multiple metrics into a manageable number of 'key' indicators, KPIs assist in minimizing the complexity linked to performance tracking.
In business, KPIs are commonly used to monitor the operational performance of various departments, initiatives, or individuals against goals or targets. They serve as a tool for management to obtain information and make decisions.

Three types of KPIs exist
1. Strategic
At the strategic level, KPIs would typically represent the health of the company and measure the progress of future goals, such as expansion.
2. Operational
Operational KPIs are sometimes linked to strategic KPIs, although they are more focused on core operations or departments, such as product development, marketing, or even internal projects. After that, this data is used to make day-to-day management decisions.
3. Individual
Individual KPIs have been used to track how well an individual applies their talents to a particular activity. They're also utilized to give managers a tool for evaluating their employees, such as how to manage remuneration in departments like sales.

What does a KPI dashboard entail?
This is a graphical depiction of an organization's key performance indicators. Companies, departments, as well as managers utilize this KPI tracking tool to track the development of company targets using visual graphs and charts, allowing them to make more informed business decisions. Dashboards allow managers to easily spot trends and receive alerts when KPIs surpass certain levels.

What are the advantages of KPI dashboards?
These dashboards aid firms in giving context to performance, concentrating on the broad picture, and ensuring that operational procedures run smoothly. They offer a variety of additional advantages:
1. They provide interactive data that is updated in real time: A KPI dashboard does not contain outdated information, and each KPI is refreshed in real time, eliminating the need to export a document and search through endless data. Live dashboards offer rapid analytical insights, and the interactivity of the visualizations allows you to dive as deep as you desire. Each KPI is analyzed using a variety of filters that enable you to get the most accurate picture of your organization.
2. Processes are made easier with a modern corporate KPI dashboard: Spreadsheets and PowerPoint presentations are no longer used for monitoring, evaluating, and creating insights. Dashboarding can be investigated in-depth and predict the future of your organization using intelligent technologies like artificial intelligence-based data alerts or predictive analytics capabilities such as projections or value comparisons.
3. Departmental communication evolves and improves: The merging of functional lines across the business will provide a well-aligned company where cooperation and sharing have become the emphasis of data management and digital dashboards constitute the foundation for making valuable decisions. They can empower staff to make better decisions based on C-level management's strategic KPIs.


4. Every metric is available in one location: As previously said, these dashboards provide a single-screen experience. They give you fast access to data that you may share with your coworkers or other departments, whether it's through automatic emails, a viewing area, link exchange, or exporting a file. You don't have to wait weeks for a report; instead, you can get it right away, complete with all of the key indicators in one spot.
5. They can assist you in identifying inefficiencies: KPI dashboards can help you find inefficiencies in your operations by using real-time data as a foundation. You can spot challenges in production, customer satisfaction, staff performance, supplier relationships, and other areas by interactively measuring the proper KPIs and then finding appropriate remedies based on verifiable data. As a result of the power of data-driven decisions, you'll always be a step ahead.
6. Your company can save money and time: Dashboards help you make educated decisions and allocate resources wisely by keeping you up to date with the current developments in every business sector. Business strategies that are developed in the dark might result in significant financial and time losses. By making decisions based on a live KPI dashboard, you can also be certain that you're taking efficient steps to achieve your company's objectives.

Best techniques for building a KPI dashboard
When it comes to creating the best KPI dashboard, there are a few golden guidelines to follow:
1. Make a list of your target market: You must determine who will be responsible for the KPIs and what data they will want. Is it necessary for you to present the dashboard to C-level executives or other employees? Do you need to show off the strategic accomplishment of long-term goals, or will it address everyday tasks? Before you begin constructing and aggregating the metrics on the dashboard, you must first define your target audience and communicate with them to determine the most effective and practical method of presenting your data.
2. Carefully select your KPIs: It's time to select the data you intend to offer after you've defined your audience and determined whether you'll be presenting high-level or low-level KPIs. Of course, the goal of a KPI dashboard is to help you make better and more informed business decisions, and by selecting the proper KPIs, you can boost productivity and create a working environment that is cost-effective. Whether they're tied to specific short-term goals or longer-term aims, the idea is to avoid measuring everything and inundating your audience with data that doesn't offer value. Begin with a few key performance indicators (KPIs) and expand from there.
3. To make a natural data stream, draft your design carefully: A KPI dashboard should be simple to understand, with a clear business story told through an integrated stream of data. Create a rough draft and decide which chart types to employ based on the distribution, relationship, or composition of the data before you begin. This will ensure that you build a dashboard that is simple to understand and effectively communicates insights.
4. Make a template for yourself: Once you've completed your draft, it's time to develop your dashboard and produce powerful visualizations. Depending on your brand, it's best to go with a few simple colors. For a coherent data flow, the layout should adhere to the prior ideas while always keeping the audience in mind. In order to ensure that your dashboard displays the correct information, you should solicit feedback. After all, the idea is for everyone to gain new perspectives, allowing you and the audience to make better business decisions.

Conclusion
KPI dashboards, built according to best practices to convey relevant insights into performance, provide numerous benefits to an organization. Follow the steps outlined above to incorporate KPI dashboards into your business in order to unify employees and drive success.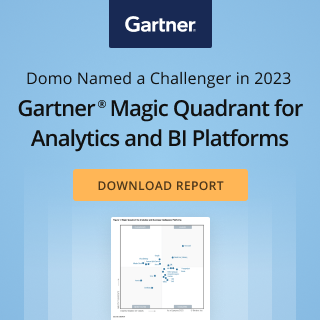 Check out some related resources:
Creating modern data experiences that help your customers succeed
Data Never Sleeps 10.0
Domo Recognized as an Overall Leader in the 2023 Dresner Wisdom of Crowds® Business Intelligence Market Study
Try Domo for yourself. Completely free.
Domo transforms the way these companies manage business.