/ Dig into data with real-time analytics and business intelligence
Article
Dig into data with real-time analytics and business intelligence
Making smart business decisions is essential to the success of any company. And in order to make wise decisions, you need access to real-time analytics. This is where business intelligence (BI) tools come in. BI tools can produce reports and datasets that are up-to-the-minute, so you can make informed decisions as your business grows.
In this article, we will discuss how real-time analytics can benefit your business and give you a competitive edge.
Why does my business need real-time analytics?
Real-time analytics allow you to spot changes in your market and adapt your strategies accordingly. For example, if you're a retailer and you notice that sales are trending down, you can quickly make changes to your inventory or pricing strategy. By reacting swiftly to changing trends, you can avoid major losses in revenue.
Real-time analytics also help drive an organization to become more data-centric. Businesses that rely on their data to make critical operational decisions end up making better decisions because they aren't just guessing. They are using data to predict future outcomes and analyze previous trends.
As your company adopts real-time analytics, you can expect several benefits.
Real-time analytics help you make better decisions
Real-time analytics can also help you make better decisions about where to allocate resources. If you have real-time information about all aspects of your business, then you know exactly where to focus your time and energy.
A great example of this is having real-time access to the point of sale data in your retail stores. By collecting and analyzing this transaction data in real-time, your store leaders can make better judgment calls when it comes to sales, stocking and order products, and labor allocation.
Real-time analytics can show you important trends
One of the biggest benefits of real-time analytics is that it can help you identify trends as they're happening. With access to up-to-date data, you can perform trend analysis the very same day the data is occurring. This can be quite powerful, as most traditional tools require a lag, meaning you can only analyze historical data.
Real-time analytics allows you to create custom alerting
Having access to data instantly also allows you to create unique alerting systems when exceptions occur within the business. Modern BI tools offer alert systems that can text, email or send push notifications to a mobile device whenever irregularities occur in the data.
A great example of this is sending alerts to sales reps whenever a potential prospect has signed a contract. As soon as the contract is signed, that data can be sent to the BI tool which will then fire off alerts to any number of people. Notifications help business users take action when it is required, and the timely delivery of those notifications is absolutely essential to good business. Real-time analytics can help your business users stay more informed than ever before.
Real-time analytics improve business reporting
Reporting is an important tool used by businesses of all sizes. Where traditional reporting is usually done on a monthly or quarterly basis, real-time analytics allows reporting to be accurate up to the very minute. BI tools allows for the creation of dashboards, charts, and key performance indicators (KPIs) that allow business leaders to see just how well their business is performing at that very moment.
How can I get started with real-time analytics?
Helping your business become more data-minded is by no means an easy task. It often requires additional training, adopting new mindsets, and adapting to new technologies. Getting started is the most important thing when it comes to adopting real-time analytics within your business. Here are a few suggestions on how to get started.
Start small
Any large project starts with just a few small tasks. By identifying certain departments or business processes where real-time analytics can be beneficial, you can begin to plan a more full rollout within the organization.
Find champions within different teams
Data professionals exist within all departments of an organization, and many of them are just waiting to get their hands on the data. By identifying and working with these champions, you will start to see the overall desire of the organization to increase when it comes to real-time analytics.
Continually improve
Following an iterative approach when it comes to real-time analytics is the best way to produce a scalable and durable solution for your business. Iteration is the process of constant improvement and change, meaning you are never actually done with the project. As you become more familiar with the BI tool, you will naturally find more and more innovative solutions to test out. Through experimentation and time, you will better understand what data and insights are valuable to your organization.
Gather feedback from stakeholders
It's also important to not develop in a vacuum. Always be asking questions and gathering feedback from your end-users in every department. Real-time analytics can benefit any job function, so gather feedback from individual contributors, managers, and executives.
Conclusion
If you're looking for a way to automate your business analytics and get real-time updates, partnering with a BI vendor is the answer. Through this partnership, you can access data that you use on a daily basis that will update automatically. This will give your business leaders the tools they need to succeed with their goals each day.
BI tools are essential for turning data into insights. By giving your employees the ability to explore and analyze data in new ways, you can unlock a world of intelligent insights that will help your business grow.
If you're not already taking advantage of BI tools, now is the time to get started. With so many options available, there's sure to be a tool that fits your needs. Watch how your team transforms when they have access to the power of BI.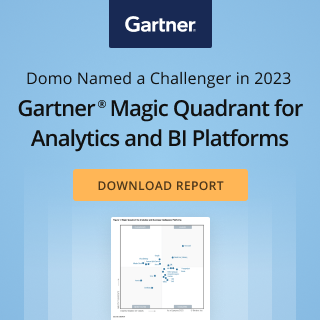 Check out some related resources:
Elevate Your Organization's Data-Driven Culture with Strong Governance Practices
Fight the 'Sleepworking' epidemic with better data and tech access
Domo Named a Leader in Nucleus Research's 2023 Analytics Technology Value Matrix
Try Domo for yourself. Completely free.
Domo transforms the way these companies manage business.