/ Discover the benefits of business workflow apps
Article
Discover the benefits of business workflow apps
It's more crucial than ever to establish efficient workflows in the era of data-driven business. Every company function is powered by continuously changing data, and success and growth depend on having access to this information at breakneck speed.
But when your team is dispersed across numerous time zones, and you're using a variety of software platforms, it might be challenging to complete everything on time.
Utilizing business workflow applications is one of the most accepted methods to keep your team's precious time and resources in check.
You may access the data you require at any time from any device, thanks to the fact that these apps are made to sync with a variety of cloud-based services. Due to a continuous data flow, businesses may devote more time to data analysis and less time to manual report updating.
What do business workflow apps do?
Understanding corporate workflow software is crucial. These apps aim to increase your overall productivity while assisting you in managing your business-related duties.
Businesses can use them for many different things, such as automating previously manual business processes, motivating employees, or even machines to act on insights discovered in your data.
Workflow apps are valuable because you can customize them to fulfill your particular requirements. Today's applications generally include a large selection of pre-built connections that simplify linking all the data required to start automating whole operations.
Modern workflow apps are also based on cloud technology; you can use them anywhere and anytime. Furthermore, because they are cloud-based, they can create processes that update continuously with the most recent versions of data from every source.

What are the benefits of business workflow apps for your company?
Let's discuss some benefits that business workflow apps can provide for your organization now that we understand them better.
Streamlined processes
Workflow apps for businesses do precisely what their name implies: they assist you in automating previously manual workflows. As a result, you can change data using predetermined logic rather than sifting through numerous programs or files to locate scattered data points.
Consider a small business that offers marketing services, for instance. An automated workflow tool can assist you in developing a procedure that integrates marketing information in real-time rather than requiring you to follow each client's separate campaigns across media.
In this new setting, you have a single version of the truth that receives data from all pertinent systems while providing an answer to a query or putting out a routine performance report. This performance report eliminates wasting time on information and allows you to concentrate on serving your clients.
Businesses that operate in a fast-paced setting and need to manage several datasets depend on workflow software.
Increased productivity
Utilizing corporate workflow apps can also significantly increase productivity. It is simple to do tasks fast and effectively once you have everything you require at your disposal.
A small team can handle numerous data sources and datasets with the help of efficient workflow automation technology. You may increase your capacity for data-driven productivity by eliminating the time wasted on manual report creation and gathering. For companies that are expanding quickly, this is crucial.
Communication and cooperation
These solutions can assist your company in various ways to improve communication, from internal program management to client-facing relationship management.
Maintaining team and even organizational alignment is one approach to doing this. You can focus more on making the proper judgments if every participant in a project can refer to a central system. This enables you to worry less about gathering the correct information. Access to the most recent data is guaranteed for all users in a certified environment via a business process app.
By making it possible for you to assign tasks more effectively than ever, these tools also aid in accelerating your rate of execution. Using a workflow app, you can automate a process, keep an eye on the outcomes for changes, and immediately assign team members to handle any possible problems. The issue of details sliding through the cracks is significantly less likely to happen when employees communicate and work together on tasks more efficiently.
More effective data analytics
Data collection by businesses today is at an all-time high. It can be challenging to make wise decisions if this data isn't thoroughly examined and understood.
Workflow apps and other business intelligence solutions make it simple to make sense of your firm's data. Having relevant information enables you to make wise decisions for your company's future.
Many corporate workflow apps offer the ability to visualize data, which simplifies the process of deciphering data. You may also monitor how past actions have affected your company's performance thanks to quick access to historical data.
A single informational source
There was once a point when spreadsheets ruled in organizations. We have wasted time looking for the most recent edition of a report and combing through countless tabs to get the sheet we needed.
Your reporting could be improved with the help of a business workflow application. Instead of dealing with one data source at a time, create a single, consistent source of truth using a workflow app that pulls data in from a variety of locations.
Enhanced control, transparency, and trust
There is a significant reduction in micromanagement when teams use workflow apps. Each work role has particular obligations and outlined objectives. Employees are aware of their responsibilities, and managers feel at ease handing over task ownership.
Inefficient tasks are eliminated by workflow automation. Everything takes place in the open, and data accessibility is now more tightly controlled than it was. Administrators can decide whether to make sensitive data available to particular teams or individuals.
Simple onboarding
People are more likely to adopt technology when it is intuitive and easy to use, perfectly tailored to their needs. The more instinctive, enjoyable, and effective their experience with a workflow app is, the more they will transition from being mere users to advocates.
Available from anywhere
The modern workforce is mobile. Tablets are overtaking PCs in popularity, while smartphones are everywhere. Your workflow automation system soon becomes indispensable by giving your workers the freedom to access files and data on their own devices and interact with others while they are away from the office.
Creates accountability
Task transparency is another benefit of having a single workspace. People are more likely to be accountable to one another for timely delivery when they know that others are aware of their to-do lists. In fact, they are encouraged to be much more productive, frequently looking for ways to guarantee that their tasks are completed on time or even early.
Intuitive design
Contrary to popular belief, workflow automation accentuates the human components of business processes. Daily chores are automated, allowing team members to employ their knowledge, expertise, perspectives, and opinions more efficiently in other areas to deliver a higher-quality deliverable.

Conclusion
Business intelligence (BI) workflow apps have many advantages that companies can use. These tools can support your business to the fullest extent possible, whether you need to manage time and billing, enhance team collaboration, or maintain streamlined operations. Additionally, they can be the ideal choice if you're seeking a simple strategy to improve your general productivity and efficiency in business.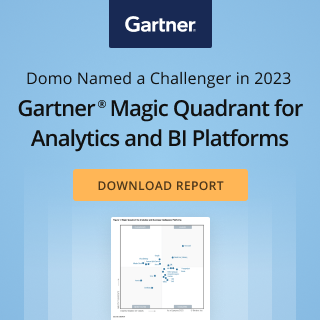 Check out some related resources:
Domo for Marketers: Tips and tools to seamlessly manage marketing data
Data Never Sleeps 10.0
POV: Next-Generation Banking
Try Domo for yourself. Completely free.
Domo transforms the way these companies manage business.