/ Why your business needs dashboard software
Article
Why your business needs dashboard software
As a crucial business intelligence tool, dashboard software represents an all-in-one solution for the aggregation, analysis, and visualization of data, allowing users to instantly gain insight and take action to produce positive change.
Dashboards can transform businesses' data into useful visualizations that provide a comprehensive overview of performance. However, not all dashboard software is created equal.
With this in mind, we're here to help guide you on your journey to finding the dashboard solution best suited to your business.
What dashboard software features should you look for?
All dashboard software has the ability to display data in easy-to-digest visualizations that make data insights more accessible to viewers, but there are a number of additional features you should look for to ensure you're getting the most out of your dashboard software.
1. The integrations necessary for your business
In order to gain the most value from your dashboards, the dashboard software you use should have the ability to integrate with all the software you use to collect and store data. This enables you to easily generate dashboards that illustrate the complete story backed by your data.
2. UI interactivity
One of the key benefits of dashboards over traditional reporting methods is that they are interactive, rather than static. There are particular interactivity capabilities you should look out for when choosing a dashboard software.
Features such as drilldown—a functionality that allows users to obtain a granular view of the data shown by dashboard visualizations – and drill-through — which enables users to hone in on a particular metric shown in the dashboard – are both critical to gaining the insights necessary to answer important business questions.
Similarly, time interval widgets that allow users to view data collected over a specific period of time—such as yearly, monthly, or daily—can help users gain time-specific insight into their data with a single click.
3. Extensive data filter capabilities
Another feature to consider when choosing your dashboard software is the type of data filters available to help answer your specific questions.
Some of these include advanced time filters and dynamic time fields, which allow users to search for data based on a particular time frame or compare current data with data from a specified time.
Moreover, custom fields allow users to create customized calculations to search for data that meets certain criteria, and there are often up to hundreds of different functions a dashboard user can employ to learn more from their data.
4. User roles
Depending on the different layers of access you want certain individuals to have — for example, whether or not they're able to edit the dashboards or simply view them — you'll want to make sure that the dashboard software you choose can accommodate the kind of access you want to provide for each type of user.
These could include admins, editors, or simply viewers, and you should check whether the dashboard software you're considering provides the level of access you want each member of your company to have defined accordingly within these roles.
5. Advanced graph customization
In addition to the ability to produce all the types of charts you need, there are more customization functionalities that can help businesses get the most from their dashboard software.
For example, the ability to add a secondary axis and combine different types of charts is something that premium dashboard software may enable you to do.
Other capabilities such as conditional formatting highlight anomalies and trends that may not be immediately obvious by using specific criteria to learn more about the data displayed in the visualization.
6. Predictive analytics
Using mathematical modeling, dashboard software can forecast the future, predicting expected data outcomes using business' current and past data.
After the user defines the terms of the output they want to predict, the dashboard software can come up with the most likely outcome by taking into account a historical view of the business's data.
With this in mind, businesses can take action proactively, reacting to probable events before they actually occur, boosting efficiency. Predictive analytics can also help to minimize future failures, since businesses can react to external events likely to negatively affect data—and therefore company performance—before they happen.
7. Tabs
For any serious business, one dashboard isn't going to be enough to monitor all the departments and individual metrics needed to track company performance.
Employing dashboard software with the ability to create multiple tabs so you can easily track and navigate between different aspects of the business improves efficiency, lessens frustration, and makes it easier for everyone to stay informed and maintain a 360-degree view of company health.
8. Customizable templates
It's nice to be able to fall back on templated designs rather than having to design each of your company dashboards from scratch. Good dashboard software will have a range of templates designed with particular departments or strategies in mind.
More than this, you'll want to make sure that the dashboard software you choose has extensive customization capabilities so you never have to compromise on function, in terms of showing everything you need to accomplish the aims targeted by a particular dashboard.
9. AI features
Though the highly advanced AI features offered by some dashboard software aren't absolutely necessary for every business, they're still a 'nice to have' and can help to boost company efficiency.
For example, smart data alerts can ensure users are informed whenever there's an unexpected event in the data or if the business meets a particular target or aim.
Why do you need dashboard software?
At every level of business, dashboard software insights can be used to boost efficiency, facilitate better communication and collaboration, and maximize the chance of hitting business targets.
Here's how.
Dashboard software provides a single point of truth about your organization's performance.
Dashboard software provides a singular location to view and track the performance of every facet of business, boosting efficiency since every piece of data insight can be found in one place. It also increases awareness of business performance among those who need that knowledge most to inform their decisions.
More than this, dashboard software makes sharing reports easier, allowing individuals and departments to always stay connected, reducing the possibility of silos, and unifying all members of the company towards the same targets and goals.
Dashboard software facilitates data-driven decisions.
The principal reason for employing dashboard software is to enable data to be analyzed and displayed in a way that can be best used to guide important organizational decisions.
In practice, this means that every decision made within the company has solid data providing support as to why that action is the best course of action for the company, maximizing the effectiveness of each decision made and, by extension, boosting a strategy's chance of success.
Dashboard software provides near real-time insight into your data.
Compared to the reporting methods of days gone by, which entailed the slow collection and analysis of data—not to mention the commentary that would have to be written alongside when drawing up a report—dashboard software allows insight to be gained from data in real time.
This means that appropriate action can be taken immediately following an event seen in the data.
For example, if a marketing strategy is implemented with the aim of impacting a particular Key Performance Indicator (KPI), but the strategy has a negative impact on the KPI, then business leaders are able to become aware of this immediately and make necessary changes.
Likewise, if an unexpected data event takes place, users can see this and immediately search for the underlying cause and make a plan to address the event.
Dashboard software helps you easily and instantly provide answers to shareholders and clients.
If a shareholder has a question about the historical results of a particular strategy—or if a similar question comes up while you're engaged with an investor or client—dashboard software makes it easy to instantly answer these questions.
What's more, they don't have to take your word for it. You can show them the visualizations so they can see for themselves, since dashboards make it easy to understand the story told by the data, even if the viewer isn't particularly data literate.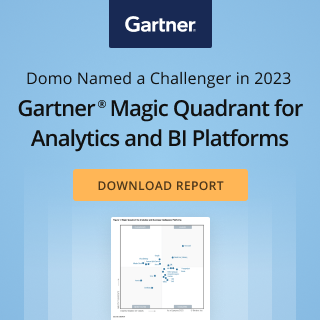 Check out some related resources:
Keeping a Pulse on Performance: Using Domo to Monitor the Business of Healthcare and Improve Patient Outcomes
Fight the 'Sleepworking' epidemic with better data and tech access
Developing a Data Governance Model that Meets Your Modern Business Needs
Try Domo for yourself. Completely free.
Domo transforms the way these companies manage business.