/ Why data analytics dashboards are a necessity for any business
Article
Why data analytics dashboards are a necessity for any business
An analytics dashboard is the control panel for your business, as it provides you with a comprehensive summary of company performance. Data analytics and dashboard tools work together to help promote data-driven action. These tools assist businesses in quickly identifying overall company health based on metrics known as key performance indicators (KPIs). Dashboards improve the ultimate efficiency of corporate analytics by enabling users to quickly visualize and examine data, which leads to better decision-making and ultimately more success.
Analytics dashboard
As highly visual representations of data, analytics dashboards are used to monitor situations where the data is constantly changing. By utilizing the human brain's natural desire for visual information, they enable executives to easily get an instant overview of large volumes of data.
Traditional dashboards have static tiled widget layouts that display representations of data in charts and graphs. Modern analytics dashboards now incorporate interactive features that provide the capability of real-time data monitoring. This feature enables you to create dynamic visualizations and adjust data views with filters and drill-down menus.
Creating useful dashboards
Your dashboard can only be as reliable as the data on which it is based. Besides having sound data, there are other things you should take into account if you want to build an effective dashboard:
Consider your objectives
The dashboard's goal is to simplify the decision-making process by presenting the necessary data in a comprehensive way. In order to achieve this, your dashboard must be built with data that is linked to a company's objectives. If you intend to boost sales revenue, you should track the transactional data. If you want to increase customer interaction on social media platforms, the dashboard should measure the appropriate metrics such as likes, impressions, and comments.
Select the right dashboard tool
There are many dashboard tools to pick from, and most of them have similar features and appearance. Determine your organization's needs and technical skill level. Then research the leading business intelligence dashboard tools and compare the unique features of each one. You'll also want to establish a budget and compare the prices of different dashboard software solutions.
Use pre-made templates
This is an obvious choice. Pre-made templates simplify dashboard design, which reduces effort, saves time, and increases productivity.
Understand the visual hierarchy
Companies usually have multiple KPIs, and sometimes one KPI will take priority over the others during certain time periods. Understand that most dashboard tools give you the ability to change the position and size of the widgets to show a hierarchy of the visualizations. This highlights the most important metric, so users who only have a few seconds to view the dashboard can still leave with a useful takeaway.
Merge diverse data sources
Merging diverse data sources is among the most essential characteristics of dashboard tools. Most businesses have data stored in a variety of sources. In order to prevent data silos, you'll want to integrate disparate data into your dashboard tool so you can display a comprehensive view of your organization's performance. Some business intelligence tools provide a data warehouse where you can store all this data. Building informative dashboards is easy when all the necessary data can be accessed from one central location.
Use interactive features
Dashboards are much more valuable when they incorporate interactive features that enable users to dive deeper into the data. Filters and drill-down capabilities help tailor the dashboard experience to a particular user. This dynamicity means that you don't have to build a separate dashboard for team members in different regions, just simply use a region filter. This saves time and increases productivity by enabling employees to spend time on the most important tasks.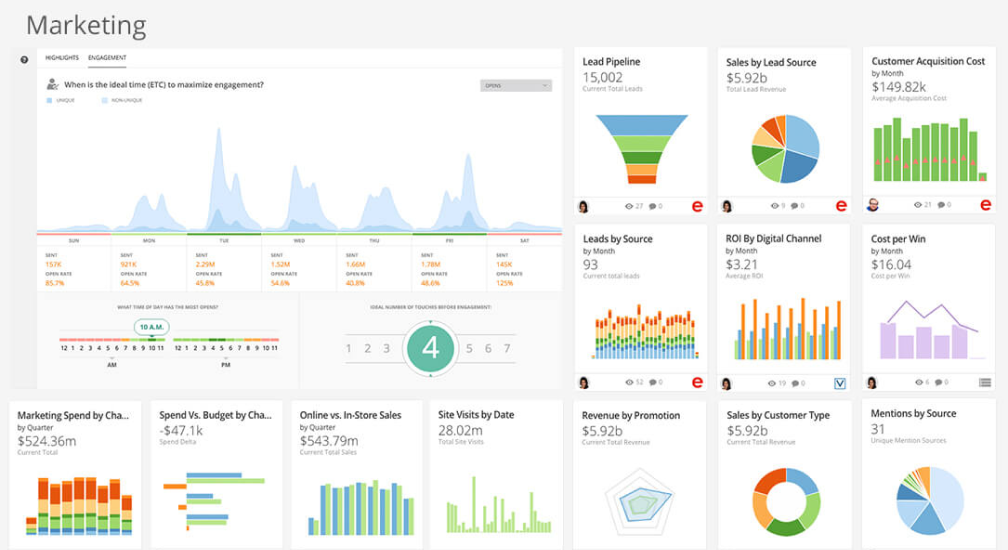 Types of analytics dashboards
Operational dashboard
These types of dashboards frequently monitor time-sensitive data sets and track progress in real time. Managers can be informed of major concerns and take immediate action via operational dashboards. Website performance is just one common type of operational dashboard which executives and management may utilize in marketing. Bounce rates, daily website traffic, top-performing landing pages, customer conversion rates, and other metrics may be included in a website performance dashboard. When these indicators are constantly monitored and updated on a regular basis, immediate action can be taken if any of the critical areas are found to be failing.
Analytical dashboard
The most prevalent type of dashboard used in business intelligence is analytical dashboards. Analysts use them to filter through massive data sets in order to spot trends, anticipate events, and assist businesses in making better decisions. Analysts that utilize these dashboards may leverage past data from an organization to assist in guiding future decisions, such as increasing ad expenditure during periods when income has customarily increased because of seasonality. Conversion rate per channel, ad spend per channel, income earned per channel, and overall ad expenditure vs ad sales may all be included in such a dashboard. These variables might be seen on a year-over-year line graph and may also be utilized to visualize the past year for a more in-depth look at growth.
Strategic dashboard
Professionals can use strategic dashboards to anticipate long-term plans associated with high performance. Users' capacity to recognize major prospects for growth and identify concerns that have to be addressed improves with at-a-glance visualizations. When planning a company's marketing strategy, a chief marketing officer may opt to employ a strategic dashboard. Total leads generated, total monthly users, total marketing qualified leads, conversion rate through marketing channel, cost per acquisition and more could all be included in this strategic dashboard. This type of dashboard may be configured to span a longer time frame and can additionally contain a measure for comparing performance to past periods.
Conclusion
If your company lacks the expertise, time, or people to produce, analyze, and disseminate data manually, analytics dashboards are by far one of the most valuable things you can invest in. Using big data may lead to the discovery of new insights and patterns.
As I previously stated, dashboard and analytics tools work in unison to generate data-driven action in organizations. Every department may benefit from reviewing their data in a transparent, simplified way that is understandable to them, from sales to HR. Motivate your teams to concentrate on the data that matters most to your company, utilize powerful visualizations to quickly obtain insights, and make your data accessible to even non-technical employees. Modern, straightforward analytics dashboards can put you in charge of your data, enabling you to make faster, more accurate choices.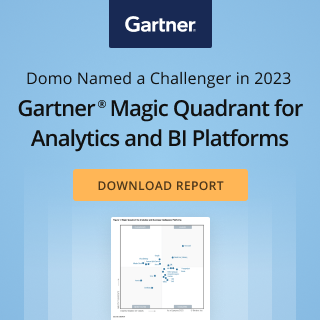 Check out some related resources:
There's an App for that—Tips for Crafting Apps, Dashboards, and other Engaging Data Experiences
Data Never Sleeps 10.0
Domo Named a Leader in Nucleus Research's 2023 Analytics Technology Value Matrix
Try Domo for yourself. Completely free.
Domo transforms the way these companies manage business.