/ Why a quality data intelligence platform matters for your business
Article
Why a quality data intelligence platform matters for your business
Achieving improved business performance through leveraging data depends both on the quality of your data as well as your selection of data intelligence platform. Leading data intelligence platforms allow your company to be highly intentional in the business questions you address and how you present the story behind the data.
It's easy to overlook the importance of data intelligence for your business, especially as market pressures continue to mount. Your team can handle small analyses just fine with a few Excel spreadsheets or by manually pulling together data from various sources. But for more comprehensive insight, you need high-quality analytics to stay competitive and adapt to changing economic environments.
The decisions you make based on poor data management can cost you big in both the short-term and long-term success of your organization. If you want your business to thrive, it's time to take advantage of the opportunity data intelligence platforms provide. Data quality is more than just accuracy; a data intelligence platform helps you discover, manage, and transform your organization's data into a strategic asset.
What is a data intelligence platform?
A data intelligence platform is an all-in-one software solution that allows you to pull together and manage all of your company's data from various sources. It can then be used to create reports and dashboards, that give you a better understanding of how well your business is performing and how you can improve.
The benefits of using a data intelligence platform for your business include improving the overall transparency of your business operations due to the centralization of disparate data. This makes it easier for managers at all levels to understand how their teams are performing because they're able to draw insight from all kinds of data—sales figures, customer satisfaction ratings, and staffing requirements.
Having a quality data intelligence platform readily available leads to smoother collaboration between departments within an organization. That way, employees are able to make better decisions that lead to goal achievement and company growth.
What does data quality mean?
A data intelligence platform is essential because it helps you maintain the quality of your business data across all departments and processes, meaning the data is accurate and reliable. This is vital to the success of your organization, as bad data can negatively impact revenue, customer satisfaction, compliance requirements, risk management, and even cybersecurity efforts.
For example, bad data can lead to inaccurate financial statements or financial reports. This can result in costly mistakes that could hurt relationships with investors or cause penalties from regulators during audits.
Poor data quality may lead to incorrect decisions based on incomplete information. Inaccurate decision-making can cause you to lose out on a sale or leave money on the table when negotiating contracts with clients or suppliers. Even worse, poor decision-making has the potential to result in lost customers.
What are the benefits of a data intelligence platform?
There are numerous benefits to incorporating a data intelligence platform into your business. Here we describe just a few:
Business scaling
A data intelligence platform can help you scale your business in a number of ways. For example, the ability to ingest structured and unstructured data from multiple sources helps with scaling because it permits more streams of data to be fed into the system. This allows for an increased amount of information to be processed, which means that there is less risk associated with scaling up in terms of capacity or performance.
Another way a data intelligence platform can help you scale is by providing more teams within your company access to this information. All of the critical information is held in one centralized location for ease of use and understanding, which means different stakeholders are able to access the data needed to improve their current operations.
Technical support of business strategy
The data intelligence platform approach is based on a holistic view of the business, not just the analytics. This means that it goes beyond just collecting and analyzing data. It also includes defining objectives, establishing processes and governance, setting up an architecture to support the business strategy, and building processes that ensure that all stakeholders are aligned around those goals.
Management of high volumes of data
From a business perspective, the volume of data being generated and stored is increasing. More sources are generating more data on practically anything imaginable. This includes new sources like mobile phones, social media, and IoT devices.
That same data is also being stored in multiple places. Neither a database nor a simple spreadsheet hold the complete picture anymore. Rather, it's scattered across countless applications and devices. In turn, this data is accessed by more users than ever before. The result is a highly distributed system that requires collaboration across departments and teams. That is precisely where a quality data intelligence platform can help.
Data quality requires bespoke solutions
A data intelligence platform helps ensure the reliability of data within an organization by considering multiple aspects of data quality:
Data consistency
Consistent data is the foundation of a quality data intelligence platform. Without consistent data, your business could face serious consequences, including regulatory non-compliance, loss of revenue and brand value, and customer attrition.
In fact, according to research by Gartner Inc., more than 50% of enterprise leaders surveyed said they have lost business opportunities due to incomplete information across their enterprise systems. Consistent data is critical for reporting and analytics.
Data accuracy
Data accuracy is an essential consideration for businesses. Accurate data is critical to making informed decisions, accurate predictions and forecasts, and accurate calculations. When a person fills out an online form by hand, there's always a chance that something will be entered incorrectly or left out altogether. Or, if a system does not have a proper quality assurance or validity mechanism in place, it will not provide reliable data insights.
Data relevance
Relevant data is data that's useful to your business. A quality data intelligence platform helps you consolidate relevant data and, more importantly, it can help you make sense of it.
Data scientists extract insight from large volumes of information that may otherwise be difficult to digest manually. This enables them to identify patterns and trends within massive datasets in a matter of minutes. This is something they would not be able to do quickly on their own due to the sheer volume or complexity of the information being analyzed.
Data compliance
A data intelligence platform that can help you make better decisions aligned with oversight and regulation. Every business has to adhere to specific rules when it comes to keeping their data clean and compliant. If you're selling products or services across borders, there are plenty of legal requirements you need to follow—from storing financial information safely and securely, ensuring your employees have access only to what they need for their jobs, or using proper identity verification processes for new customers.
Building a business strategy with a data intelligence platform
Data intelligence platforms can help you build a business strategy, make better decisions, and predict future outcomes by using data analytics to provide insights into what's happening with your customers. This enables you to make better marketing decisions based on your understanding of the impact of products or services on your customer base.
In today's business world, a company's data intelligence capabilities often determine its success or failure. But this isn't just because of the information that can be gathered. It is also due to your company's ability to use that information effectively and efficiently. If you want your business to succeed in today's competitive marketplaces, then you need to leverage a quality data intelligence platform.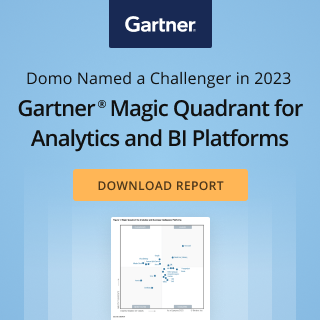 Check out some related resources:
Domo Named a Leader in Nucleus Research's 2023 Analytics Technology Value Matrix
Developing a Data Governance Model that Meets Your Modern Business Needs
Domo Ranked #1 Vendor in Dresner Advisory Services' 2022 Analytical Platforms Market Study
Try Domo for yourself. Completely free.
Domo transforms the way these companies manage business.