/ What should I be tracking? Understanding KPIs
Article
What should I be tracking? Understanding KPIs
What should you be tracking? What are the most important metrics to track for your company or business?
For modern businesses, key performance indicators (KPIs) are crucial for measuring how the company is doing. KPIs are numerical values that represent your company's overall performance and can include revenue, employee growth, customer satisfaction, and more.
KPIs can range from company-wide metrics to individual metrics. Knowing how to build proper KPIs will allow you to track your company's success and identify any potential problems.
It's important that you create and track KPIs that answer specific questions about how your business is running. This article will give you a rundown of common key performance indicators (KPIs) that companies and businesses watch.
In this KPI breakdown, we will take a closer look at the following KPIs, explaining how each one helps drive success:
Revenue
Customers
Employee Growth
Profit Margin
Whether you're running a company or managing its finances, there are several KPIs you should be tracking. Let's take a closer look at each of them and how they help drive your company's success:

First KPI: Revenue
One of the most important KPIs is revenue. In fact, this is generally one of the very first numbers a business ever tracks. Organizations can report revenue in many different ways, but it's usually represented as either year-over-year growth or quarter-over-quarter growth.
At most companies, revenue is used as an efficiency measure. This can be especially important if your company focuses on one product line. For most companies, revenue is also one of the primary drivers for employee compensation.
To track revenue, you'll want to use tools that can break it down by product line or sales team.
You should pull specific numbers that show how each product is performing compared to last year. These comparisons are useful when trying to figure out future growth opportunities and how your company is doing vs. competitors.
Revenue can also be broken down by customer to find out which are the most valuable.
To do this, you'll want to track metrics like revenue per customer, percentage of repeat customers, and lifetime value of a single customer. Tracking these numbers over time makes it easier to see which customers are the most valuable and where future growth is likely to come from.

Second KPI: Customers
The best way to effectively measure performance is to start with your customers.
When a company focuses on customer service, it's often because their most important metrics are derived from what customers think. Even if you've got an amazing product or service, no one will buy from you if your customers aren't happy.
To track customer satisfaction, be sure to look at metrics about how often customers are purchasing and if they're making repeat purchases. You can also implement satisfaction scores such as CSAT or NPS and how these fluctuate over time for your business.
You'll also want to keep tabs on whether or not your customers are referring your business to friends and family. If you notice a sharp decline in any of these categories, you can start looking for the problem from there.
You should also be watching customer lifetime value. This metric shows you how much a single customer spends with your business over the course of their entire relationship.
Customers who spend more with you are usually more profitable, especially if they buy multiple products or refer other customers to your business. Tracking this number allows you to determine which customers are worth keeping around and how much revenue they bring in.


Third KPI: Employee Growth
For many businesses, employee growth is one of the most important KPIs to track. This helps you see where your team can improve so that everyone's working at their highest capacity.
Tracking individual employee growth also lets you identify when someone might be falling behind or when it might be time to find another position for them.
The best way to track employee growth is by using metrics like total sales per employee, average sales per customer interaction, and the average revenue generated per customer.
These numbers show you how effective your employees are at driving value for the business. They also help you identify opportunities to scale, measure the impact of each new hire, and determine which employees are essential to your business' success.

Fourth KPI: Profit Margin
Just because you've started measuring KPIs doesn't mean that you should forget about traditional accounting metrics like net income (profit) and gross margin (gross profit). These numbers remain one of the best ways to measure how successful your business is overall.
However, when you're trying to track KPIs, it helps to pull numbers that are specific to the products and services offered by your company.
Net income is calculated by subtracting all of a company's expenses from its revenue. This is important because it shows you how much money is left over after paying your business' bills.
Gross margin tells you the difference between revenue and the cost to produce goods/services sold. It's important to monitor this number because it's one of the best indicators of business health.
The higher your gross margin, the more room you have to work with to expand and take on new risks.

Bringing KPIs together with a KPI dashboard
When you complete a KPI breakdown for your business, it's easy to see how they influence each other.
If your labor costs are increasing faster than you'd like, for example, it might be worth considering decreasing prices or finding a way to drive more sales or improve productivity.
As long as leaders continue to look at these numbers and consider their customers, employees, and profit margins together, it's possible to achieve sustainable business growth.
One of the best ways to track all of these KPIs is a KPI dashboard. This gives a quick overview of how the business is performing and helps you find opportunities for improvement.
With a KPI dashboard, you can get business insights in real-time so you can make the right decisions. Data from the software you already use can be integrated into the dashboard, reducing the amount of manual work required to calculate your KPIs. By monitoring the dashboard often, you can make informed business decisions.
Using a KPI dashboard, you'll be able to best track your KPI progress and create a long-lasting business plan. This will unlock potential growth opportunities, help you see which strategies are working, and show the ways that your business is trending.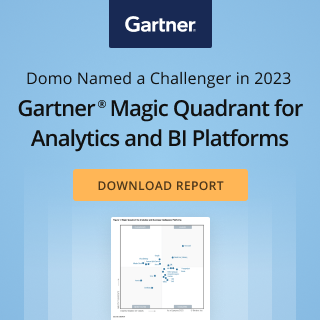 Check out some related resources:
AI in Business: The Importance of Responsible Innovation
Foundations in Applied AI
Domo's AI Service Layer: Unlocking the Power of Generative AI
Try Domo for yourself. Completely free.
Domo transforms the way these companies manage business.