/ The many benefits of IT analytics software
Article
The many benefits of IT analytics software
Introduction
IT analytics software is used for running information technology departments—by analyzing key metrics and processes. This tool allows users to manage, interpret, and identify patterns in data and extract valuable insight that is required for successful IT development and operations. The overall purpose of IT analytics software is to empower actionable conclusions, generate insights, and support decision-making processes. This is achieved by facilitating simple yet robust analyses of IT data to provide answers for practitioners, key stakeholders, C-level managers, or development leaders. IT analytics software stabilizes data management via modern IT business intelligence tools to eliminate any roadblocks in IT processes across companies and industries.
With the help of an IT dashboard, systems can be improved by quickly troubleshooting problems and decreasing the time taken to resolve and address them.
Some of the benefits of IT analytics include the following:
Real-time insight
One of the most important benefits of IT analytics is the ability to gain immediate insights. You will know exactly where your resources are allocated and the effect they might have on all operations throughout the company at any given moment.
Increased productivity
Speed is important in any business, and IT analytics software makes it possible for the entire IT infrastructure to conduct quick analyses, export reports in seconds, and interact with data in just a few clicks, which increases productivity and reduces costs.
Accurate data
Information is crucial to the business environment, and IT projects can take months, generating massive amounts of data during the process. When IT teams are overwhelmed with all the data that needs to be examined, IT analytics software can provide a central location where that data can be stored. Analysts can draw data from this location for use in reports and can be certain that the data is up-to-date and accurate.
Effective governance
Using IT analytics software, IT managers can securely govern all aspects of the department, including security issues, multiple data sources, storage, and access to any information a department, manager, or employee might need, allowing them to easily send the analysis through a BI platform.
Employee empowerment
Employees are able to make data-driven decisions regarding IT solutions by providing them with access to real-time, relevant data. As a result, organizations can maximize the accuracy of the information at all levels and energize employees for personal and professional growth. Additionally, companies with a stronger workforce can be more competitive in the global business market.
Decreased costs
IT analytics software enables managers to take note of areas in their department where they can save money. There are times you might get a surplus in your IT inventory, which can cause added costs in terms of management and acquisition. Steps can be taken to increase savings in a situation where you can cut costs and increase productivity.
Better customer service
Being able to supply your client's needs is what propels businesses forward. Therefore, it's critical to understand patterns in customer behavior. The customers of an IT help desk servicing an organization are the members of that organization. By incorporating an IT analytics solution to examine customer behavior, IT department managers can understand the trends of IT-related issues users are running into, for example.
Increased security
Malware attacks and data breaches are the most common online threats presently. For this reason, it's vital to invest in IT analytical tools that can provide insight into the security threats your organization faces. You can deter hackers and other attackers from infiltrating your organization if you can predict what vulnerability they're likely to target next.
Conclusion
Today, enterprises deploy a wide variety of monitoring and management tools to control IT functions, including front-end help desk management, infrastructure monitoring, and cyber security. Each of these functions generates gigabytes of data every day that IT teams must use to improve their functions. What today's IT teams require is not just off-the-shelf analytics—but software with dedicated analytics that can extract valuable information from different sources specifically related to information technology.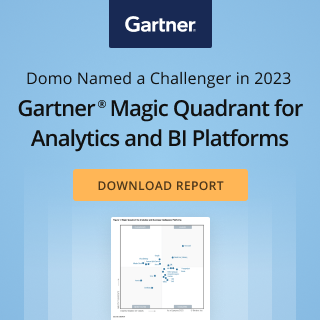 Check out some related resources:
POV: Next-Generation Banking
Domo Named a Leader in Nucleus Research's 2023 Analytics Technology Value Matrix
There's an App for that—Tips for Crafting Apps, Dashboards, and other Engaging Data Experiences
Try Domo for yourself. Completely free.
Domo transforms the way these companies manage business.