/ How augmented intelligence can improve BI
Article
How augmented intelligence can improve BI
With augmented intelligence, humans across industries work with machines for the best of both worlds. Augmented intelligence applications mix human intelligence and machine learning, especially in areas where removing humans from the equation isn't an option. The beauty of augmented intelligence is it can accelerate data processing and pinpoint trends that humans might overlook or not consider while still including human employees in the data analysis process.
Artificial intelligence vs. augmented intelligence
Augmented intelligence is actually a subsection of artificial intelligence (AI). How does augmented intelligence differ from the similarly-named artificial intelligence? 
Artificial intelligence is a field combining computer science and datasets to solve problems without human interaction. Machine learning and deep learning are both subfields of artificial intelligence. 
Augmented intelligence, also known as intelligence amplification (IA), cognitive augmentation, and machine augmented intelligence, is strictly limited to computers and software that augment the abilities of a human mind and cannot operate independently. 
AI is enabling machines to think and act like humans, whereas augmented intelligence is using those same machines to assist humans with specific tasks. Think of augmented intelligence as a combination of analytics, AI, and data for analysts to easily interpret and make decisions. 
How can augmented intelligence improve BI?
Augmented intelligence gives enterprises, no matter the size, to extract meaningful information from a range of data sources. When companies adopt a data-driven approach, they often see higher ROI and less wasted resources. 
One of the most labor-intensive BI steps is efficiently and accurately cleaning up data sets and choosing the right sets to be analyzed for decision-making. When this is handled by data scientists and analysts, it often causes workflow delays and can lead to human error. Augmented analytics, however, can ease the workload and erase errors completely. 
Why do businesses need augmented intelligence?
What can you do with augmented intelligence?
Integrating augmented intelligence into businesses and their analytics helps data scientists prepare data, gain the latest insights, and disseminate the necessary information companywide. The machine-human learning combination has transformed decision making, but few companies are successfully connecting technology and analytics with their employees for the full benefits of augmented intelligence — yet.
Why is augmented intelligence important in BI?
Across AI technology rankings in recent years, augmented intelligence was ranked second, just below virtual agents. However, experts expect IA to move into first place in 2021 and continue to explode and expand for years to come. 
How does augmented intelligence work?
Platforms offering augmented intelligence capabilities can easily gather all types of structured data from multiple sources and present it clearly for humans to see every angle. Because of this shift in machine learning, industrial data scientists are more informed on news across their business and the industry as a whole, empowering humans with data-driven decision making tools that save time and increase productivity.
How do different industries use augmented intelligence?
More businesses are using IA today to learn quicker, adapt more effectively, and improve data learning over time. 
While people can think of just a few ways to design products, augmented intelligence can create countless options based on specified parameters. As the machine explores options at record speed, humans with more knowledge of the product can select appropriate options from the pile. 
Across the oil and gas industry, IA can optimize drilling precision in a dangerous oil field. Employees can also more easily understand their environment on land or at sea, which can lead to less wear and tear on expensive machinery. 
Hospitals and healthcare industries can focus on the quality of patient care while reducing medical errors and expediting billing and claims procedures system-wide. 
Financial planners can offer personalized services based on a consumer's capacity, potential risks, and goals across financial services.
Retailers can increase engagement using machine cognition to identify observed, inferred, and declared behaviors of online shoppers.
What should I look for in augmented intelligence tools for my business?
The vast majority of work for any process involving or related to machine learning is in the preparation of data. The best BI tools offer expertise in data preparation and advanced support for both ends of the process lifecycle. 
With Domo, you can easily unlock the value of an array of data sets by putting them in the hands of everyone. We have enhanced its business intelligence platform with new augmented capabilities in the Domo Business Cloud. Combining these machine learning capabilities with your industry-leading employee intelligence can quickly leverage data to innovate and drive business forward. Domo offers expertise in both data ingestion and model creation as well as the tools that connect back to real-world systems, to "close the loop" on the entire process.
How will augmented intelligence affect the future of BI?
Augmented intelligence is poised to improve household and workplace security, combat fraud, and increase productivity across businesses. With the combination of human intelligence, employee productivity can only increase with the help of machine learning. Providing the proper set of tools to analyze and act on large structured data sets can diminish information overload and lead to fast, data-driven decisions.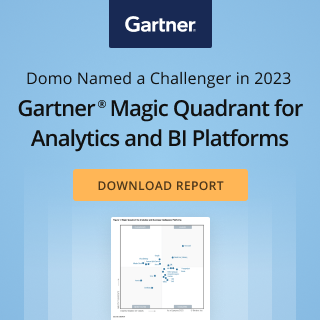 Check out some related resources:
Josh James on how to modernize and mobilize your business
Domopalooza 2020 On-Demand
Automatic insights with AutoML
Try Domo for yourself. Completely free.
Domo transforms the way these companies manage business.