/ Establishing a data connection strategy for your business
Article
Establishing a data connection strategy for your business
Data is the lifeblood of any business. Without data, you can't make informed decisions about where to allocate your resources or how to grow your company. In order to get the most out of your data, you need to have a data connection strategy in place. This means having a plan for connecting to all the different data sources your business uses on a daily basis.
In this article, we will discuss how modern business intelligence tools can help you connect to all the different data sources your business uses and automate the process so that you can get timely and accurate data insights.
Data connection and your business
If you're like most businesses, you have data spread out across a variety of different data sources. This can include everything from customer data in your CRM to financial data in your accounting system. In order to get a complete picture of your business, you need to be able to connect to all of these different data sources and aggregate the data into one place. This is where modern business intelligence (BI) tools come in.
Business intelligence tools provide a way for you to connect to all of your different data sources and pull the data into one central location. Once the data is in one place, you can then start to analyze it and look for patterns and trends. This information can be invaluable in helping you make decisions about how to best operate your business.
How can BI tools help with data connection?
BI tools offer services called data connectors that allow business users to tap into the common data sources they use on a daily basis. These connectors come pre-configured and can automate the ingestion of data into the BI tool—meaning you don't have to manually press a button to start the process.
Modern BI tools have thousands of data connectors that can be set up in minutes without the help of IT teams. This can be incredibly powerful for smaller businesses that may not have dedicated IT resources at their disposal. With minimal training, business users can connect to the valuable data they need to perform their job, and begin to analyze and transform it using the BI tool.
What data connections do I need?
Data lives all over your organization in disparate systems and databases. When trying to understand all the different data sources you will need, it can be beneficial to segment data into the different departments that may use it.
Sales
Sales data is extremely important to keep track of in any business — big or small. This data normally resides in a customer relationship management (CRM) system such as Salesforce. When beginning the data connection for your sales organization, ask sales leaders what other tools they use on a regular basis. These may include spreadsheets, call center software, forecasts from finance, and commission software.
Marketing
Modern marketing organizations can have massive quantities of data stored in email marketing tools such as Mailchimp. Marketing can also be responsible for website traffic, conversion rates, and sales funnel metrics. Data connection to these systems can be critical to establishing good marketing key performance indicators (KPIs) for your business.
Operations
A normal business can generate gigabytes of operational data throughout the day in the form of transaction records. This data is usually stored in relational databases such as MySQL or PostgreSQL and has traditionally been difficult to extract due to IT restrictions. Luckily, modern BI tools have data connection strategies for these databases that make it as easy as a few clicks to connect to the data.
Finance
Understanding the business's financial situation in real-time can be critical to understand the true health of the business. Finance may keep data in dozens of different data sources, including spreadsheets, accounting systems such as QuickBooks, forecasting software, and other business systems. Connecting to all these different data sources using a BI tool can save your finance team headaches during month-end operations where manual data entry is all too common.
Human resources
HR continues to be streamlined through the introduction of new software to better track your employees. Instead of keeping employee data manually, many business owners turn to HR software to automate routine tasks such as payroll. This software can then be connected to a BI tool through data connections. HR leaders can then have a more accurate understanding of the overall health of the organization.
How do I get started with data connection?
Now that we have a better understanding of how important data connection can be for different teams within your business, we can talk about best practices for establishing data connections.
1. Plan out data connections
Make sure you take the time to identify important data sources your teams use on a daily basis. If your organization is too big, consider working with only a couple of teams' data sources.
2. Involve IT in the discussion
Always make sure to involve IT leadership when talking about data connection. BI tools can be an IT team's best friend because they are able to automate much of the routine work technical staff performs. IT can make sure you have the right credentials to connect to your data sources on the first try.
3. Start with key data sources
Always identify quick wins that will be visible to the entire organization. If you have a big sales team, consider doing a data connection to your CRM system first. This will demonstrate the power of the BI tool.
4. Constantly improve
Since the BI tool can automate tedious data tasks, focus your time on continually improving your source systems where the data resides. Data in the BI tool can only be as clean as it is from the source system. Working with business leaders to establish best practices and standard operating procedures can greatly improve the quality of your data.
Conclusion
Establishing a sound data connection strategy can completely transform the way you do business. By having access to the right data at the right time, you can make informed decisions about where to allocate your resources and how you can grow your business.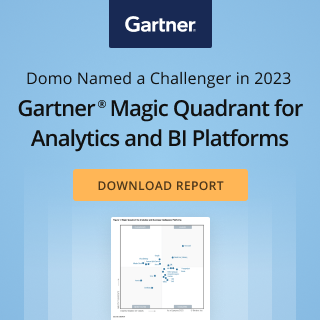 Check out some related resources:
Domo Overview Demo
Accelerating the Data Lifecycle with Domo Cloud Amplifier
Start With Data Governance for Better BI
Try Domo for yourself. Completely free.
Domo transforms the way these companies manage business.